One of my favorite Olympus features is one that you may have overlooked many times. For years we were instructed to stay away from digital magnification. And I still think that multiplying by 4X or 6X is a bad idea.
But Olympus created a sweet 2X Digital Tele-converter that is downright amazing. You can find it in Camera Menu 1. It can also be assigned to a function button, which I highly recommend.
"On the Road to Hana" - Olympus OM-D E-M10 Mark II, Olympus 45mm f/1.8 lens with 2X Digital Tele-converter. Photo by Derrick Story.
When using this setting, I capture in RAW+Jpeg. The Jpeg version of the shot has the 2X magnification, and the RAW is untouched. So, if by chance I didn't like the 2X magnification, then I still have the RAW to fall back on. Of course, I'm usually really happy with the 2X version. But, to show you how this works, here's how the RAW rendition of the shot looks.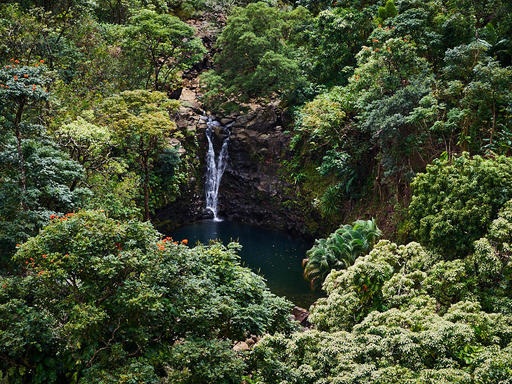 1X version of the waterfalls shot.
You might think that the file sizes would be different for these two images. Maybe you lose some resolution with the Digital Tele-converter? Well, that's not the case. Both files are 4608x3456. So, not only do you get the magnification, you retain full 16 megapixel resolution as well.
This capability allows me to travel with lighter lenses, such as the 45mm f/1.8, knowing that I can double it to 90mm, which is effectively 180mm. The quality of the images is very good. And this feature is included on every Olympus mirrorless camera that I own.
New Photos for macOS High Sierra Training!
Is it time for you to learn the ins and outs of the latest version of Photos? Take a look at Photos for macOS High Sierra Essential Training on LinkedIn Learning, or on lynda.com. Maximize your iPhone photography and complement the work you do with your mirrorless cameras as well. You'll love your cameras even more...
Also be sure to check out my new book, The Apple Photos Book for Photographers, 2nd Edition. It's completely up to date!
You can share your thoughts at the TDS Facebook page, where I'll post this story for discussion.