I love the file organization and RAW processing in Capture One Pro 11. But once I have the basic image the way I want, I then like to move my favorites over to Luminar 2018 for the finishing touches. Here's an example from Maui.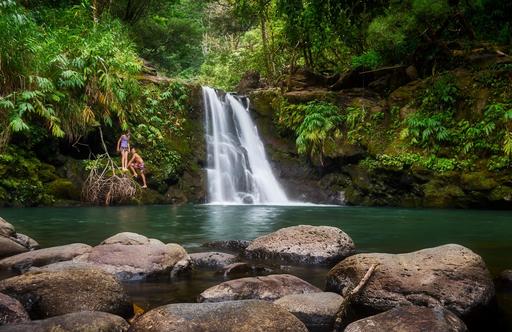 "Playing in the Falls, Maui" - Olympus OM-D E-M10 II with a Panasonic 20mm f/1.7. 1 second exposure with a polarizer filter. Image by Derrick Story.
There are a variety of ways to do this, but I go the old fashion route by processing the RAW in Capture One, applying my basic edits, exporting a full resolution Tiff, then opening that file in the standalone version of Luminar 2018. I then save the working file as a Luminar document. When I'm finished with the enhancement, I also send an exported Luminar version back to Capture One Pro.
Each application has its own strengths. And when you take the best from each, image editing becomes really powerful, and quite fun.
Rock Luminar with my new Essential Training
You learn all the ins and outs of Luminar 2018 via my Essential Training on lynda.com and on LinkedIn Learning. It's fun, and I promise, you will learn a lot.