The short answer is: yes, but maybe not exactly the way you'd expect.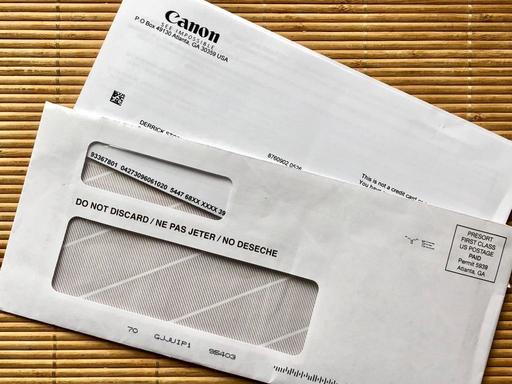 When Canon offered a $250 "rebate" on its excellent PIXMA PRO-100 Wireless Professional Inkjet Photo Printer, I did not want to pass it up. My 13" Epson was DOA, and I needed a new output device. Problem was, I had experienced problems with Canon rebates in the past, and I was a little gun shy. I decided to give the program another chance.
I meticulously prepared my rebate package by cutting out the UPC code, filling out all the little boxes on the rebate form, and including my sales receipt. I checked the envelope address twice to make sure that everything was in order. Then I sent it off on June 11, 2018.
After a month, I hadn't heard anything and talked about the adventure on the TDS Photography Podcast. A few of my listeners suggested that I visit the Canon Rebate site and inquire about my submission.
I used the chat function on their site and was instructed to send an email to canonrebates@acbcoop.com. I did that, and a couple days later I received a response stating that my rebate had been approved and that I would receive a card in the mail. And sure enough, on July 24, 2018, I did. It took less than six weeks from start to finish.
What I received was a Canon Mastercard Prepaid Card for $250. I had to activate it at MyPrepaidCenter.com, which was easy. And I was given the option to set up an account to track my card's activity, which I did.
It's not really a rebate in terms of cash back. In fact, the two places you cannot use the card is at an ATM or gas station. But you can use it for a variety of purchases at most retailers. The expiration date is January, 2019.
So, yes, I have my rebate in the form of a prepaid card that has an expiration date. Not ideal, but not terrible either. Looks like I'll be doing my part to keep the economy healthy by going shopping with my new Canon Mastercard.
You can share your thoughts at the TDS Facebook page, where I'll post this story for discussion.