This is The Digital Story Podcast #643, July 10, 2018. Today's theme is "Has Flickr Found Its Soulmate?" I'm Derrick Story.
Opening Monologue
Flickr was my first serious photo sharing site. I joined in 2006. But even though it hosts billions of images posted by millions of users, it has been written off for dead for years. The problem is, someone forgot to tell the photographers who use it, including its new owner, Smugmug. People endure bad relationships all the time. And some lucky ones escape them to find their soulmates. I think Flickr's story is far from over. And we're going to take a closer look at this journey on today's TDS podcast.
Has Flickr Found Its Soulmate?
Since May 2007, when Flickr started compiling my stats, I've had 3,125,472 views for my 9,515 photos. Our Digital Story Public Group has 3,243 members who have posted 76,903 images since its inception in October 2006. My latest Explore image, "Black Pool," has had nearly 50,000 views and 154 Faves in less than a week. If this is the photography ghost town that many claim it to be, then hand me a lens cloth to dust off my zoom, because I'm sticking around. (My site, BTW, is Derrick Story on Flickr.)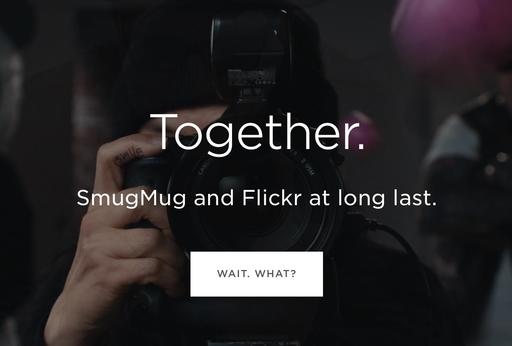 Before I go down this path any further, let's take a brief look back at Flickr's history. It was founded in 2004 by Stewart Butterfield and Caterina Fake. In March of 2005, Yahoo! bought Flickr for about $24 million and moved the servers from Canada to the U.S. Over the next decade, a hodgepodge of feature additions, plus a major site redesign in 2013, delighted many users and frustrated others.
Then for some odd reason, Verizon bought Yahoo! and Flickr in June of 2017. The Flickr side of that purchase didn't last long, with SmugMug taking it over in April 2018. And that's where we stand now.
For those of you not familiar with SmugMug, "it is a photography platform dedicated to visual storytellers. SmugMug has a long history of empowering people who love photography and who want to improve their craft, making them a perfect fit for Flickr and our creative community. With SmugMug, photographers can create beautiful portfolios, use a powerful e-commerce platform to sell their photos, preserve their memories, and stand out with great options for showcasing their work."
And I think this will be the marriage that sticks. Here are five reasons why. (Much of this information is from the SmugMug/Flickr FAQ.)
Why Did SmugMug Buy Flickr? - An opportunity to join together two communities and businesses that share the same values was one we couldn't pass up.

Why Is SmugMug the Right Partner? - Here at SmugMug we love and live photography, which makes us the perfect partners with the team at Flickr. Our communities complement each other and have for years. Together our brands give photographers a place online to fit in and a place to stand out.

What Immediate Changes Should Flickr Users Expect? - We don't have any plans for immediate changes. If we make any changes, we're going to make sure the changes are for the better. We'll make sure to involve our loyal customers in the process as we grow both SmugMug and Flickr. Have no worries, Flickr will stay Flickr and SmugMug will stay SmugMug, but together both will get even better.

SmugMug Will Listen to the Flickr Community - Honestly, though, there are numerous parts of Flickr that we plan to improve and SmugMug supports our desire to make your Flickr experience better. Before making any significant changes to the Flickr experience, SmugMug is committed to spending time getting to know the community and listening to your needs. We will share updates as we map out our future together.

Both Companies are Photo-Centric - I've been a SmugMug customer for years, and I can tell you that they know and love photography. Their services are complementary to Flickr's. There's no guarantee of success, but I really like the odds.
When SmugMug acquired Flickr earlier this year, Gizmodo publish a post titled, Flickr Takes Another Sad Turn, Gets Bought by Something Called SmugMug. The author concluded that, "If nothing else, SmugMug now finds itself in possession of a cherished relic from the early days of Web 2.0 and a shit-ton of photos that can be printed on tote bags or whatever. Good for it."
I looked up the author, AJ Dellinger, on Instagram. He has 73 followers.
I think it's time that we put Flickr's fate in the hands of people who care about photography. That's you and me, and as far as I can tell, SmugMug as well. If you haven't used Flickr for a while, stop by. Post an image. See what others are doing.
For me, Flickr is a source of inspiration, a community of peers, and provides access to images that thanks to Creative Commons licensing, I can use for many of my projects.
And then to bring it even closer to home, join our The Digital Story Digital Photography Public Group. Those are our people. And they are sharing images every day. And it's their work that I draw from for out TDS Member Photo of the Day on Facebook.
Still Waiting for my Canon Rebate
On the June 11, 2018 TDS Podcast I mentioned that "I'm Taking the Canon PIXMA PRO-100 Rebate Challenge" and had mailed in all the required documents for my $250 rebate. I just checked the mail today, July 9, and still no rebate in sight. I will keep you posted....
Scouting Trip for the TDS Fall Photography Workshop
I'm heading out on a scouting mission for our BURNEY FALLS AND LASSEN VOLCANIC NATIONAL PARK WORKSHOP this coming September 27. Those of you who have signed up for the event are in for a real treat.
We've upgraded our accommodations to a wonderful, spacious home at Lake Almanor, complete with Internet and cell coverage. The room and board fees will be dropping from the stated $65 a night amount, and we're including even more meals. This is looking really good.
I'll have an update on shooting locations once I return from the scouting mission. But we've already explored some great sites, and there are still more on the list.
We have two seats open. This is the last opportunity to reserve before I go public next week. You're not going to want to miss this!
Do You Have a Film Camera that Needs a Good Home?
Over the last year, I've received donations from TDS members who have film cameras that need a good home. What I do is inspect the items, repair and clean as I can, then list them in TheFilmCameraShop where I can find a good home for them. If you're interested in donating, please use the Contact Form on TheNimblePhotographer site. And thanks for you consideration!
Thanks to Paul Brown, Jane Beckman, Sally Harms,Kathleen McKee, Wendell Smith, Ken Wolter, and others who have previously contributed their gear to TheFilmCamerasShop.
Luminar Deep Dive Workshop
July 21, 2018 - 8:30 AM to 12:30 PM - Santa Rosa, CA Facilitators: Derrick Story and Angela Andrieux
Practically every photographer who comes to Luminar arrived from somewhere else.
Maybe you're a Lightroom user who wants to get away from the Creative Cloud subscription. Many Aperture users have been waiting for the next big thing that they can migrate to. Regardless of where you're coming from, Luminar offers both the traditional editing tools that we've come to love, plus innovation that we've never seen before... all in one affordable package.
If you're interested in the future of image editing, this workshop is for you. Derrick and Angela will show you how to apply your favorite techniques in Luminar, such as using a gradient screen to tame an overly bright sky, plus introduce you to the next generation of image editing with tools such as Accent-AI.
The four-hour workshop will be divided into 3 segments.
Session 1 - Luminar Basics: How to Accomplish Everyday Tasks
Session 2 - Traditional Techniques in Luminar: Working with Layers, Screens, Blending Modes and More
Session 3 - The New Age of Image Editing: How Luminar's New Tools will Change Your Photography
Plus, we'll provide the latest information about the Skylum Digital Asset Manager, lead Q&A sessions, and share our experiences working with the Skylum team.
If you want to explore the Luminar alternative, then this is an event you don't want to miss.
About the Facilitators
Angela a photographer, blogger, and photography coach living in Chesapeake, VA. She is a working photographer, educator, and works with Skylum, helping to facilitate their community forum. Angela provides both creative and technical support. And she truly understands the Luminar image editing process.
Derrick is a writer, photographer, teacher, and podcaster. You can follow his weekly shows on TheDigitalStory.com, as well as read his blog posts, check out his workshop schedule, and find links to his social accounts, including Instagram (DerrickStory), Twitter (Derrick_Story), and Facebook (thedigitalstory). TheDigitalStory show is also available where ever you download your podcasts. Derrick is the moderator for Skylum's Public Group on Facebook.
Workshop Fee: $69
You can register here at: our workshops page.
Updates and Such
I've updated our Directory to Portfolios by TDS Photographers page. Stop by and see what your peers are publishing.
You can become a member of our Inner Circle by clicking on this link or by clicking on the Patreon tile that's on every page of The Digital Story.
B&H and Amazon tiles on www.thedigitalstory. If you click on them first, you're helping to support this podcast. And speaking of supporting this show, and big thanks to our Patreon Inner Circle members:
And finally, be sure to visit our friends at Red River Paper for all of your inkjet supply needs.
See you next week!
More Ways to Participate
Want to share photos and talk with other members in our virtual camera club? Check out our Flickr Public Group. And from those images, I choose the TDS Member Photo of the Day.
Podcast Sponsors
Red River Paper - Keep up with the world of inkjet printing, and win free paper, by liking Red River Paper on Facebook.
Portfoliobox - Create the site that your best images deserve by visiting Portfoliobox. And get a 20 percent discount by using our landing page!
The Nimbleosity Report
Do you want to keep up with the best content from The Digital Story and The Nimble Photographer? Sign up for The Nimbleosity Report, and receive highlights twice-a-month in a single page newsletter. Be a part of our community!
Want to Comment on this Post?
You can share your thoughts at the TDS Facebook page, where I'll post this story for discussion.