This is The Digital Story Podcast #644, July 17, 2018. Today's theme is "The Filter Box" I'm Derrick Story.
Opening Monologue
I'm not one to hang on to unused items. If a camera or lens isn't seeing action, then I move it along to someone who will put it to use. I do have one exception to this rule: filters. I store them in a large shoebox at my studio. And they are the one photography accessory that I seldom part with. Why is that? I answer that question on today's TDS photography podcast.
The Filter Box
I remember when I bought my first brand new polarizer. It was a 55mm Contax circular model. It cost some godly amount of money, even for day that was decades ago. I was fine spending $300 for lens. But then to turn around and add another $100 for a filter? That seemed crazy.
It was then, all those years ago, that I decided to protect and save my investment in filters. I knew that if I stuck to this approach, that it would save me thousands of dollars over my career.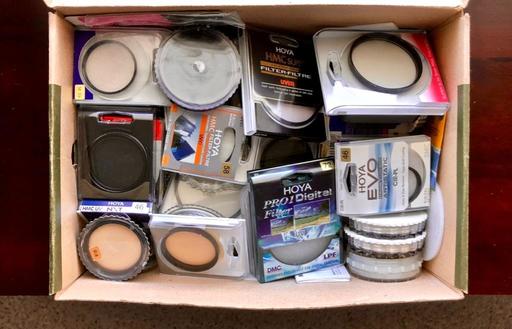 My photography is still going strong. And my filter investment is looking smarter than ever. Here are five reasons why.
Filters are brand independent - Over the years, I've jumped from Contax, to Canon, to Pentax, Olympus, Samsung, Panasonic, and others. The lenses are tied to the camera brand. But the filters are not. I can use a Canon filter on a Pentax lens no problem. And I do it all the time.

Filters cost a lot - Think about it: most filters are a cookie-cutter circle of optical glass, that's coated and usually mounted in a brass ring. Relative to the complexity of a camera lens, their price is way too high.

Filters last a long time - I have filters that date back to the 1960s that still perform well. I've read that they lose their effectiveness over time. To some degree, maybe. But not so much that they compromise my work. The thing about filters is that there is not focusing mechanism, aperture blades, or f-stop ring to break. So unless you strip their threads, they function.

Creative filters help shake up your photography - Whether it is a Zeiss Softar, Tiffen cinematic effects, or a rotating graduated filter - when I retrieve one from the box and pack it in my bag, fun just seems to follow.

Filters provide a sense of security - I'm always a little over protective when I get a new lens. The first thing that I do is put a good filter on it before I hit the road. And I always feel more secure after doing so.
Bickering over whether or not to use filters has been going on as long as photography itself. One thing that I do know is that quality, multicoated, filters have virtually no adverse impact on my images, and often provide some enhancement. Just like with lenses, get quality glass, and your investment will be rewarded.
Still Waiting for my Canon Rebate
On the June 11, 2018 TDS Podcast I mentioned that "I'm Taking the Canon PIXMA PRO-100 Rebate Challenge" and had mailed in all the required documents for my $250 rebate. I just checked the mail today, July 16, and still no rebate in sight. I will keep you posted....
My Incredible Scouting Trip to Lassen Volcanic National Park
I'm back from my scouting trip for Burney Falls and Lassen Volcanic National Park workshop and I had an amazing time. Here's the recap.
We have one seat open. This is the last opportunity to reserve before I go public next week. You're not going to want to miss this!
Review Copies Available for the Apple Photos Book for Photographers
I have 5 signed copies of the Apple Photos Book for Photographers, 2nd Edition, available. If you can post a review by August 15th, then send me your shipping info via the Contact Form on TheNimblePhotographer site. I'll get that book out to you right away. First come, first served.
Do You Have a Film Camera that Needs a Good Home?
Over the last year, I've received donations from TDS members who have film cameras that need a good home. What I do is inspect the items, repair and clean as I can, then list them in TheFilmCameraShop where I can find a good home for them. If you're interested in donating, please use the Contact Form on TheNimblePhotographer site. And thanks for you consideration!
Thanks to Bill Armon, and others who have previously contributed their gear to TheFilmCamerasShop.
Updates and Such
I've updated our Directory to Portfolios by TDS Photographers page. Stop by and see what your peers are publishing.
You can become a member of our Inner Circle by clicking on this link or by clicking on the Patreon tile that's on every page of The Digital Story.
B&H and Amazon tiles on www.thedigitalstory. If you click on them first, you're helping to support this podcast. And speaking of supporting this show, and big thanks to our Patreon Inner Circle members:
And finally, be sure to visit our friends at Red River Paper for all of your inkjet supply needs.
See you next week!
More Ways to Participate
Want to share photos and talk with other members in our virtual camera club? Check out our Flickr Public Group. And from those images, I choose the TDS Member Photo of the Day.
Podcast Sponsors
Red River Paper - Keep up with the world of inkjet printing, and win free paper, by liking Red River Paper on Facebook.
Portfoliobox - Create the site that your best images deserve by visiting Portfoliobox. And get a 20 percent discount by using our landing page!
The Nimbleosity Report
Do you want to keep up with the best content from The Digital Story and The Nimble Photographer? Sign up for The Nimbleosity Report, and receive highlights twice-a-month in a single page newsletter. Be a part of our community!
Want to Comment on this Post?
You can share your thoughts at the TDS Facebook page, where I'll post this story for discussion.