Mirrorless cameras in general, and Olympus Micro Four Thirds bodies specifically, are excellent hosts to vintage SLR optics. But just like everything else in life, some matches are better than others.
Olympus PEN-F with Nikon Series E 50mm f/1.8 "Pancake" lens. Photo by Derrick Story.
A particularly good combination are the Nikon Series E optics with, in my case, the Olympus PEN-F mirrorless camera. Not only does the styling of the PEN-F look good with these lenses, it also has specific settings to facilitate the use of these older optics.
Nikon Ahead of its Time with the Series E Optics
The Nikon Series E lens family has an interesting history. They were originally introduced the 1980s to accompany the new line of compact Nikon bodies, including my favorite, the Nikon FG. Both the Series E lens family, and the FG were designed to be light and versatile. But traditional Nikon shooters generally criticized the tandem as too lightweight and not deserving of the Nikon nameplate.
Turns out, at least in my opinion, Nikon was ahead of its time. The FG is intelligent, easy to use, and not much bigger than my MFT cameras. My favorite Series E optics include the 50mm f/1.8, 35mm f/2.5, and the 100mm f/2.8. They are sharp, light, and mount beautifully on mirrorless bodies.
Olympus PEN-F with Nikon Series E 100mm f/2.8 portrait lens. Photo by Derrick Story.
The Olympus PEN-F Perfectly Designed for These Lenses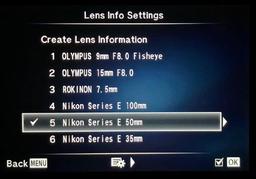 For my Olympus PEN-F, I'm using an affordable K&F Concept Lens Mount Adapter ($22) that's well-machined and provides a snug fit.
The PEN-F even allows me to write lens metadata to the file at time of capture using its unique Lens Info Settings menu (Gear K > Utility > Lens Info Settings). I can create a profile for each non-digital lens that I use, and the PEN-F will include its metadata with the rest of the file info. It's so cool. I've programed a function button on the PEN-F to bring up that menu so I can quickly change the profile when I switch out lenses.
Because of the cropped sensor, I use the Series E 50mm as a 100mm optic, and the Series E 100mm as a 200mm telephoto. Their compactness makes it easy to include them in my carry-around kit. Here's a comparison of the Nikon Series E and Canon FD 100mm optics.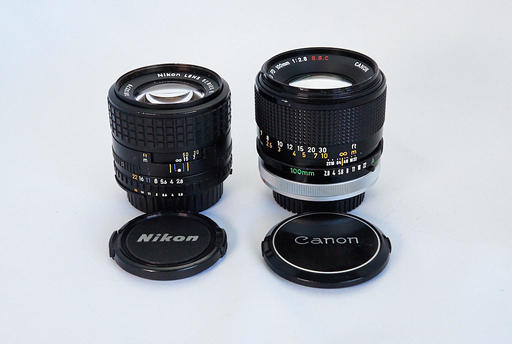 The Nikon Series E 100mm f/2.8 next to the Canon FD 100mm f/2.8.
And the weight difference is even more dramatic. The Canon tipped my scale at nearly 13 ounces, and the Nikon weighed in just over 7 ounces. When you're a Nimble Photographer, those differences really add up.
Images That Truly Look Different
At this point, it's time to talk about the images themselves. I really like the Series E 50mm for portraits. I shoot with it wide open at f/1.8. It provides a flattering sharpness at the point of focus, with softened tones in the foreground and background.
Here's a portrait of Theresa working on the back patio using this combination. I captured in RAW with the PEN-F and processed it in Capture One Pro 11. I didn't use any sharpening or softening adjustments - just let the image stand on its own so you could see the character of the lens/camera combination.
"Theresa Working in the Backyard" - Olympus PEN-F with Nikon Series E 50mm lens set to f/1.8. Photo by Derrick Story.
I focused on her glasses. Notice how the laptop and pants in the foreground have this delightful glow to them? Here hair, skin tones, and eyes are nicely in focus, but not edgy. And the background has a soft bokeh that looks far better than what my iPhone created for the reference shot in its computational photography Portrait mode ;-)
The Bottom Line
If I told you that this new portrait lens setup was available for less than $100, you probably would think that's a mistake. But it isn't. And that's the beauty of using vintage lenses with cameras that are truly designed to accommodate them. It's the creative gift that just keeps giving.
You can share your thoughts at the TDS Facebook page, where I'll post this story for discussion.