One of the pleasing aspects of iPhone photography is how easily you can creatively fine tune your images in the Photos ecosystem. A perfect example is a picture captured in Portrait Mode on the iPhone can be further refined in Photos for macOS, without losing the Portrait Mode magic. Here's an example.
"Jessica" - This image was captured with an iPhone X in Portrait Mode, then opened in Photos for macOS. All of my Portrait Mode options are available, as illustrated here. Photo by Derrick Story.
Once you capture the image, it is propagated to all of your iCloud devices. Here, it appears in Photos for macOS. I can stick with the original Portrait Mode if I wish, or I can switch to one of the other options, such as Stage Mono.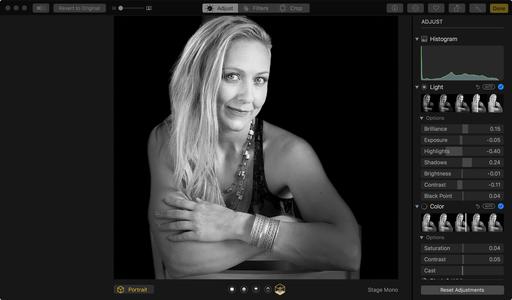 Same image, but now I've switched to Stage Mono Portrait Mode.
Once I've settled on the mode that I want to use, I can then further refine the image with Photos' adjustment tools. Any changes that I make here are also propagated back to all my iCloud connected devices.
This workflow is fast, easy, with results that your subjects are sure to like.
The Apple Photos Book for Photographers, 2nd Edition
Updated for macOS High Sierra, the The Apple Photos Book for Photographers, 2nd Ed.
provides you with the latest tips, techniques, and workflows for Apple's photo management and editing application. Get your copy today!
You can share your thoughts at the TDS Facebook page, where I'll post this story for discussion.