Once again, I'm amazed that one of my most-reached-for optics on the New York trip was the $98 Olympus Fisheye Body Cap 9mm f/8 lens.
"Inside the Met" - I was able to set the Olympus OM-D E-M5 Mark II on a solid surface and capture this long exposure with the 9mm fisheye. ISO 1600, 1 second exposure, f/8. Photo by Derrick Story.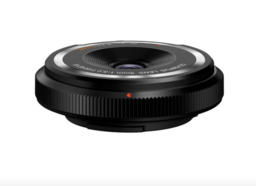 Sometimes the world is just too big, or spaces are just to cramped for a standard lens. And the key factor that the Olympus body cap has going for it is that it's just so darn compact. It will always fit in the bag. So, if I'm standing there inside the Met, outside in front of One World Trade Center, or at the pedestal of the Statue of Liberty, I can create the image that I see in my mind. And to tell you the truth, the image quality is surprisingly good.
If you're a Micro Four Thirds shooter, and you don't have the Olympus Fisheye Body Cap 9mm f/8 lens in your bag, you're missing out on some excellent artistic opportunities. I promise you.
You can share your thoughts at the TDS Facebook page, where I'll post this story for discussion.