I recently discovered the Think Tank Duo 5 ($20.75). And it's since become my preferred storage and travel companion for the Olympus 12-40mm f/2.8, 17mm, 25mm, and 45mm f/1.2 PRO lenses. They fit perfectly inside this case.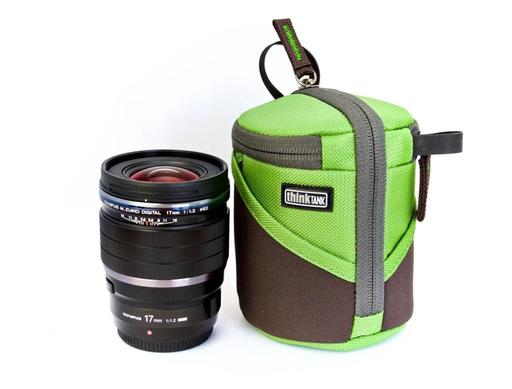 The Think Tank Lens Case Duo 5 with Olympus 17mm f/1.2 PRO lens.
The "Duo" refers to the dual access via either the top YKK zipper, or a second one down the front. The thinking is that we'd use the top for retrieving our lens when in a camera bag, and that the side zipper would be more handy when the pouch is on our belt. I still find myself using the top most of the time. (This is especially true with the lens cap reversed on the optic. It's just easier from above.)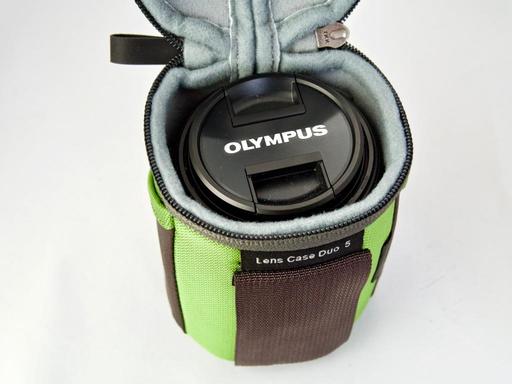 Olympus 17mm f/1.2 with lens cap and hood inside the Lens Duo 5 case.
But there's more to this case than dueling zippers. The well-padded, softly-lined pouch material, handy belt loop, and two outer stretchy pockets are all nice touches. You can use one outer pocket for a microfiber cloth and the other to stash the lens cap when the optic is in use.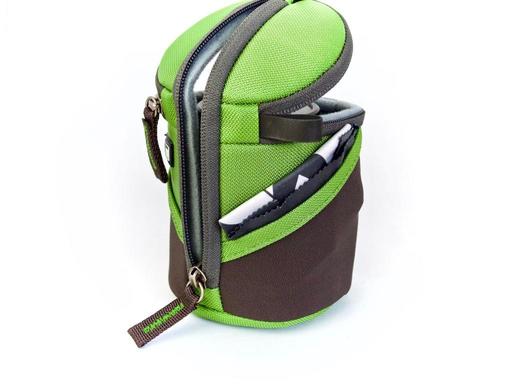 The Think Tank lens case Duo 5 with microfiber cloth.
The Lens Duo 5 is a reasonable $20.75 and comes in two colors, black and green. I think the green is really attractive. The Duo 5 holds a Canon/Nikon 18-55mm f/3.5-5.6, Canon 10-18mm f/4.5-5.6, Canon/Nikon 50mm f/1.4, Nikon 55-200mm f/4-5.6 AF-S, Olympus 12-40mm f/2.8, 40-150mm f/4-5.6, and the trio of f/1.2 PRO lenses. And there are five other Duo models as well, allowing you to stylishly transport practically any optic in your collection.
Most of us don't think as much about lens pouches as we do about the bags they go in. The Lens Case Duo 5 just might change that.
You can share your thoughts at the TDS Facebook page, where I'll post this story for discussion.