There are many quick-turnaround video projects that I don't want to run through Final Cut Pro X for the sake of speed. But I still want the best audio possible. In those instances, I've turned to SoundSoap 5 to reduce unwanted noise. Here's why.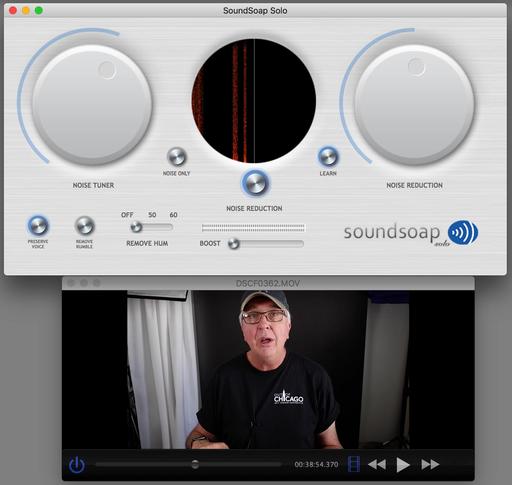 The SoundSoap Solo 5 Interface.
I've been assembling a super nimble video blogging rig that I can carry around in my pocket. I plan on using this to cover PhotoPlus in October and beyond. At the moment, I'm testing the Fujifilm XF10 (9 ounces, 24MP, APS-C sensor, $499) with an Audio-Technica Consumer ATR3350iS Omnidirectional Condenser Lavalier Microphone ($29). I'll record short vlogs with this rig, run it through SoundSoap, then publish on Vimeo. Here's a sample.
Video Blogging with the Fujifilm XF10 from Derrick Ronald Story on Vimeo. (Note: you will need a 3.5mm to 2.5mm adapter for this setup. The XF10 had a 2.5mm audio port.)
SoundSoap is key to this workflow. The lavaliere mic plugged into the Fujifilm XF10 really improves the audio compared to its onboard mics. That being said, camera audio interfaces tend to be noisy, and the output still needs processing afterward.
On bigger projects, I use Final Cut Pro X to clean up the audio. But I want to move faster than that for vlogging. SoundSoap allows me to reduce noise and enhance my voice quickly, then upload the file to Vimeo for publishing. Here are some of its features.
Works automatically
Fix background noises
Fix low volume
Fix hum problems
Fix low/rumble sounds
Drag & Drop popular formats
No loss of video quality
I was up and running immediately with it. The learning curve is about 5 minutes. And for audio processing software, it's affordable. There are different versions of the app, but I'm using SoundSoap Solo 5 (Mac and Windows) that costs $79. You can purchase it from their website. I downloaded mine from the Mac App Store because it's a more convenient way to manage my software.
The bottom line is that for fast-moving video projects where you want the best sound possible, SoundSoap is an essential component of the workflow. It's fast, affordable, easy to use, and works great.
You can share your thoughts at the TDS Facebook page, where I'll post this story for discussion.