Capturing great images of high school students is one of my favorite assignments. I've learned a lot over the years, and I've poured as much of that knowledge as possible into my newly revised, Learn How to Photograph High School Senior Portraits 2018 on LinkedIn Learning.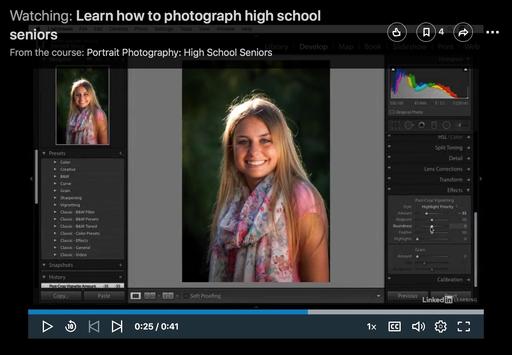 For this new release, I've kept the interesting live action sequences with actual high school seniors, including shooting sessions and discussion about what they are looking for in a portrait session. Then, I added movies showing how to use Lightroom, Capture One Pro, and Photos for macOS to sort, edit, and share the best pictures from the session.
This title reflects the best of both worlds: understanding how to capture great images of teens combined with using the current software tools available to us. Here's a peek at the movie trailer.
Learn how to photograph high school seniors from Portrait Photography: High School Seniors by Derrick Story
If you've been tasked with photographing a high school student in your family, or if you're interested in adding this type of assignment to your freelance work, then I encourage you to watch Learn How to Photograph High School Senior Portraits on LinkedIn Learning.
You can share your thoughts at the TDS Facebook page, where I'll post this story for discussion.