This is The Digital Story Podcast #651, Sept. 4, 2018. Today's theme is "Photography and Philanthropy - The Story of Home Alone." I'm Derrick Story.
Opening Monologue
Social networks have seen their share of user abuse over the last few years. But like so many things in life, the headlines often focus on the bad instead of the good. And as storytellers, we have an incredible opportunity to balance this narrative, and yes, even help others, by applying our skills online. Today, I share one such story that involves a sentimental photographer and an abandoned cat. I hope you enjoy the show.
Photography and Philanthropy - The Story of Home Alone
"Home Alone" is the name I gave to the sweet tuxedo kitty that lived next door. She was abandoned by the renters who picked up and moved away, leaving behind furniture, a non-operative truck, and this cat.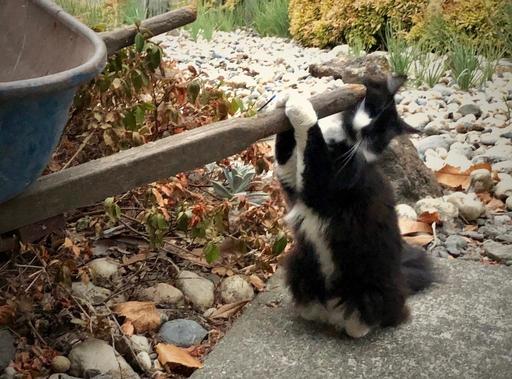 I heard her meowing one morning as I was getting ready to leave for work. The renters had been gone for a couple days. She had a water and food bowl on the front porch. That was it.
I fed her and filled her water bowl, and thought to myself, "Who could do this?" She was a great cat: cute, friendly, light on her paws. I began a morning ritual of reading my email on her front porch while she ate and rubbed up against my legs. But I knew I had to find her a home.
I already had a territorial feral cat living in the backyard, rescued from the fire kitty in the house, and Dibs at the studio. So we were going to have to get the word for Home Alone.
Here's what I came up with, and how it worked. (You can visit the Facebook post that I created for Home Alone.)
Tips for Posting a Piece to Help Another
Leverage your existing platform. People who follow you will listen to your story.
Capture a good image. The picture is so important. It will garner viewers' attention and help tell the story.
Keep your post pithy and on target. Don't ramble on.
Don't be too emotional. Regardless of how you feel, don't intentionally pull at the heartstrings of others. Let them come to their own conclusions.
Follow up and provide closure.
The Portfoliobox Featured Image
Over the summer, I've received many notes from new PortfolioBox users who are thrilled with this platform for curating their images. And now, I want to shine a light on some of those best photographs.
Each week for the month of September, I'm going to feature a PortfolioBox Pro image as the banner for our TDS Facebook Page. I will select the image from my list of TDS PortfolioBox Pro users, and include the photographer's name and link. Each week, I will select a new image and feature it.
If you've signed up for a Portfoliobox Pro account, and have published at least one page, then send me the link to that site. Use the Contact Form on the Nimble Photographer and provide your name, the link, and the subject of the page or site you've published. I will add it to our PortfolioBox Pro Directory.
The Best Laid Plans - My Rocky Nook Webinar on Photos for macOS
Here's the sad tale of last week's webinar that I had planned so carefully for.
Inner Circle Members: New York Fine Art Greeting Cards
My latest printing project is creating a set of 6 fine art greeting cards from my trip to New York. Inner Circle members, not only can you help me choose the final images, but by doing so, you become eligible to win a free set of the cards.
Starting later this week, I'm going to publish two images on our Inner Circle site. Post a comment as to which one you prefer best, and you are automatically entered in the drawing. We'll do this once a week throughout September. At the end of the month, I'll randomly choose four names from the comments and send them a completed set of fine art cards.
If you want to participate, you can become a member of our Inner Circle by clicking on this link or by clicking on the Patreon tile that's on every page of The Digital Story.
Updates and Such
B&H and Amazon tiles on www.thedigitalstory. If you click on them first, you're helping to support this podcast. And speaking of supporting this show, and big thanks to our Patreon Inner Circle members:
And finally, be sure to visit our friends at Red River Paper for all of your inkjet supply needs.
See you next week!
More Ways to Participate
Want to share photos and talk with other members in our virtual camera club? Check out our Flickr Public Group. And from those images, I choose the TDS Member Photo of the Day.
Podcast Sponsors
Red River Paper - Keep up with the world of inkjet printing, and win free paper, by liking Red River Paper on Facebook.
Portfoliobox - Create the site that your best images deserve by visiting Portfoliobox. And get a 20 percent discount by using our landing page!
The Nimbleosity Report
Do you want to keep up with the best content from The Digital Story and The Nimble Photographer? Sign up for The Nimbleosity Report, and receive highlights twice-a-month in a single page newsletter. Be a part of our community!
Want to Comment on this Post?
You can share your thoughts at the TDS Facebook page, where I'll post this story for discussion.