This is The Digital Story Podcast #656, Oct. 9, 2018. Today's theme is "5 Cool Imaging Tricks with macOS Mojave." I'm Derrick Story.
Opening Monologue
macOS Mojave, otherwise known as version 10.14, features a handful of goodies for imaging buffs. Starting with dark mode, that just makes all of our pictures look better, to improved performance under the hood, this latest operating system for Macs is a pretty sweet ride. But there are a few more goodies that aren't immediately apparent to the eye, but are delightful just the same. And that's the top story in today's TDS Photography Podcast.
5 Cool Imaging Tricks with macOS Mojave
I've been working on my new Photos title for LinkedIn Learning and lynda.com, and I've enjoyed discovering all the new goodies for photographers. I thought that you might to know my 5 favorites of the bunch.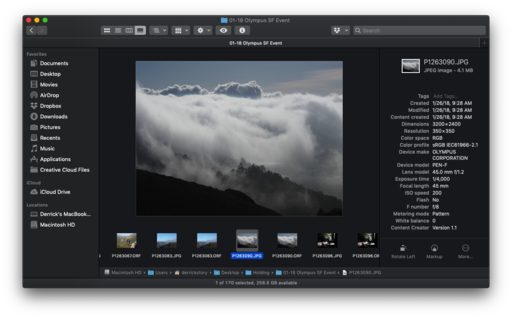 Gallery View in the Finder with EXIF Data - Gallery View is the source of so many good things in the Finder. First, it's a great way to browse your images. Second, you can now view the full EXIF data in the view. And third, there are plenty of tools here via Quick Actions. More on that in just a minute.

Built-In Video Screen Capture - This is really fun. Use the new command: Shift-Command-5 to display a robust screen capture tool for both stills and video. There are plenty of options including screen capture area, save to location, delay timer, audio recording, and show mouse clicks.

Trimming Video with Quick Actions - There are four Quick Actions included with Mojave that allow you to perform editing functions right in the Finder: Rotate, Markup, Create PDF, and Trim. I like them all, but having Trim available to clean up my screen capture movies is super handy. And if you're handy with Automator, you can easily create your own Quick Actions. I've already created a few for myself.

Instant Scanner - We've been able to take pictures of documents with our iPhones for some time, and there are some nifty iOS apps to make that even better. But with Continuity Camera in Mojave, all I have to do is right-click in the Finder, choose Import from iPhone in the popup, and click on Scan Documents. I can create multipage PDFs right on the spot. Perfect for receipts and documents, especially when traveling on the road.

Show File Names in Photos - Here's a feature that just happens automatically, and that photographers have been asking for since Photos came out. Now, if a picture does not have a title that you entered in the Info box, Photos will display its file name in the thumbnail view. Yay!
Introducing HoneyBook to Make Your Business as Good as Your Art
What small biz owner wants to spend their time on paperwork, endless emails, and dealing with payment collection? That's why there's HoneyBook.
I was very curious about this service, so I set up an account so I could explore in greater depth. The number one appeal for me was the ease of bookkeeping. I'm sure I'm not the only business owner who struggles with that. And Honeybook can definitely help me be more efficient there.
But there are other features as well, such as managing your tasks, calendar, projects, and more. And I began to realize that this is an integrated system to ease the pain of managing all aspects of my business.
The way they explained it to me was this: "Honeybook is a purpose-built business management platform for creative small businesses. They help photographers, designers, event professionals, and other solopreneurs save hundreds, if not thousands of hours a year by adding time-saving automation into their business. Honeybook makes it easy to streamline the client process, so you never miss a thing!"
And that's why, for a limited time, TDS listeners can get 50 percent off the first year of Honeybook with promo code THEDIGITALSTORY. Honeybook membership includes unlimited access to ALL features, at one low monthly price. So go to HoneyBook.com today, and use promo code THEDIGITALSTORY to get started. Again, that's HoneyBook.com, promo code THEDIGITALSTORY.
Luminar with Library Due to Be Released in December
It's been a long wait for Luminar fans, but the much-discussed digital asset manager will finally see the light of day this coming December.
This is also good news for those who signed up earlier this year for my Nimble Classroom on this very subject. As soon as I get an actual release day, I will schedule that online class.
Skylum has released teaser videos that provide glimpses of the upcoming Luminar Library. At this point, it's hard to say what features the software will actually have in its first release. My guess is that a lot of that will depend on how well the closed beta testing goes.
More to come on this story.
Do You Have a Film Camera that Needs a Good Home?
Over the last year, I've received donations from TDS members who have film cameras that need a good home. What I do is inspect the items, repair and clean as I can, then list them in TheFilmCameraShop where I can find a good home for them. If you're interested in donating, please use the Contact Form on TheNimblePhotographer site. And thanks for you consideration!
Updates and Such
Inner Circle Members: Starting this month - Photo Critique. Check out the post on Patreon. Send your images to me with the subject line, "Photo Critique." More details on our Patreon page.
B&H and Amazon tiles on www.thedigitalstory. If you click on them first, you're helping to support this podcast. And speaking of supporting this show, and big thanks to our Patreon Inner Circle members:
And finally, be sure to visit our friends at Red River Paper for all of your inkjet supply needs.
See you next week!
More Ways to Participate
Want to share photos and talk with other members in our virtual camera club? Check out our Flickr Public Group. And from those images, I choose the TDS Member Photo of the Day.
Podcast Sponsors
Red River Paper - Keep up with the world of inkjet printing, and win free paper, by liking Red River Paper on Facebook.
HoneyBook - What small biz owner wants to spend their time on paperwork, endless emails, and dealing with payment collection? That's why there's HoneyBook. Learn more at HoneyBook.com. And save 50 percent your first year by using coupon code: THEDIGITALSTORY
The Nimbleosity Report
Do you want to keep up with the best content from The Digital Story and The Nimble Photographer? Sign up for The Nimbleosity Report, and receive highlights twice-a-month in a single page newsletter. Be a part of our community!
Want to Comment on this Post?
You can share your thoughts at the TDS Facebook page, where I'll post this story for discussion.