One of the reasons why I like Tonality so much for B&W work is that it has these fantastic presets that make it easy to view and convert my images to a variety of styles. Luminar 2018 ($59) users can now enjoy those same benefits by downloading the Tonality Mega B&W Pack... for free.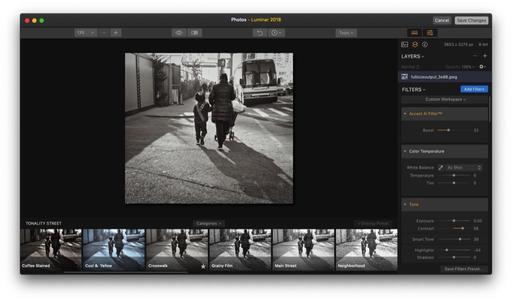 When they say "mega," they mean it. There are collections of Tonality presets in different categories, film textures, workspaces, and more. They come in zipped files that you unzip, then use the File > Add Custom Presets Pack command in Luminar to add them to your work environment. They will be available to you under Categories when you have Presets enabled.
If you love B&W photography, and are using Luminar 2018 as a plug-in for Lightroom, Photoshop, or Photos for macOS (not to mention as a powerful standalone app), then you will definitely want to download this free mega presets pack.
Have a blast with it!
You can share your thoughts at the TDS Facebook page, where I'll post this story for discussion.