The new Gallery View in macOS Mojave is a photographer's treasure chest. Not only can you browse images in a meaningful way, you can also review full metadata and tap a number of tools that once required opening an application.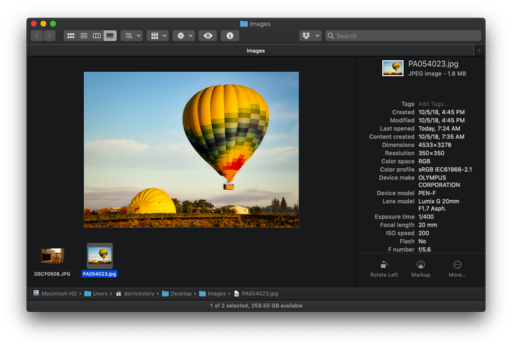 Gallery View in macOS Mojave
To make things even more efficient, Apple has included a handful of Quick Actions to speed up the workflow. Take a look in the lower right corner of Gallery View, and you will see Rotate Left, Markup, and More. In the More menu you can also stash Automator scripts that are accessible via the Finder.
These little scripts can really save your time for mundane tasks such as converting file types, resizing images, etc. And they are especially handy when you're working in Gallery View.
In that spirit, I've added a few to the list that I needed. One of them, Scale to Social 2048, takes any image and resizes it to 2048 pixels on the long side... perfect for sharing on Facebook, Twitter, and other online destinations. Here's how I created it.
First launch Automator. You can just use Spotlight Search (magnifying glass in the upper right of the interface) to find it. Then go to File > New and choose Quick Action from the popup menu.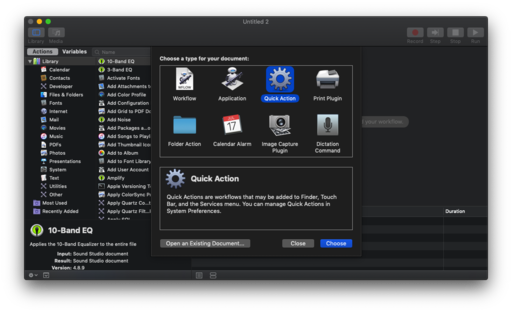 Choose Quick Action
Now turn your attention to the Library column on the left and click on the Photos group. You'll see all sorts of tools in there. Drag over the one that want to the main window. Fill out any parameters that may be required.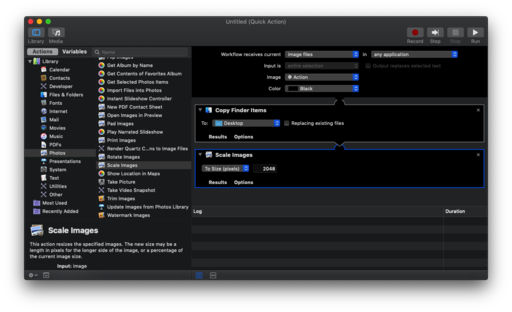 Decide what action(s) you want.
Now, all you have to do is Save. The Quick Action will automatically be placed in the Services directory, and immediately accessible via the More menu in the lower right corner of the Gallery View window. (It's also available other places via right-click, etc.)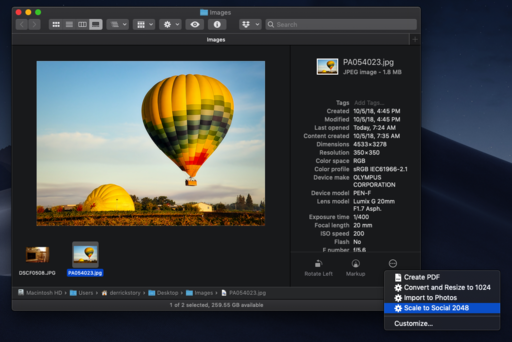 The Quick Action is now available.
To run the script, all you have to do is choose it from the popup menu. The little Automator gear will turn at the top of the interface while it's executing, then just like that, it's completed. (You'll really feel smart at this point.)
From here, you can play on your own. I've created actions for converting PNGs to Jpegs, and for importing images into my Photos app straight from the Finder. It returns an error message, but it still works perfectly. Go figure. It's scripting.
You can share your thoughts at the TDS Facebook page, where I'll post this story for discussion.