This is The Digital Story Podcast #658, Oct. 23, 2018. Today's theme is "How's Lightroom CC Coming Along?" I'm Derrick Story.
Opening Monologue
Adobe recently release Lightroom CC 2.0 for the desktop and mobile devices. This seems like a good time to check-in on the Creative Cloud version of the app. Is it truly useful yet? Can it replace the Classic version? What's the experience like? I'll take a closer look in today's TDS Photography Podcast.
How's Lightroom CC Coming Along?
Among other things, Adobe provides RAW decoding for my new Fujifilm XF10 in Lightroom CC. So this seemed like the perfect opportunity to immerse myself in this application for a few days. And that's exactly what I did.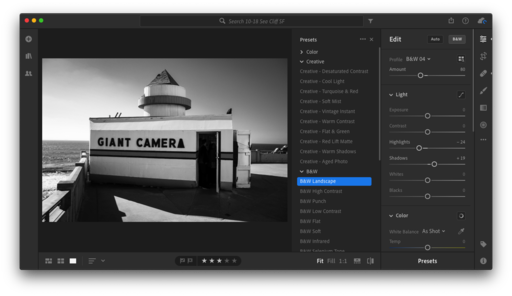 First of all, I should mention what's new in this 2.0 version of Lightroom CC.
People View - Find photos of specific people faster now that Lightroom CC uses Adobe Sensei technology to automatically sort your photos based on who's in them. When you upload and sync photos to the cloud, Lightroom CC detects, recognizes, and groups photos of the same person.

Migrate Apple Photos - You can now easily migrate your Apple Photos Library into Lightroom CC on your desktop. Your photos sync to the cloud so you can access, edit, organize, and share them on all your devices.

Easily share your photos to the web - In addition to sharing albums, you can now share any random selection of photos as a web gallery.

Improved search - Start typing in the search bar and Lightroom CC automatically offers suggestions to help you quickly find what you need. Search for cameras, locations, and other metadata with ease. Also, your enabled filters are kept neatly organized in the search box. You can even search for a filter using its name (try 'camera:').

Local color toning - You can now apply colors to specific areas of your photo with the Brush and Gradient tools. When using the Brush, Linear Gradient, or Radial Gradient tools in Lightroom CC, scroll down to the bottom of the adjustment sliders panel to turn on Color.

HEVC file support on macOS - Beginning with this release, Lightroom CC supports Apple's HEVC video format (High Efficiency Video Coding, also known as H.265) on macOS High Sierra (10.13) or later.

Support for New Cameras and Lenses - New models include Canon EOS R, Fujifilm X-T3, Nikon Z7 and Lumix LX100 II.
In terms of the usability, Lightroom CC is becoming a real pleasure to use. Here are some of my observations.
Basic adjustments work well.
I like the way presets are handled.
The brushing tools are quite serviceable.
Linear and Radial Gradients work well.
Seems odd that there are no shortcuts for copy and paste settings.
Creative Cloud syncing is excellent.
Overall, I give Lightroom CC V2.0 high marks. If you're coming to it from Lightroom Classic, that might be difficult. There are still many tools that are not available in the CC version. Two that I really miss are HDR merging and Pano stitching. But if you're coming from a mobile perspective, then LR CC should be a welcome upgrade to working on a mobile device.
HoneyBook Makes Your Business as Good as Your Art
I was sitting in a client meeting today, and one of the dominate topics was how we could get ahead of these projects, and stay more organized along the way.
As we were talking about this, I was thinking about HoneyBook and how this service is designed to do exactly that. From scheduling with its integrated calendar (that also syncs with Google Calendar), to staying on track with its task list and project management tools. And when it's time to invoice, all the bookkeeping is integrated as well.
If you're grappling with these same sort of challenges in your freelance or startup business, I encourage you to explore HoneyBook. It won't cost you a thing to learn what it can do for you. But it can save you hundreds, if not thousands of dollars up the road.
"Honeybook is a purpose-built business management platform for creative small businesses. They help photographers, designers, event professionals, and other solopreneurs save hundreds, if not thousands of hours a year by adding time-saving automation into their business. Honeybook makes it easy to streamline the client process, so you never miss a thing!"
And that's why, for a limited time, TDS listeners can get 50 percent off the first year of Honeybook with promo code THEDIGITALSTORY. Honeybook membership includes unlimited access to ALL features, at one low monthly price. So go to HONEYBOOK.COM today, and use promo code THEDIGITALSTORY to get started. Again, that's HoneyBook.com, promo code THEDIGITALSTORY.
Digitizing Family Memories with the Epson FastFoto Scanner
I have a shoebox in the closet that contains family snapshots from over the years. They came to me in a variety of ways. Some I took myself. Others were included in letters from my Mom. And I even have original prints that my Dad discovered doing his family archiving project. All of these valuable, important pictures were lying dormant until recently when I got my hands on a Epson FastFoto Scanner. Now they are digitized and cataloged in my photo management software.
I talk about this unique scanner in this segment of the show.
Updates and Such
Inner Circle Members: Starting this month - Photo Critique. Check out the post on Patreon. Send your images to me with the subject line, "Photo Critique." More details on our Patreon page.
B&H and Amazon tiles on www.thedigitalstory. If you click on them first, you're helping to support this podcast. And speaking of supporting this show, and big thanks to our Patreon Inner Circle members:
And finally, be sure to visit our friends at Red River Paper for all of your inkjet supply needs.
See you next week!
More Ways to Participate
Want to share photos and talk with other members in our virtual camera club? Check out our Flickr Public Group. And from those images, I choose the TDS Member Photo of the Day.
Podcast Sponsors
Red River Paper - Keep up with the world of inkjet printing, and win free paper, by liking Red River Paper on Facebook.
HoneyBook - What small biz owner wants to spend their time on paperwork, endless emails, and dealing with payment collection? That's why there's HoneyBook. Learn more at HoneyBook.com. And save 50 percent your first year by using coupon code: THEDIGITALSTORY
The Nimbleosity Report
Do you want to keep up with the best content from The Digital Story and The Nimble Photographer? Sign up for The Nimbleosity Report, and receive highlights twice-a-month in a single page newsletter. Be a part of our community!
Want to Comment on this Post?
You can share your thoughts at the TDS Facebook page, where I'll post this story for discussion.