This is The Digital Story Podcast #659, Oct. 30, 2018. Today's theme is "How to Avoid Clogged Nozzles and Other Printing Woes" I'm Derrick Story.
Opening Monologue
If it wasn't for printers, making prints would be a lot of fun. Yes, there's nothing worse than finally getting in the mood to print a beautiful 13" x 19" print, only to discover that you have a clogged nozzle or some other malady. The good news is, that almost every woe that plagues us is preventable. And I have some excellent tips from printing experts to ensure output happiness in your future.
How to Avoid Clogged Nozzles and Other Printing Woes
Among the many visits that I enjoyed at PhotoPlus Expo last week, one of the best was with the printing gurus at the Epson booth. I had a laundry list of questions from listeners that I wanted advice about. And they were more than ready to respond to my every query.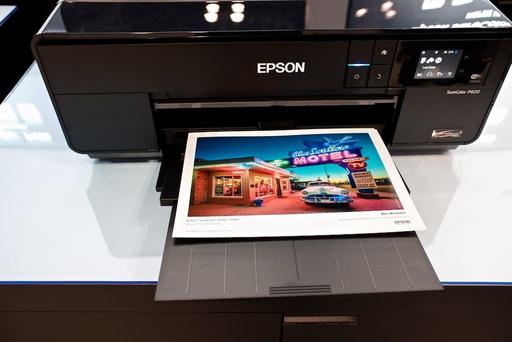 What I came away with were five tips that will help ensure a productive, non-frustrating printing experience, even if you only print every couple months. So without further ado, here they are.
Use Your Inkjet as an Occasional Document Printer - Printers like to print. But if we save our fancy 13" photo printer for photography only, it might not get enough use to stay in top shape. They work great for documents as well. Fire it up once a week and print a few sheets.

Cover Your Printer When Not in Use - Dust is your greatest enemy. Not only can it affect your prints, but it is the main culprit for clogged nozzles. It's the dust that commingles with residue ink that actually causes the problem.

Turn Off Your Printer When Not in Use - Many folks leave their printer on when not in use because they think it dumps a bunch of ink each time it starts up. Actually, that's not true with modern Epson printers. All that chugging and churning is really just a comprehensive system check. You can verify this by weighting your cartridges before and after start up.

Don't Change Cartridges When Their Warning Light Comes On - There's usually 10 percent or more of ink remaining when the warning lights illuminates. Don't change then. Use the light as a reminder to order a replacement cartridge when the previous one actually runs out of ink.

Check Out Informative Video Available Online - Great videos can be found at the Epson Print Academy that will help you stay on top of your printing game.
HoneyBook Makes Your Business as Good as Your Art
I was sitting in a client meeting today, and one of the dominate topics was how we could get ahead of these projects, and stay more organized along the way.
As we were talking about this, I was thinking about HoneyBook and how this service is designed to do exactly that. From scheduling with its integrated calendar (that also syncs with Google Calendar), to staying on track with its task list and project management tools. And when it's time to invoice, all the bookkeeping is integrated as well.
If you're grappling with these same sort of challenges in your freelance or startup business, I encourage you to explore Honeybook. It won't cost you a thing to learn what it can do for you. But it can save you hundreds, if not thousands of dollars up the road.
"Honeybook is a purpose-built business management platform for creative small businesses. They help photographers, designers, event professionals, and other solopreneurs save hundreds, if not thousands of hours a year by adding time-saving automation into their business. HoneyBook makes it easy to streamline the client process, so you never miss a thing!"
And that's why, for a limited time, TDS listeners can get 50 percent off the first year of Honeybook with promo code THEDIGITALSTORY. Honeybook membership includes unlimited access to ALL features, at one low monthly price. So go to HONEYBOOK.COM today, and use promo code THEDIGITALSTORY to get started. Again, that's HoneyBook.com, promo code THEDIGITALSTORY.
Tonality Mega B&W Pack Free to Luminar Users
One of the reasons why I like Tonality so much for B&W work is that it has these fantastic presets that make it easy to view and convert my images to a variety of styles. Luminar 2018 ($59) users can now enjoy those same benefits by downloading the Tonality Mega B&W Pack... for free.
When they say "mega," they mean it. There are collections of Tonality presets in different categories, film textures, workspaces, and more. They come in zipped files that you unzip, then use the File > Add Custom Presets Pack command in Luminar to add them to your work environment. They will be available to you under Categories when you have Presets enabled.
If you love B&W photography, and are using Luminar 2018 as a plug-in for Lightroom, Photoshop, or Photos for macOS (not to mention as a powerful standalone app), then you will definitely want to download this free mega presets pack.
Updates and Such
Inner Circle Members: Starting this month - Photo Critique. Check out the post on Patreon. Send your images to me with the subject line, "Photo Critique." More details on our Patreon page.
B&H and Amazon tiles on www.thedigitalstory. If you click on them first, you're helping to support this podcast. And speaking of supporting this show, and big thanks to our Patreon Inner Circle members:
And finally, be sure to visit our friends at Red River Paper for all of your inkjet supply needs.
See you next week!
More Ways to Participate
Want to share photos and talk with other members in our virtual camera club? Check out our Flickr Public Group. And from those images, I choose the TDS Member Photo of the Day.
Podcast Sponsors
Red River Paper - Keep up with the world of inkjet printing, and win free paper, by liking Red River Paper on Facebook.
HoneyBook - What small biz owner wants to spend their time on paperwork, endless emails, and dealing with payment collection? That's why there's HoneyBook. Learn more at HoneyBook.com. And save 50 percent your first year by using coupon code: THEDIGITALSTORY
The Nimbleosity Report
Do you want to keep up with the best content from The Digital Story and The Nimble Photographer? Sign up for The Nimbleosity Report, and receive highlights twice-a-month in a single page newsletter. Be a part of our community!
Want to Comment on this Post?
You can share your thoughts at the TDS Facebook page, where I'll post this story for discussion.