I just delivered a job using Capture One Pro and Luminar 2018 for the post production. And to be honest, the final product wouldn't have been as good without Luminar. I'll explain a bit more about that in a minute, but first I want to cover why now is the time to purchase this app if you've been thinking about it.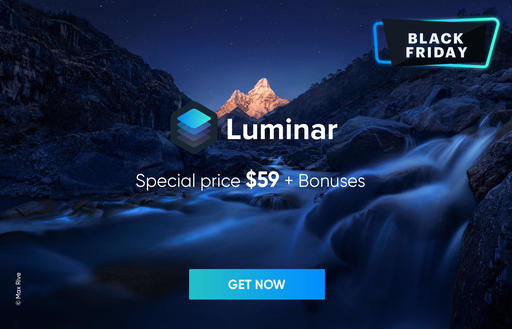 Currently Skylum has the app on sale for $59. That includes Luminar 2018 (with free upgrade to Luminar Libraries in Dec.), 1 year free SmugMug Portfolio Plan ($180 value), plus 119 Dramatic and Romantic Sky Overlays ($29 value), plus 20 percent off COOPH apparel and accessories. On top of that, you can save extra $10 with coupon code: THEDIGITALSTORY - Total is $49 for everything.
On top of using Luminar to help prepare my images for clients, I use SmugMug to deliver them. Smugmug's presentation of my work makes a great impression, and the ease at which I can control permissions is very helpful for me. It's a great combination. And it's one that I've been using successfully for years.
Going a step further, Skylum will release Luminar with Libraries on Dec. 18. This will be a free upgrade for current Luminar users, which you would be if you took advantage of the Black Friday offer for $49. Over time, the library function will evolve into a photo management system that should be able to handle all of your organizational needs. You can get in now, essentially for free.
Going back to my own workflow, I can create images in Luminar that are impossible for me to build any other way. The amazing AI tools combined with the creative filters such as Image Radiance give me editing options unlike anything that I've experienced before.
And what's really interesting, is that I can bring this workflow to my personal work as well because Luminar doubles as an editing extension for Photos for macOS. So all of my iPhone pictures can also be enhanced with these tools.
So Luminar has become an important part of both my professional and my personal work. I really can't image post processing without it.
The Black Friday sale ends November 28. If you're leaning this way at all, I would take a close look at it.
Rock Luminar with my Essential Training
You learn all the ins and outs of Luminar 2018 via my Essential Training on lynda.com and on LinkedIn Learning. It's fun, and I promise, you will learn a lot.
You can share your thoughts at the TDS Facebook page, where I'll post this story for discussion.