Luminar 2018 users have a new filter in their toolbox. It's called AI Sky Enhancer, and it's impressive.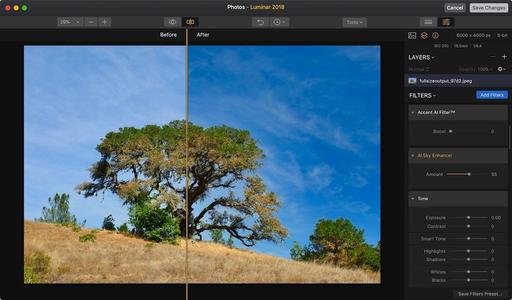 Before/After with Luminar 2018 AI Sky Enhancer applied.
Unlike when you use a graduated filter to enhance a sky, AI Sky Enhancer doesn't affect the foreground subjects and only applies its magic to the sky itself. That's a huge timesaving by eliminating retouching. Skylum describes it like this:
"With the help of our deep neural network, Luminar analyzes the image and detects the sky. This neural network had been trained using hundreds of thousands of images with different amounts and different types of sky, whether it's a tiny patch of blue peeking through a skylight, a cloudy sky flaunting sunset colors, or a dark, ominous sky signaling a storm."
"Once image analysis is complete, Luminar performs what we call semantic segmentation, separating the image into different layers, based on the semantic and contextual meaning of the objects it detects."
"This analysis allows the most precise and intelligent sky enhancement with minimal noise, halos, and negative impact on other areas of the image. The AI detects objects in the foreground, defines edges, and analyzes the textures and tones of the sky itself."
This simplifies landscape editing, freeing the photographer from tedious brushing of foreground subjects that need to be excluded from the enhancement of the sky. Take a look at this finished image. AI Sky Enhancer was used without any brushing to exclude the vegetation from the edit.
Final edit of landscape using AI Sky Enhancer. Photo by Derrick Story.
Luminar 2018 ($59) can be used as a standalone application, as a plugin for Lightroom, and as an editing extension for Photos for macOS. The next big step for this application with be Luminar Library coming in December.
Rock Luminar with my Essential Training
You learn all the ins and outs of Luminar 2018 via my Essential Training on lynda.com and on LinkedIn Learning. It's fun, and I promise, you will learn a lot.
You can share your thoughts at the TDS Facebook page, where I'll post this story for discussion.