My photography world usually lives between 24mm and 105mm. Portraits, events, and urban fit nicely in this frame. But, there are those times when nothing else but an ultra-wide will work. It's an investment that I initially resisted, but praise the heavens ever time I use it.
Interior captured with a 10-20mm Sigma on a Pentax KP. Photo by Derrick Story.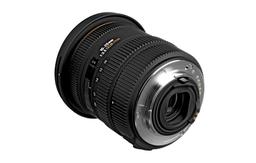 Such was the case last week during an assignment. I had few details about the shoot, and wasn't sure exactly how to prepare. My Sigma 10-20mm f/3.5 EX DC HSM sits in the bottom of the bag beneath the Pentax KP DSLR because I don't shoot with it as often as my other optics. But on this day, I really needed it.
When the client pointed to a interior staircase and asked, "Can you capture all of that for me?", I smiled, and replied, "Indeed I can." I mounted the Sigma 10-20mm on the Pentax, and just left it there for the rest of the day.
I like to shoot this way. Two camera bodies with the two optics that I'm using most at the time. The Olympus OM-D E-M1 II had the Panasonic 12-35mm f/2.8 zoom that covered 24-70mms with the crop factor. And the Pentax/Sigma combo covered the 15-35mm range.
From that point on, the shoot went as smooth as ice.
The Sigma 10-20mm f/3.5 EX DC HSM is available in mounts for Nikon, Canon, Sony-Alpha, Pentax, and Sigma. It originally sold for $649, but is now available for $399 thanks to an instant $250 rebate. I hemmed and hawed a bit before making this purchase last year. Now, I can think of at least a dozen photo shoots where it saved the day.
You can share your thoughts at the TDS Facebook page, where I'll post this story for discussion.