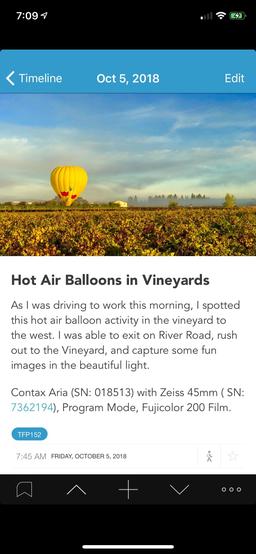 Three years ago I wrote my first journal entry for what I called then, The Film Project. The concept was to augment my analog photography with metadata captured with the iPhone. The system has worked quite well. So well, in fact, that it has become much more than I expected or hoped for. Here's why I'm recommending it for you.
I take more pictures. Journaling has been the engine behind my Instagram feed. I have more than 1,200 posts there, and most of them began with a journal entry. It's safe to say the journaling has reenergized my personal photography.

I feel more in touch with my life. Journaling helps me better appreciate my life. And I don't have the lost feeling of "when did that happen?" I know when it happened. I have the image and the story. And it feels great.

I'm continuing to grow as an artist. If I haven't written a journal entry for a day or so, I begin contemplating what I can do. I initiate an activity. I try to create an opportunity. It really gets the juices going. And as a result, I become more creative.
What started out as a way to record camera settings, location, and weather conditions has evolved into a true accounting of my life. So many things have happened since Dec. 2015, and most of those important moments are recorded in the journal.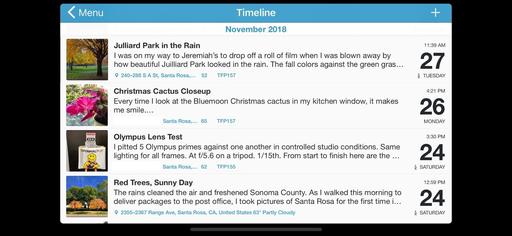 Thanks to the capabilities of the smartphone, this work goes well beyond a dear diary. To create an entry, I first capture an image with the iPhone. This is a critical step of the process. By doing so, I immediately have the visual story, plus that capture records time, weather, and location.
In my case, I also take an analog image with a film camera. But that isn't required for this particular project. What is required, however, is a few lines about the moment. I typically tap those out during the first break that follows the event. Time for a cup of coffee? Great, I'll write my journal entry as well.
I use Day One because it's easy, powerful, and the data syncs across all of my devices. So I can view or augment journal entries from my iPhone, Mac, and iPad. In addition to the metadata captured by the iPhone and my written entry, I also use tags so I can sync the images with rolls of film. I can find the story behind any 35mm frame in my binders in just seconds.
No matter how dull or exciting you think your life it, it's your life. And looking back on it through a journal will help you appreciate the things you've done and experienced. That translates into a new attitude as you move forward.
You have the entire month of December to get your tools together for a journal, write some test entries, and see how it feels. Try it. And be ready for 2019.
You can share your thoughts at the TDS Facebook page, where I'll post this story for discussion.