This is The Digital Story Podcast #669, Jan. 8, 2019. Today's theme is "Making Photographs with Ibarionex Perello." I'm Derrick Story.
Opening Monologue
The Candid Frame Podcast has been running as long as The Digital Story. And over those years listeners have enjoyed the insightful interviews conducted by Ibarionex. And now he has a new book titled, Making Photographs. Seems like a great time to have this long overdue visit with one of the great guys in our industry. Hope you enjoy the show.
Making Photographs with Ibarionex Perello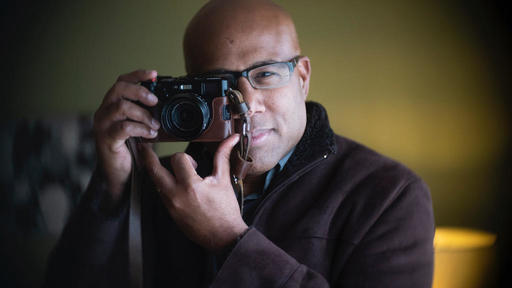 Ibarionex and I sit down to discuss his new book, Making Photographs, and our combined 25 years of podcasting.
The Portfoliobox Tip of the Week and Photo Contest
Tip of the Week
Set colors and fonts on your entire website at once - You can fine-tune your website and choose specific colors and fonts for every element of your Portfoliobox site: menu, logo, text, headers, links, etc. Or you can opt for the quick and easy way and change all of them at once by choosing one of the preset combos we've prepared for you. Go to Colors and Fonts and click on Color Scheme or Font combo.
Photo Contest: B&W Portraits
To enter, send your best B&W portrait to thenimblephotographer@gmail.com by Jan. 22, 2019. Subject Line: B&W Portrait Contest. Make sure you have permission from the subject. Entrant must have captured the image and performed all of the post production on it. Recommended size of the image is 2000 px on the longest edge. The selected image will be featured on TheDigitalStory and the photographer will receive a 1-Year Pro Account with Portfoliobox.
To create your own Portfoliobox site, click on the tile or use this link to get started. If you upgrade to a Pro site, you'll save 20 percent off the $83 annual price.
Short Movie - Chinatown Photo Shoot
Mike and I made this movie on the final day of last year's SF Street Photography Workshop. (Here's link as well.) It provides you with an inside look at our premier urban event. We're going to have just one more street photography workshop in SF, this coming April. And we'd like you to join us for the farewell to this long running gathering in the city.
If you do want to join us April 26-28, and I hope you do, please visit the Workshops Signup Page and place your $100 deposit. That will secure your ability to attend when official registration begins later this month. You can also read more about the event on the TDS Workshops page.
Updates and Such
Inner Circle Members: Our current Photo Challenge is Repetitive Pattern. Check your Patreon page for the details and prize. And thanks for supporting this podcast!
B&H and Amazon tiles on www.thedigitalstory. If you click on them first, you're helping to support this podcast. And speaking of supporting this show, and big thanks to our Patreon Inner Circle members:
And finally, be sure to visit our friends at Red River Paper for all of your inkjet supply needs.
See you next week!
More Ways to Participate
Want to share photos and talk with other members in our virtual camera club? Check out our Flickr Public Group. And from those images, I choose the TDS Member Photo of the Day.
Podcast Sponsors
Red River Paper - Keep up with the world of inkjet printing, and win free paper, by liking Red River Paper on Facebook.
Portfoliobox - Your PortfolioBox site is the best way to show off your best images.
The Nimbleosity Report
Do you want to keep up with the best content from The Digital Story and The Nimble Photographer? Sign up for The Nimbleosity Report, and receive highlights twice-a-month in a single page newsletter. Be a part of our community!
Want to Comment on this Post?
You can share your thoughts at the TDS Facebook page, where I'll post this story for discussion.