The just-announced pro level 20MP Olympus OM-D E-M1X incorporates an integrated vertical grip and offers the world's highest image stabilization performance with approximately 7.5 shutter speed steps of compensation.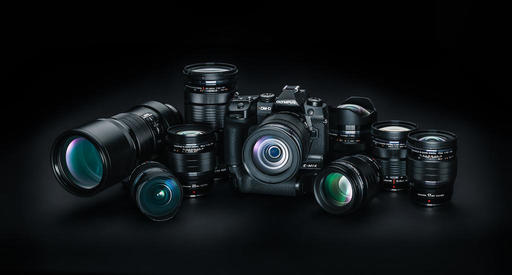 Its Zero-lag Pro Capture Mode and 60 fps high-speed continuous shooting ensures photographers will never miss a shot. The dual TruePic VIII Image Processors provide for high-speed responsiveness and a handheld High Res Shot Mode. The camera's 121-point all-cross-type on-chip Phase Detection AF sensor and an AF Multi-Selector provides greater freedom over composition.
Key features include:
Integrated Vertical Grip
Precise Autofocus system with AF Multi-Selector, All-Cross-Type On-Chip Phase Detection AF Sensor, and Intelligent Subject Detection AF
Pro Capture Mode and 60 fps High-Speed Sequential Shooting
Dual TruePic VIII Image Processors
The World's Highest Image Stabilization Performance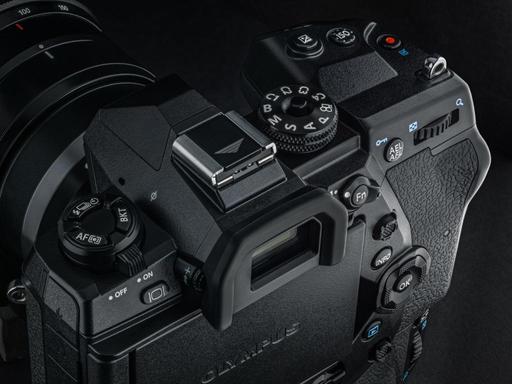 The OM-D E-M1X clears Olympus' in-house splashproof tests that are far more rigorous than IPX1 water ingress testing. The body is designed for shooting in the severe conditions professional photographers often find themselves. Dustproof, splashproof, and freezeproof (14 degrees F / -10 degrees C) performance is maintained even when the remote cable, microphone, and headphone jacks are in use, enabling shooting that's not affected by poor weather.
A new coating is used on the Super Sonic Wave Filter, which vibrates at 30,000 times per second to remove dust and dirt, boosting dust removal effectiveness by 10 percent compared to previous Olympus models. The OM-D E-M1X also features durability and reliability to put pro photographers' minds at ease, including construction that dissipates heat when shooting video and during high speed shooting in very hot conditions, which can typically cause the temperature to rise and limit functionality, as well as a shutter life actuation counts of 400,000.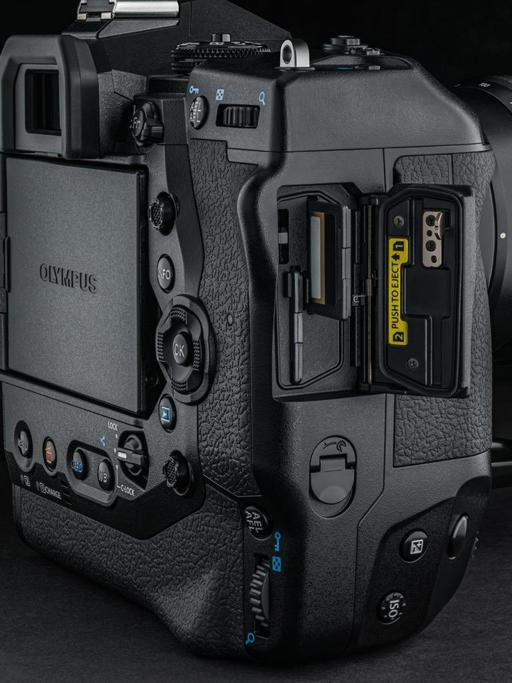 The OM-D E-M1X is equipped with a cartridge battery insertion system with the capacity for two BLH-1 lithium-ion batteries (also used in the OM-D E-M1 Mark II). Users can capture up to approximately 870 shots and easily replace the batteries even when the camera is attached to a monopod or tripod. The camera also supports USB-C power delivery from a maximum 100 W USB-C standard power source with no special adapter required. This makes it possible to charge the two BLH-1 batteries in the camera body in approximately two hours.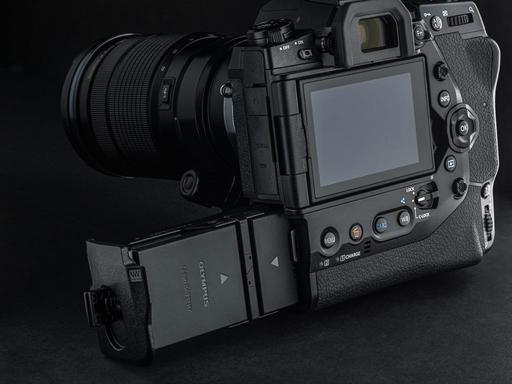 The OM-D E-M1X features high-speed sequential shooting at a maximum 60 fps for capturing scenes in high definition that even the human eye cannot see. Both the 60 fps high-speed continuous shooting in AF/AE Lock, and maximum 18 fps continuous shooting with AF/AE Tracking can be used in Silent Mode for shooting a variety of activities, performances and events where the photographer does not want to disturb others with the sound of the shutter.
The OM-D E-M1X's new gyro sensor enables superior image stabilization performance, delivering a maximum of 7.0 shutter speed steps of compensation performance when using the camera body stabilization alone, and the world's highest 7.5 shutter speed steps of compensation when combined with the stabilized M.Zuiko Digital ED 12-100mm F4.0 IS PRO lens. This feature makes handheld shooting possible at lower shutter speeds than ever before, which is perfect for nighttime and indoor shooting.
The OM-D E-M1X contains a built-in GPS sensor, temperature sensor, manometer and compass, collectively known as 'field sensors'. In addition to location information, including longitude and latitude, these sensors detect and record the temperature, elevation, and direction of the camera for adding detailed shooting information to images.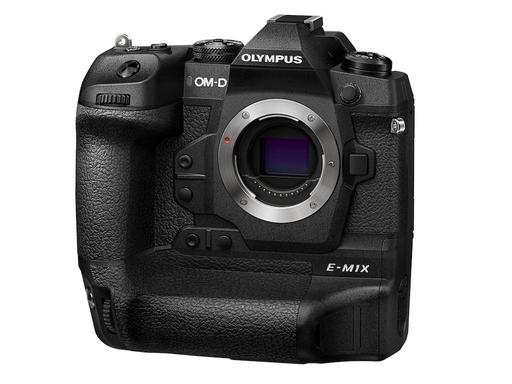 The Olympus OM-D E-M1X (black) will begin shipping in late February 2019 for $2,999.99 (U.S.) and $3,899.99 (CAD). You can preorder yours now.
You can share your thoughts at the TDS Facebook page, where I'll post this story for discussion.