The Nikkor 105mm f/2.5 Ai-S was already revered before Steve McCurry photographed the Afghan Girl with it mounted on a Nikon FM2. But that portrait, on Kodachrome 64 film, sealed its legendary fate. And for good reason. The 105mm is a superb optic, even today.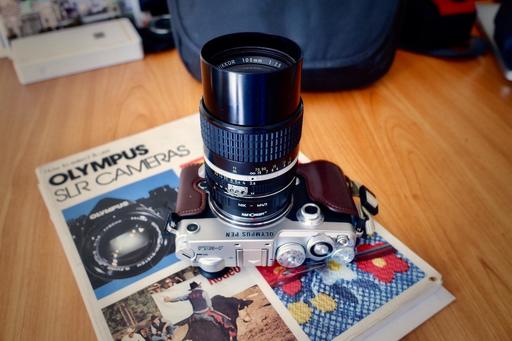 Nikkor 105mm mounted on an Olympus PEN-F digital camera.
In fact, it's so good that I can still use it on my digital Olympus PEN-F as if it were a modern pro optic, not one that Nikon stopped building in 2005.
All I need to make the connection between glass and sensor is an inexpensive K&F Concept Lens Mount Adapter ($22). I then register the lens on the PEN-F (Menu K > Lens Info Settings) so that its info appears in the metadata for each image captured with it. I love this Olympus feature. I then shoot in Aperture Priority Mode at f/2.5. I can't ever remember stopping down.

Pearl O'Keefe captured through the Nikon 105mm Ai-S on an Olympus PEN-F. Photo by Derrick Story.
I shoot RAW+Jpeg with the Color 1 Profile enabled. That profile has a analog chrome look to it. So I get two looks for the price of one with each click of the shutter: one chrome Jpeg, and one RAW file.
The 105mm has an effective 210mm field of view on the Micro Four Thirds body. It's actually quite nice, especially outdoors. I can also mount it on my Nikon FG if I want to use it natively at 105mm (which I do, quite often). I recommend Kodak Portra 400 professional film.

Pearl O'Keefe photographed by Derrick Story.
The Nikon 105mm Ai-S f/2.5 lens still commands a noteworthy $250 price tag on the used market. Most comparable analog lenses go for much less these days. This one, however, has both pedigree and performance. It's truly a joy to shoot with, regardless of the camera it's mounted on.
You can share your thoughts at the TDS Facebook page, where I'll post this story for discussion.