Current Luminar photographers have a treat waiting for them with a free download of version 3.1. And if you haven't made the jump yet, you can now for only $60. ($50 if you use coupon code THEDIGITALSTORY.)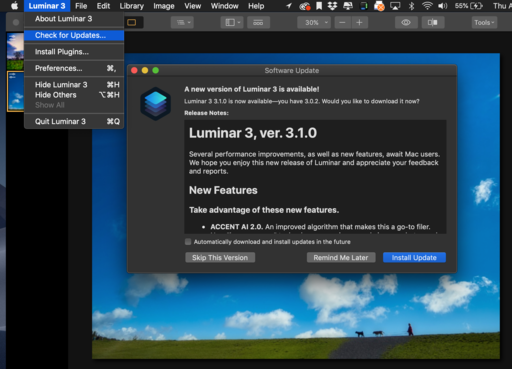 If you're a current Luminar photographer, go to Check for Updates and walk through the few basic steps to install version 3.1. The process went smoothly for me. Once you have it, here are a few of the new features to try.
New Accent AI 2.0 - The improved Accent AI filter lets you get natural-looking results in less time. New "human-aware" technology recognizes people in your photos and applies adjustments selectively for more realistic images.
RAW+Jpeg Pairs - If you capture RAW and JPEG at the same time, it's even easier to stay organized in Luminar 3. When you import RAW and JPEG pairs, you can decide which files to see. View just RAW or just JPEG for a less cluttered library, or see both and use the JPEG file as a reference while you edit. Edits to JPEG and RAW files are independent but can be easily synced. Use the View menu to control which images are shown for a clutter-free library.
Better Sorting - Are you using the Gallery view to get organized or search for that perfect image? Now when you sort using a method like File Type or Color Label, a second organization is also applied. When you sort your images they are presented by the new category first, and then automatically listed by date.
Plus, there was a lot of work under the hood to improve performance. And there are some nice touches too such as a new progress bar to keep you informed during intense operations.
Luminar 3.1 is available today for both Mac and Windows platforms.
You can share your thoughts at the TDS Facebook page, where I'll post this story for discussion.