.
.
Opening Monologue
It is stealth black and can hide behind an iPhone without detection. It is so nondescript that you can point it directly at a subject on the street, and they will barely notice that a camera is pointing at them. Yet, once an exposure is made, the takeaway is a high quality 24MP image that's capable of making posters. What is this ninja camera? It is the Ricoh GR III, and it's the subject of today's TDS photography podcast.
Ricoh GR III Review and Comparison to the Fujifilm XF 10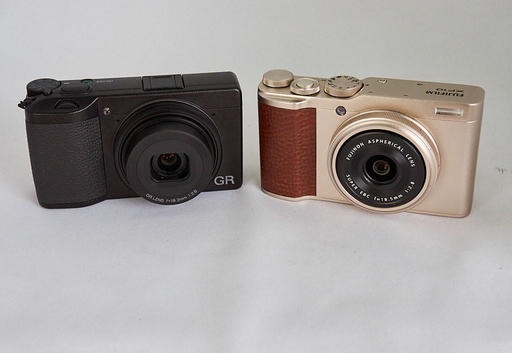 What a feeling of freedom to embark upon an afternoon of street photography in San Francisco with nothing more than the Ricoh GR III ($899) in my front pocket. Between that, and my iPhone on the other side, I had everything that I needed for my adventure.
Today, I'm going to talk about the performance and the images produced by the svelt GR III. First, let's take a look at the feature highlights.
24.2MP APS-C CMOS Sensor
GR Engine 6
28mm f/2.8 Lens (35mm Equivalent)
3-Axis Shake Reduction System
3.0" 1.037m-Dot Touchscreen LCD
Full HD 1080/60p Video Recording
Bluetooth LE and Wi-Fi
Hybrid AF System, Macro Mode
35mm and 50mm Focal Length Crop Modes
USB Type-C Port, 1x SD Card Slot
"Stockton Tunnel at Night" - Captured with a Ricoh GR III in Hard Monotone mode. Handheld. ISO 3200. Photo by Derrick Story.
The things that I liked about this little powerhouse:
Very responsive - Fast performance is something that you want in a street camera.

Really impressive image stabilization - I kept pushing and pushing the handheld long exposures, and I captured shots that I liked at 1/2 second.

Outstanding black and white options - There are four B&W modes: Monotone, Soft Monotone, Hard Monotone, and Hi-Contrast B&W - and they are all excellent. Hard Monotone is my favorite.

Easy to Use and Powerful Macro Mode - Just push a button, and get close.

Handy Crop Mode for 35mm and 50mm Perspectives - I programmed the FN button to cycle through the different crop modes so I could change them on the fly. The standard dimensions for an image are 6000x4000 px. At 50mm crop mode, you still have 3360x2240 px.
"Building Speed, Union Square" - Captured with a Ricoh GR III, ISO 100, standard color mode. Photo by Derrick Story.
Now, how does the $899 Ricoh GR III compare to the $499 Fujifilm XF 10 compact camera.
Image Stabilization Winner - Ricoh - The IS is quite good in the GR III, and the XF 10 doesn't have stabilization.

Flash Photographer Winner - Fujifilm - Yes, the GR III has a hot shoe, but who wants to carry a flash around that's bigger than the camera? The XF 10 has a super intelligent built-in flash that works great.

Connectivity and Geotagging Winner - Fujifilm - The XF 10 connects easily to my iPhone and uses its location data to geotag my images. After many tries, I could not get the GR III to connect to my smartphone via bluetooth.

Film Simulation Winner - A Draw - Both cameras have great film simulation filters. The GR III is a tad better at B&W and the XF 10 is a notch better at color.

Autofocus Winner - A Draw - The XF 10 has been criticized for its slowish autofocus, but using single point focusing, it performs about the same as the GR III. And to tell you the truth, I don't have a problem with either of them.

Macro Mode Winner - Ricoh - The close up mode on the GR III is really good, and on the XF 10, it's really frustrating.

Looks and Operation Winner - A Draw - I love the auto lens cap on the GR III and really don't like the removable cap on the XF 10. But the XF 10 has great looks and a leather strap compared to the nondescript styling and string strap of the GR III. I also like the around the lens command ring on the XF 10.

"Classic San Francisco" - Captured with a Ricoh GR III in Standard Color mode. ISO 100. Photo by Derrick Story.
So is the Ricoh GR III worth the hefty price tag? I think it comes down to image stabilization, hot shoe, and design. If you feel like you need IS and the hot shoe, the GR III is an excellent choice. If you don't, then you can save a lot of money with the Fujifilm XF 10.
Ricoh says it will repair GR III cameras affected by a wobbly control dial, scroll wheel
This is an excerpt from DPreview.com.
Ricoh Korea and Japan have issued a statement regarding an issue with select Ricoh GR III cameras that caused the control dial of the camera jiggles more than it should, as seen in the above video shared by Photo Rumors. Following an investigation of the issue, Ricoh says it will fix affected devices free of charge and notes that the movement of the controls does not interfere with the functionality of the camera.
The translated statement says 'The basic specification is to set a slight rotation allowance width, but as a result of investigation, it has been found that some products with the following target serial numbers have combinations with large display inclinations.'
The list of serial numbers for affected cameras can be found at DPreview.com.
The Best Photography April Fools' Day Jokes of 2019
This is an excerpt from Petapixel.com.
Favorites included: Nikon's Left-Handed DSLR, Elon Musk's Camera Ambitions, Pentax Unveils the ME-D, The SD Card Photo Printer, and my personal favorite, Minolta DiMAGE V hands-on review.
Do You Have a Film Camera that Needs a Good Home?
Over the last year, I've received donations from TDS members who have film cameras that need a good home. What I do is inspect the items, repair and clean as I can, then list them in TheFilmCameraShop where I can find a good home for them. If you're interested in donating, please use the Contact Form on TheNimblePhotographer site. And thanks for you consideration!
TDS Workshops Update
Sonoma Coast Workshop Update
I've secured a beautiful home for us just south of Bodega Bay. This will serve as our headquarters during the event. There's plenty of room for our classroom and presentation work, plus beautiful areas for relaxing, and even sleeping accommodations for those who wish to stay there.
We've started registrations for Sonoma Coast Exploration, and it looks like we have two seats open. So I've updated the inventory on the reserve list page. And you can place your deposit if you want to join us. If you do, you'll have an incredible photography experience.
Updates and Such
Inner Circle Members: A big thanks to those who support our podcast and our efforts!
B&H and Amazon tiles on www.thedigitalstory. If you click on them first, you're helping to support this podcast. And speaking of supporting this show, and big thanks to our Patreon Inner Circle members:
And finally, be sure to visit our friends at Red River Paper for all of your inkjet supply needs.
See you next week!
More Ways to Participate
Want to share photos and talk with other members in our virtual camera club? Check out our Flickr Public Group. And from those images, I choose the TDS Member Photo of the Day.
Podcast Sponsors
Red River Paper - Keep up with the world of inkjet printing, and win free paper, by liking Red River Paper on Facebook.
Portfoliobox - Your PortfolioBox site is the best way to show off your best images.
The Nimbleosity Report
Do you want to keep up with the best content from The Digital Story and The Nimble Photographer? Sign up for The Nimbleosity Report, and receive highlights twice-a-month in a single page newsletter. Be a part of our community!
Want to Comment on this Post?
You can share your thoughts at the TDS Facebook page, where I'll post this story for discussion.