Luminar 3 with Libraries includes a cataloging feature that helps you organize your images. This is a helpful addition to this application that already does an amazing job enhancing your pictures. But you may be wondering, "Exactly, how does the library feature work?" If you have 3 minutes, I can give you a pretty good idea.
Overview of how the Luminar catalog works from Luminar: Digital Asset Management by Derrick Story
Essentially, what you do is set up a watch folder. Every picture that you put in that folder becomes visible in the Luminar library. This is regardless if it is loose, or in another folder.
When you first set up Luminar 3 with Libraries, Skylum recommends that you point the application to your Pictures folder. I'm not as keen on that as they are. Instead, I recommend that you create a specific folder for your Luminar catalog. This gives you more control as you learn the application.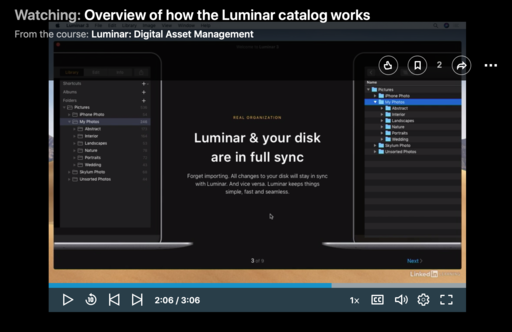 Take a look at the video. I walk you through the setup screens for Luminar 3 with Libraries. It is from my new training, Luminar: Digital Asset Management that is available on LinkedIn Learning and on lynda.com.
Not only do I cover the library features, I provide a Quick Start chapter to get you up to speed in minutes, I show you the Magic Editing Filters in Luminar, and I explain how to use Luminar with other applications.
Once you apply these tools to your images, you'll discover that you can enhance them in ways never before possible, especially so easily. I hope you have a chance to explore both my training and the Luminar application itself. It may change your photography.
You can share your thoughts at the TDS Facebook page, where I'll post this story for discussion.