This is The Digital Story Podcast #685, April 30, 2019. Today's theme is "Weighing in on the Full Frame Panasonic S1." I'm Derrick Story.
Opening Monologue
For experienced mirrorless photographers, the Panasonic Lumix DC-S1 might feel like a beast of a camera. With the standard 24-105mm zoom lens attached, it is every bit as hefty as a Canon 5D with comparable zoom. In fact, it's about 3.75 pounds. That being said, this camera packs a lot of technology in that body, and that's what I'm going to take a closer look at in today's TDS Photography Podcast.
Weighing in on the Full Frame Panasonic S1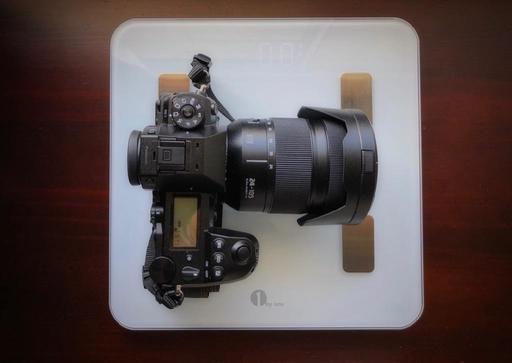 For my field test, I traveled east to the picturesque town of Calistoga. I set the S1 to RAW+Jpeg, program mode, auto white balance and ISO with its 24-105mm zoom lens. I wanted to see how it performed in its default mode.
Before I share my results, however, let's take a look at the highlight specs for the $3,400 camera and lens combo.
24.2MP Full-Frame MOS Sensor
Venus Engine Image Processor
5.76m-Dot 0.78x-Magnification OLED LVF
3.2" 2.1m-Dot Triaxial Tilt Touchscreen
UHD 4K60 Video; HDR and 10-Bit Recording
ISO 100-51200, Up to 9 fps Shooting
Contrast-Detect 225-Area DFD AF System
Sensor-Shift Image Stabilization
Weather-Sealed Construction
Lumix S 24-105mm f/4 Macro O.I.S. Lens
Let's start with the sensor. It is beautiful! IMHO, the Panasonic is every bit as good as the top Sony mirrorless in terms of dynamic range, low light performance, and color rendition. When paired with the zoom lens, the images are crisp and colorful, especially the Jpegs.
The RAW files are more, well, RAW. I like the Jpeg processing of the S1 and how it renders those images. The RAWs have wild potential, but even in Capture One Pro 12, they were a bit dull at the starting point (which is OK, BTW.)
Moving into the shooting experience, it took me a while to get comfortable with the S1.
When I compare the RAW files at 400 percent to those of the Olympus E-M1X, it really depends of how much light is available. During normal outdoor shooting, there wasn't a noticeable difference between the two sets of shots, except, however, for the faster drop-off of depth of field with the S1.
However, as the ISO goes up, the differences become more apparent. I think it's safe to say that the S1 has a 2-stop advantage in low light.
So, is this camera for you? If you've been jonesing for a full frame mirrorless, you have to consider the Panasonic Lumix DC-S1 a contender. Great sensor, excellent features, and top notch pictures - this camera delivers on the full frame promise.
Plus you're starting out with a reasonable L-Mount lens catalog thanks to the trio Panasonic launched with, plus 11 new optics from Sigma, plus Leica glass.
But, if you don't need full frame, I would choose a lighter more nimble camera, especially if the bulk of your shooting is in reasonable lighting. Plus, you could save yourself quite a bit of money.
Facebook, Instagram sue company that made over $9M selling fake likes and followers
This falls into the category that money can buy you love, or at least it could...
DP Review reports:Despite Instagram's Terms of Use (TOU) saying purchasing likes, followers and general activity isn't permitted, there's no shortage of services available that'll do just that. Instagram has long tried to shut these services down, but now the issue is going to be challenged in court for one particular New Zealand-based company.
Facebook has announced in a post on its Newsroom website that it and Instagram have filed a lawsuit in United States federal court against a company and three individuals located in New Zealand. According to the complaint, the defendants used various websites and corporations 'to sell fake engagement services to Instagram users.'
The lawsuit specifically seeks to stop the defendants from 'Engaging and profiting in the sale of fake likes, views and followers on Instagram,' 'Violating our Terms of Use and Community Guidelines' and 'Violating the Computer Fraud and Abuse Act and other California laws for distributing fake likes on Instagram even after their access was revoked and their accounts were suspended.'
Update on the Nimble Photographer Podcast
A new episode will drop on Thursday. This time I'm talking with musician Alan Howarth. He's worked on scores for big time Hollywood hits such as Halloween. I think you'll be interested to hear the parallels between a musician's journey compared to that of a photographer or writer.
If you're interested in learning insights from working artists who have managed to survive in this competitive environment, I would encourage you to subscribe to The Nimble Photographer Podcast. It's available on Apple Podcasts, Google Play Podcasts, and wherever you listen to your shows. My next interview should be live next week. In the meantime, you may want to check out to complete conversations with Trey and Ben. They're available right now.
New Online Trainings for Capture One Pro 12 and Luminar 3 with Libraries Now Available
Luminar 3 with Libraries Essential Training
Check out my new training, Luminar: Digital Asset Management that is available on LinkedIn Learning and on lynda.com.
Not only do I cover the library features, I provide a Quick Start chapter to get you up to speed in minutes, I show you the Magic Editing Filters in Luminar, and I explain how to use Luminar with other applications.
Once you apply these tools to your images, you'll discover that you can enhance them in ways never before possible, especially so easily. I hope you have a chance to explore both my training and the Luminar application itself. It may change your photography.
Capture One Pro 12 Essential Training
Topics in this course include (peppered with inside tips):
Tapping all the new features in Capture One Pro 12
Auto adjustments and basic image editing
Advanced editing techniques (and goodbye to Photoshop)
Organizing your catalog
Using star ratings and color labels to cull images
Building an electronic contact sheet
Creating a slideshow to review and present images
Strategies for protecting master images
For those of you new to this application, I have a Quick Start chapter that gets you up and running in less than 20 minutes. Yes, that's the entire workflow, start to finish, in less than half an hour.
You can learn all the ins and outs of this amazing software in the comfort of your home, or even on your smartphone by watching this fast-paced training: Capture One Pro 12 Essential Training on LinkedIn Learning. If you're a lynda.com fan, it's available there as well. You will learn everything from image organization, to expert editing, to output and more. It will feel good to finally take control of your photo library with Capture One Pro 12.
TDS Workshops Update
Humboldt Redwoods Workshop Update
Our grand finale of the season will be on Sept. 18-20 in one of the most beautiful areas on the planet. Our headquarters will be in Fortuna, CA - an easy drive from the Eureka Airport only 25 minutes away.
We're located on the Eel River, and situated perfectly to explore the Redwoods just south of us. This will be an excellent event to cool off, slow down, and get some great images. Plus, you'll be able to spend some quality time with your fellow virtual camera club members.
We still have a couple openings on the reserve list. You can secure your seat by visiting www.thenimblephotographer.com, and place a fully refundable deposit for the event.
Updates and Such
Inner Circle Members: A big thanks to those who support our podcast and our efforts!
B&H and Amazon tiles on www.thedigitalstory. If you click on them first, you're helping to support this podcast. And speaking of supporting this show, and big thanks to our Patreon Inner Circle members:
And finally, be sure to visit our friends at Red River Paper for all of your inkjet supply needs.
See you next week!
More Ways to Participate
Want to share photos and talk with other members in our virtual camera club? Check out our Flickr Public Group. And from those images, I choose the TDS Member Photo of the Day.
Podcast Sponsors
Red River Paper - Keep up with the world of inkjet printing, and win free paper, by liking Red River Paper on Facebook.
Portfoliobox - Your PortfolioBox site is the best way to show off your best images.
The Nimbleosity Report
Do you want to keep up with the best content from The Digital Story and The Nimble Photographer? Sign up for The Nimbleosity Report, and receive highlights twice-a-month in a single page newsletter. Be a part of our community!
Want to Comment on this Post?
You can share your thoughts at the TDS Facebook page, where I'll post this story for discussion.