I played hooky from work on Friday afternoon and headed down to The City to see the opening of Andy Warhol - From A to B and Back Again at SF MOMA. I had my iPhone X in one pocket and the Fujifilm XF10 in the other. On the way home, my brother-in-law asked, "Why both?"
SF MOMA Skylight and Bridge - Fujifilm XF10. Photo by Derrick Story.
I probably gave him a longer answer than he was looking for, but if you were to boil it down to its bones, there would be these five reasons.
24 MP vs 12 MP - The file size from the XF10 is 6000 x 4000 pixels compared to 4032 x 3024 of my iPhone X. That is more image information to play with in post.

APS-C Sensor vs 1/2.5"-type - I'm not one to get hung up on sensor size, but this is quite a difference, even with computational photography factored in.

Interchangeable Batteries - I keep an extra battery in my pocket, which allows me to shoot as much as I want, as long as I want, without concern about running out of juice. My phone needs to stay charged for other functions including calls, texts, navigation, and (of course) Starbucks purchases.

More Manageable Memory - SD cards have high capacity, excellent speed, and are very compact. I can swap out cards quickly. This allows me to experiment with crazy HD movies, wild burst modes, 4K capture, and other storage intense techniques without worry of filling up my phone or my iCloud account.

It's a Camera! - I like the form factor of a camera. It's more pleasurable to hold and operate during capture. Plus, the physical buttons, rotating dials, and leather wrist strap all inspire confidence while working. I've yet to find an iOS camera app that's as satisfying to use as my XF10.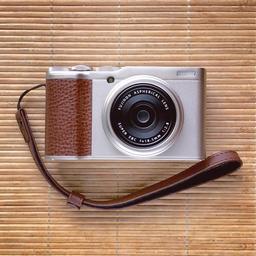 I bought the Fujifilm XF10 for $449, and have already earned my investment back (and that's not even factoring in the enjoyment aspect). The Ricoh GR III will cost you more, but you also get built-in image stabilization and a flash hot shoe with TTL contacts.
Both of these cameras provide a shooting experience that I don't experience with my iPhone (as much as I love it). Maybe I could have saved my brother-in-law all of this technical detail by responding, "Photographers like real cameras."
Because, to tell you the truth, that's the real bottom line.
You can share your thoughts at the TDS Facebook page, where I'll post this story for discussion.