Photographers who have archived Aperture libraries want to make sure they have access to that content as they move forward beyond macOS Mojave. Apple has announced that OS 10.14 is the last version that will support the venerable photo management app. Now is a great time to start working on your plan to ensure easy access those older pictures.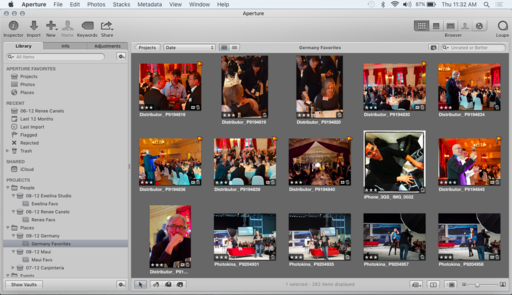 Aperture 3.6 running on a 2009 white MacBook
The Path of Least Resistance - Migrate to Photos
Whether you're a fan of macOS Photos or not, the easiest way to protect your Aperture content is to migrate those libraries to Photos. The original Aperture container remains intact, and a new Photos library is created from it. The only real downside is that you've doubled the amount of required space on your hard drive.
There are a couple ways to do this, but I recommend holding down the Option key while launching Photos. It will present a dialog box showing all available Aperture and Photos libraries. Click on the Aperture library that you want to migrate, then click on Choose Library.
Photos will spend a bit of time "preparing the library," then present all of the content in the Photos app. You now have each access to all of your shots, and most of your Aperture work is retained as well.
If you want simple, this is a great way to go.
Repurpose an Old Mac
If you don't want to double your storage requirement using the Photos option, then you could repurpose an old Mac that won't require upgrading beyond Mojave. I tested this option with a 2009 white MacBook that my boys once used.
The first order of business was to max out the RAM. The MacBook had a measly 2 GBs installed. I spent $20 and doubled it to 4 GBs. I would have put more in, but the MacBook can only handle that amount.
I then upgraded the software to Mac OS X 10.11.6 (El Capitan). That version can run macOS Photos and Aperture 3.6. It's not the speediest configuration in the world, but it does get the job done.
BTW: If you want to access older versions of the Mac operating system or apps such as Aperture, all you have to do is log into iCloud on any Mac, then browse the Purchases tab in the Mac App Store. I was able to download and install El Capitan and Aperture using this approach.
I then plugged my Drobo drive with archived Aperture libraries into the white MacBook. I could open libraries directly from the drive, but I think it's better to copy those containers on to the MacBook, then open them. Performance will be better if everything is on an internal hard drive. Remember, we're dealing with older technology here.
Speaking of which, if I wanted to spend another $75, I could upgrade the internal drive to a SSD. That would further improve the sluggish performance of the laptop. It's not that big of deal to me at the moment, so I'll save the money. But it's a nice option to have. (By now, you've probably figured out that the MacBook is easy to crack in to. Just remove 8 screws on the bottom of the laptop. Much easier than today's models.)
Note: A side benefit to this project is that the rejuvenated MacBook is also a handy print server. My Canon Pro-100 gets along great with it. So I can set up a handful of jobs and let it chug away while I work on other projects on other computers.
The Bottom Line
Either of these options should get the job done for you, preserving both your Aperture libraries and your sanity in the process.
My advice is to start on this project now. That way you can chip away at it as time permits. So when you do need to retrieve an image from 2012, you can do so reasonably with minimal hassle.
You may be wondering why I didn't present a third option: migrating your Aperture library to Lightroom or Capture One Pro. Quite simply, it's too much work with uneven results. I find these two approaches far more efficient... and sane.
For Old Time's Sake...
More Aperture Tips and Techniques
To learn more about portrait retouching in Aperture, take a look at Portrait Retouching with Aperture. You may want to check out my other Aperture titles, including Aperture 3.3 Essential Training (2012), Using iPhoto and Aperture Together, and the latest, Enhancing Product Photography with Aperture. Also, take a look at our Aperture 3 Learning Center. Tons of free content about how to get the most out of Aperture.
You can share your thoughts at the TDS Facebook page, where I'll post this story for discussion.