We're only months away from our Fall event in the redwoods. Here's an overview of your options for registration and lodging.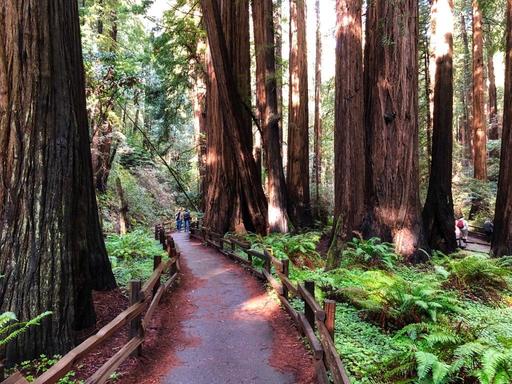 Workshop Registration
The workshop price is $725. If you're on the Reserve List, you've already made a $100 deposit, leaving a balance of $625. Workshop tuition is due by June 28, 2019 for Reserve List members. After that date the event is open to the public and it's first come, first served. The previous two events this year did sell out.
When you are ready to pay your tuition, use the Buy Now button below. You can use your credit card or PayPal balance with this option. If you prefer to pay by check, please send your payment to: Derrick Story, 2189 Sunleaf Lane, Santa Rosa, CA, 95403.
---
Tuition for the TDS Humboldt Redwoods Workshop
---
Accommodations, Breakfast, and Lunch
Our headquarters will be at Redwood Riverwalk Hotel in Fortuna, CA. This is a great location because it's only a 30-minute drive from the airport in Eureka, yet it's right on the Eel River and close to the Redwoods.
We have a block of rooms reserved for $98 per night. This includes hot breakfast, sack lunch (to take with us on our shoots), indoor heated swimming pool, on site business center, free parking, and free WiFi. Plus, popcorn and brownies served in the lobby daily :-).
I will coordinate the rooming list with the hotel (please don't contact them directly about a reservation). You will pay for your room when you arrive, just like you would at any hotel. They will have your name on the list and you will receive the $98 rate with breakfast and lunch (includes a custom sandwich, chips, local apple, sparkling water and a Humboldt Made chocolate bar). Once you pay your workshop fees, I will contact you about setting up your room.
Rooms in our block are reserved for the evening of Sept. 17, 2019 through the morning of Sept. 21, 2019. Check in is on Tuesday afternoon, Sept. 17. Check out is late morning on Saturday, Sept. 21. You are not obligated to stay until Saturday morning. Just let me know what your preferences are when I contact you about the rooming list.
Workshop Meeting Room
Our workshop meeting room is also at the hotel. I've made arrangements so that we can bring in our own food and drinks. I will supply light refreshments during our lab and presentations. But if you have special items that you would like to have on hand, we have a refrigerator and sink in the meeting room that you can use.
Dinners
Dinners are on your own for Tuesday and Wednesday evenings of the event. There are some great places to eat in the area, and we'll provide recommendations for you. We will have a group dinner on Thursday evening that is covered by your workshop fees. The workshop ends on Friday afternoon at 5 pm.
Other Preparations
Once we have tuition and rooming list squared away, we'll then focus on final preparations for the event. You will receive emails with packing tips, equipment suggestions, and optional activities.
You can always contact me at: dstory@gmail.com - for any questions about the registration process or the workshop itself. I can't wait to see you in the redwoods!
Refund Policy
If an unexpected event occurs that prevents you from attending a paid-for TDS Workshop, please contact Derrick at dstory@gmail.com. Refunds for paid tuition are issued based on this schedule.
Request submitted between May 15, 2019 and June 30, 2019 will remit $550 for full $725 tuition paid.
Request submitted between July 1, 2019 and August 15, 2019 will remit $350 for full $725 tuition paid.
Request submitted after August 16, 2019 will remit $150 for full $725 tuition paid.