This is The Digital Story Podcast #693, June 25, 2019. Today's theme is "5 Things that I Like About the Panasonic Lumix DC-G95 (and 2 I don't)." I'm Derrick Story.
Opening Monologue
When I first picked up the Panasonic Lumix DC-G95, I loved the way it felt in my right hand. The grip is substantial, the body light, and my lenses balanced nicely on the camera. And there's a lot beneath the surface to appreciate as well. Today, I share my 5 favorite features and a couple complaints. I hope you enjoy the show.
5 Things that I Like About the Panasonic Lumix DC-G95 (and 2 I don't)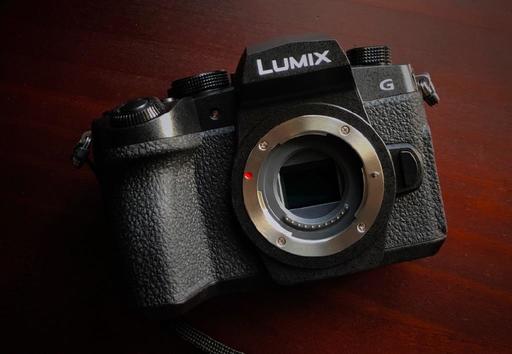 Even though Olympus and Panasonic share the same Micro Four Thirds mount, they tend to be very different cameras. Olympus favors supremely flexible, if not at times confusing, operating systems housed in their classic design aesthetic. Panasonic, on the other hand, sports a more modern look and prides itself in both still photography and video. In that sense, the G95 is the archetypal Panasonic MFT camera.
It captures beautiful 20 MP stills one moment, then outstanding HD or 4K video the next. It's equipped to handle both with equal ease and sophistication. Here's a look at its basic specs.
Noteworthy Specifications
20.3MP Digital Live MOS Sensor
UHD 4K 30p Video (not time limits), Pre-Installed V-LogL gamma profile (8-bit only)
5-Axis Sensor Stabilization; Dual I.S. 2
0.74x 2.36m-Dot OLED Viewfinder
3.0" 1.24m-Dot Free-Angle Touchscreen
DFD AF System (49 areas)
ISO 25600 and 9 fps Continuous Shooting
Bluetooth LE and Wi-Fi Connectivity
3 Control Dials
Built-in Flash
Dust and Splash Resistant
1 SD Card Slot (UHS-II)
Five Things that I Do Like
All in all, very good specs. But after shooting with the camera for a month, here are five things that I really appreciated about it.
High Quality Image Files - I processed the RW2 files in Adobe Lightroom, and was quite pleased with their out of the camera color, tonality, and crispness. The photos had excellent character. And the camera did an excellent job of capturing quality pictures in a variety of lighting conditions.

L.Monochrome D - If you like rich B&W photography, you will love L.Monochrome D on the G95. It is gorgeous, and if you're capturing RAW+Jpegs, I doubt you'll ever look at the RAWs unless you need a color version of the shot.

Perfect Location for the Mic Port - One thing that has drove me crazy with my Olympus cameras was the positioning of the mic port. It was in direct conflict with the articulated screen. Panasonic has moved their port to the upper left of the camera. It's out of the way of the screen, and in perfect position for a hot shoe mounted microphone.

Excellent Creative Tools - The in-camera HDR is quite good, as is 4K Photo, multiple exposure, time lapse, panorama, focus stacking, and serious in-camera RAW processing. Plus, Panasonic introduces Live View Composite with this model. Lots of good stuff for the creative photographer.

USB Charging - And you get a separate charger as well!
Two Things that I Don't Like
As for the two things that I certainly did not like:
First, the G95 is only available with the bundled Lumix G Vario 12-60mm f/3.5-5.6 zoom. So, instead of being able to buy the body alone for around $900, I have to spend $1,200 and get a zoom that I really don't want.
Second, even though this camera is touted as a robust hybrid, it has a substantial crop of 1.25X for the 4K video. So even when you're shooting at the wide end of the bundled 12-60mm zoom, in real life, about the widest you can go is 30mm (12mm x 2 x 1.25).
The only reasonable answer for this is a lack of processing power. For a camera that includes so many video-friendly features (mic port, headphones port, V-Log, multiple formats, sound adjustments, etc.), have this sever of a crop on the sensor just doesn't add up.
Bottom Line
I truly enjoyed shooting with the Panasonic Lumix DC-G95. It's comfortable to hold and produces wonderful images. The camera is packed full of creative features that can keep the artistic photographer busy to no end.
But considering the $1,200 price tag, I'd be tempted to wait for the Olympus OM-D E-M5 Mark III before making a buying decision. Once that camera is released, we'll be able to make a better buying decision for the advanced enthusiast class of photographer.
New Nimble Photographer Podcast - Musician George Shaw
As a young man, George Shaw flew from city to city for two years, cassette recorder in hand, with a question he posed to each music professional he interviewed: "How can music, and in particular improvisation, best be taught?" After studying their answers and writing a dissertation on this subject, Dr. Shaw applied what he learned to teaching music and improvisation at the college level.
Here's an excerpt from the show.
You can listen to the entire interview by visiting the Nimble Photographer site. The show is also available on Apple Music, on Google Play Music, and wherever you listen to your podcasts.
You Can Moan About Adobe but the Company Is Making More Money Than Ever
You can read the entire article here. Here are some of my favorite passages:
You may frequently hear complaints about Lightroom and Photoshop -- too buggy, too slow, too bloated, too expensive -- but it doesn't seem to be putting a dent in Adobe's performance. In fact, it's quite the opposite as the company announced last week that it has achieved record revenues for the second fiscal quarter of this year.
As reported in a press release last week, Adobe generated $2.74 billion in the second quarter of 2019, a record for the company and a growth of 25 percent year-over-year. The success is attributed to "the explosion of creativity across the globe," the need for companies to deliver "engaging customer experiences," and their "strong ecosystem of partners."
Many photographers have objected to the shift to a subscription-based model and given the complaints, you'd be forgiven for thinking that Lightroom is falling from favor in face of competition from Capture One and a growing assortment of alternatives such as ACDSee, Luminar and ON1. Photoshop is also seeing strong challenges from Affinity Photo and Pixelmator Pro.
Despite the anecdotal grievances, Adobe appears to be doing better than ever.
Do You Have a Film Camera that Needs a Good Home?
Over the last year, I've received donations from TDS members who have film cameras that need a good home. What I do is inspect the items, repair and clean as I can, then list them in TheFilmCameraShop where I can find a good home for them. If you're interested in donating, please use the Contact Form on TheNimblePhotographer site. And thanks for you consideration!
Updates and Such
Inner Circle Members: A big thanks to those who support our podcast and our efforts!
B&H and Amazon tiles on www.thedigitalstory. If you click on them first, you're helping to support this podcast. And speaking of supporting this show, and big thanks to our Patreon Inner Circle members:
And finally, be sure to visit our friends at Red River Paper for all of your inkjet supply needs.
See you next week!
More Ways to Participate
Want to share photos and talk with other members in our virtual camera club? Check out our Flickr Public Group. And from those images, I choose the TDS Member Photo of the Day.
Podcast Sponsors
Red River Paper - Keep up with the world of inkjet printing, and win free paper, by liking Red River Paper on Facebook.
Portfoliobox - Your PortfolioBox site is the best way to show off your best images.
The Nimbleosity Report
Do you want to keep up with the best content from The Digital Story and The Nimble Photographer? Sign up for The Nimbleosity Report, and receive highlights twice-a-month in a single page newsletter. Be a part of our community!
Want to Comment on this Post?
You can share your thoughts at the TDS Facebook page, where I'll post this story for discussion.