This is The Digital Story Podcast #691, June 11, 2019. Today's theme is "Thank You Surface Pro for iPadOS." I'm Derrick Story.
Opening Monologue
If you want to get things done, buy a Surface Pro. Up until last Tuesday, that was the pragmatic opinion of those who wanted to ditch their laptops and use a tablet for work. Then Apple announced iPadOS, and suddenly nimble artists had a choice again. And in my opinion, they have Microsoft to thank. I'll explain more and delve into iPadOS on today's podcast.
Thank You Surface Pro for iPadOS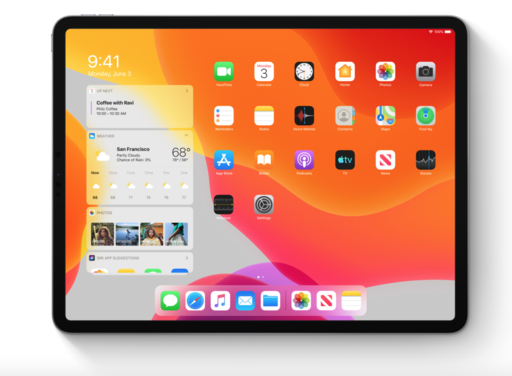 Here's a quote from a cnet article that sums up what many felt about the Surface Pro compared to the iPad: "OS: The beginning (and possibly the end) of the discussion - For many, the iPad Pro's mobile operating system makes it a complete nonstarter compared to the Surface Pro running on full Windows 10 Pro. Having Windows 10 means you can run full versions of traditional Win32 software and much more that Apple's iOS simply can't.
Other areas where iOS was falling short on an iPad included multitasking, flexible ports, external drive connectivity, and peripherals.
I had tried many times to work remotely with my iPad, only to finally give in and buy an 11" MacBook Air instead. But the scales are beginning to even out with the pending release of iPadOS. And here are five reasons why.
Slide Over and Split View - Slide Over and Split View have made working with multiple apps on iPad effortless. Now they can take your workflows to another level by letting you work exactly how you want in even more intuitive ways.

Text Editing - iPadOS makes it easier and faster to select and edit text using just your fingers. There are new editing gestures, cursor navigation, multi selection, and intelligent text selection (select a word with a double tap. A sentence with three taps. Or a whole paragraph with four taps).

Files - The Files app lets you access and manage your files however you want, all in one convenient place. And iPadOS gives you powerful new ways to view, work on, and share files. Get a more detailed view of your files. And more controls to do what you want with them.

External Drives - Connect an external hard drive, SD card reader, and, yes, even a USB drive.

Desktop Class Browsing - Enjoy the desktop version of websites on your iPad so you can use web apps like Google Docs, Squarespace, and WordPress. With the Download Manager, you can see your active and recent downloads in Safari and access them easily from the new Downloads folder in Files.

Redesigned Photo Management and Editing - The all-new Photos tab lets you browse your photo library with different levels of curation, so it's easy to find, relive, and share your photos and videos. Removes similar shots and clutter Duplicate photos, screenshots, whiteboard photos, documents, and receipts are identified and hidden, so you see only your best shots.
Enhance control - Enhance now lets you control the intensity of your automatic adjustments. As you increase or decrease Enhance, you'll see other adjustments - including Exposure, Brilliance, Highlights, Shadows, Contrast, Brightness, Black Point, Saturation, and Vibrance - intelligently change with it.
Nondestructive Video editing support - Nearly everything you can do with a photo you can now do with a video. Adjustments, filters, and crop support video editing, so you can rotate, increase exposure, or even apply filters to your videos. Video editing supports all video formats captured on iPad, including video in 4K at 60 fps and slo-mo in 1080p at 240 fps.
New Editing Tools - Such as Sharpen, Definition, Noise Reduction, and Vignette combined with pinch-to-zoom support so you can get a better look at the specific areas you're editing.
Image Capture API - The Image Capture API allows developers to leverage the Camera Connection Kit to import photos directly into their apps.
Thank you Microsoft for creating the powerful Surface Pro. Even though I don't want to switch to Windows, I appreciate the work you've done and the pressure you put on Apple to finally create an operating system worthy of the iPad hardware.
Interview with Rick Sammon about "The Oregon Coast Photo Roadtrip"
I just finished reading Rick's latest book, The Oregon Coast Photo Road Trip: How To Eat, Stay, Play, and Shoot Like a Pro, and I wanted to chat with him about traveling and working with his wife, iPhone and mirrorless photography, and how to get the most pleasure from our photo road trips. Here's what he had to say.
Microsoft's 'Raw Image Extension' Lets You View Raw Previews in Windows 10
You can read the entire article here. Here are some of my favorite excerpts:
If you're running the latest version of Windows 10 as a photographer, make sure you install Microsoft's Raw Image Extension. It adds native viewing support for the major raw file formats used by various camera brands.
Windows 10 doesn't have raw previewing built in by default, so while you can work with raw files in specialized software such as Adobe Lightroom, previews won't show up for you in Windows File Explorer or the Photos app right out of the box.
If you're running the latest version of Windows 10 (the May 2019 Update, version number 1903 at the time of this writing), you can install the Raw Image Extension to add raw support.
Do You Have a Film Camera that Needs a Good Home?
Over the last year, I've received donations from TDS members who have film cameras that need a good home. What I do is inspect the items, repair and clean as I can, then list them in TheFilmCameraShop where I can find a good home for them. If you're interested in donating, please use the Contact Form on TheNimblePhotographer site. And thanks for you consideration!
Updates and Such
Inner Circle Members: A big thanks to those who support our podcast and our efforts!
B&H and Amazon tiles on www.thedigitalstory. If you click on them first, you're helping to support this podcast. And speaking of supporting this show, and big thanks to our Patreon Inner Circle members:
And finally, be sure to visit our friends at Red River Paper for all of your inkjet supply needs.
See you next week!
More Ways to Participate
Want to share photos and talk with other members in our virtual camera club? Check out our Flickr Public Group. And from those images, I choose the TDS Member Photo of the Day.
Podcast Sponsors
Red River Paper - Keep up with the world of inkjet printing, and win free paper, by liking Red River Paper on Facebook.
Portfoliobox - Your PortfolioBox site is the best way to show off your best images.
The Nimbleosity Report
Do you want to keep up with the best content from The Digital Story and The Nimble Photographer? Sign up for The Nimbleosity Report, and receive highlights twice-a-month in a single page newsletter. Be a part of our community!
Want to Comment on this Post?
You can share your thoughts at the TDS Facebook page, where I'll post this story for discussion.