Back in 2000, when I was the editor of Web Review for O'Reilly Media, I worked on an interesting project with the Adobe PR team. For the 10th anniversary of Photoshop, we wanted to publish a brief history of the app to celebrate the milestone.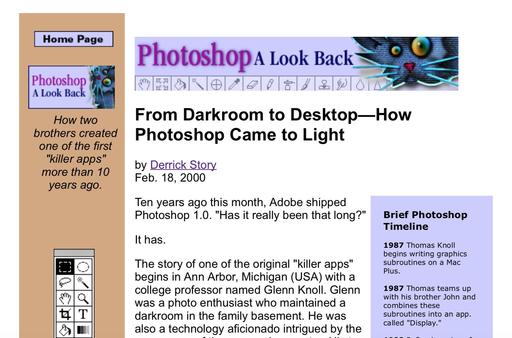 I coordinated with Glenn Knoll to get the facts right, and Jeff Schewe contributed portraits of the Knoll brothers. I published the article on both Web Review and StoryPhoto.com (both sites now defunct).
I do, however, have a PDF of the original article, which has good info, cool original graphics, and portraits by Jeff Schewe. You can download the PDF for free. (It's in the Nimble Store, so you have to go through a quick checkout, but there's no cost.)
Here's an excerpt:
In early 1988, Thomas decided to give himself six more months to finish a beta version of ImagePro and let John shop it around Silicon Valley. Interestingly enough, many of the Silicon Valley companies that John approached were cool to the idea of their image manipulation program.
SuperMac turned it down because they didn't understand how ImagePro could complement their already popular product, PixelPaint. But one company, BarneyScan, did show some interest. They offered to bundle (on a short term basis) what was now called "Photoshop" with their slide scanner. A total of about 200 copies of Photoshop were shipped with their scanners, according to Jeff Schewe in his article, "Photoshop: a Decade of Image-Editing Excellence."
BTW: Here's a fun footnote for Web historians. The article was designed in GoLive CyberStudio. That's the app I cut my teeth on when I first started publishing online. The site that I designed with it, StoryPhoto.com, was a key factor in my getting the editor job at O'Reilly Media in 1999.
You can share your thoughts at the TDS Facebook page, where I'll post this story for discussion.