As soon as I read about the new Photos extension in Pixelmator Pro 1.4, I had to try it for myself. Until this point, most of my finishing work has been accomplished with the Luminar Editing Extension, which I really like. But there are a few gaps in that workflow that I wanted to plug, and Pixelmator is the perfect solution.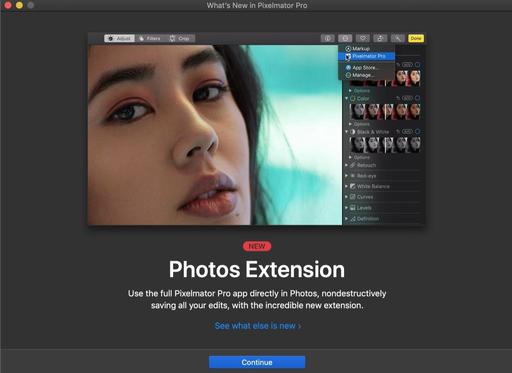 The price is right as well. Since I already own Pixelmator, I could "complete the bundle" in the Mac App Store for only $20. That added Pixelmator Pro to my applications. But even if you buy it as a standalone app, it's still a reasonable $40.
Enabling the Editing Extension
I then enabled the Pixelmator Pro Editing Extension (System Preferences > Extensions > Photos Editing > Pixelmator Pro), and fired up Photos for macOS for a test drive. There are a couple things that I really liked.
Favorite Features
The first is, all of the Pixelmator Pro tools are available in the editing extension, including layers. I now have the convenience of Photos cloud backup and sharing with the power of Pixelmator. An image that I fine tune in Pixelmator is available on my iPhone, iPad, and other Macs just minutes later. This is also a wonderful safety net for your images and work on them.
The second surprise, and this is a great one, is the Preserve Edits feature. When I click Save Changes in the editing extension, I'm given the option to Preserve Edits. This means that I can come back to this image at another time and pick up right where I left off, or change one of my previous adjustments.
I tested this feature, and it works great. This elevates the Photos/Pixelmator Pro workflow above all other extensions that I'm currently using. It's as easy to use as it is powerful. If you don't want to go that route, then you can flatten the image right there on the spot. Even then, you can always return to original if you wish.
One last feature that I want to point out, in the Adjust Colors tab, is ML Enhance. This is a powerful auto adjustment powered by machine learning. And it is good. Click the ML Enhance button, let Pixelmator process the image, then fine tune with the sliders below. Wonderful.
The Bottom Line
Pixelmator Pro 1.4 is a boon to Photos users and any photographer who uses a Mac. It has an abundance of features, integrates seamlessly into the iCloud workflow, and is affordable. I love it.
You can share your thoughts at the TDS Facebook page, where I'll post this story for discussion.