This is The Digital Story Podcast #698, July 30, 2019. Today's theme is "Ding-Dong - It's the Ring Video Doorbell." I'm Derrick Story.
Opening Monologue
I have a Ring Video Doorbell mounted by the front door of my studio. 24 hours a day it watches and listens for activity within its 180 degree field of view. It's like a mini-Truman Show for my neighborhood. And it's far and away the most unique form of photography that I currently use. More about my first week with the Ring Video Doorbell in today's TDS podcast.
Ding-Dong - It's the Ring Video Doorbell
I bought the Ring Video Doorbell with HD Video on sale at Amazon. I had no idea if I was going to like it or find it useful in any way.
If you're not familiar with this device, it works like this. You mount it near your front door where is uses a 180 degree video camera and audio to monitor activity. It can detect motion and stream live video day and night.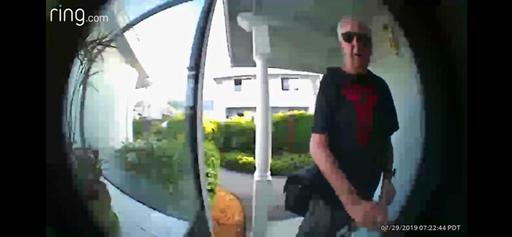 Ring connects to your router, and you connect to it via the Ring app that is available for computers, smartphones, and tablets. Once everything is connected, you can view the world outside your front door at anytime through its live feed, or be notified of activity via its motion sensors. It works quite well.
For me, the photographer, it's an inexpensive, but powerful remote camera that not only monitor the wilds outside my front door, but records it and saves the movies for viewing at a later time.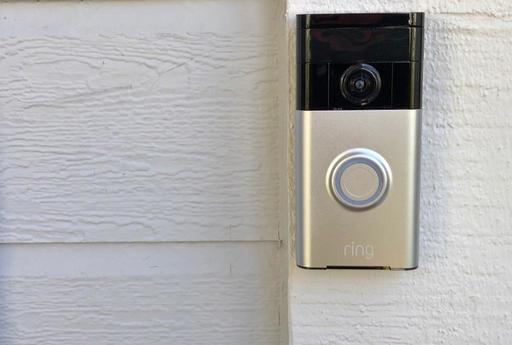 This is like something out of a crime show. And I find it fascinating. You can purchase your own Ring Video Doorbell for as little as $99 on Amazon.com.
New Nimble Interview: Chuck Leavell, Keyboardist for the Rolling Stones
An interview with musician Chuck Leavell, whose journey began with Allman Brothers Band, and who is currently touring with the Rolling Stones on their No Filter tour. In this conversation, Chuck talks about the Stones, Eric Clapton's unplugged album, his work as a writer, and his definition of success. Here's an excerpt from the show.
The entire conversation is terrific. I think you will enjoy what Chuck has to say. To ensure that you don't miss any of the podcasts, I recommend that you subscribe to The Nimble Photographer Podcast on Apple Podcast, Stitcher, Google Play, or wherever you tune in.
Stranger Things Fan Goes Viral for Not Knowing what a Darkroom Is
You can read the entire article here. Here are some of my favorite passages:
A young fan of the popular Netflix show Stranger Things earned a bit of Internet fame (or is it infamy?) this weekend when they asked a question about that strange "red room" in the show where Jonathan goes "to 'refine' his photos or something." In other words: a darkroom.
Of course, it didn't take long before someone saw the post and shared it on Twitter alongside the caption "*crumbles further into dust*" to highlight just how old this question made them feel: And thus, a meme was born. The screenshot quickly showed up on Imgur, Reddit's /r/memes subreddit, and then got picked up by international news outlets. Meanwhile, responses to the Tweet above--which has been liked over 61K times and retweeted over 13K times--began pouring in:
Several of the commenters were also quite harsh, calling the original fan "dumb as rocks" and stereotyping all young people as stupid. But we prefer to look on the positive side of this story. As Twitter user Chris Wood wrote, "Hey, give the kid credit for being willing to ask."
Not that this stopped us from feeling like dinosaurs or relics of a bygone age, but look on the bright side: a whole lot of kids who would not have had the courage to ask this question now know the answer. Here's hoping a few of them pick up a roll of film and give the darkroom a try.
Update on My Kickstarter Projects
Speaking of film processing: I received my daylight Lab Box and will soon start testing it. I have a bottle of single bath chemistry ordered from Jeremiah's Photo Corner, and soon I will process my first roll of B&W film.
I also received this notice today from the Kamlan Optics folks:
Finally, The shipping for is coming ! We are about to ship from Aug. Here are some updates before that.
1. Manufacturing is quite fluent.We will post some pictures later.
2. We plan to close the option of shipping address change on July 31st. Please make according change before that date if your shipping address is different from what you have entered.
3. As the survey can only be sent once, we can't send survey for a 2nd time. For those we still can't find the survey, please enter the shipping information here.
4. We plan to complete the refund process for return backers in 7 days from now on.
5. No custom fee will be charged for EU customers this time,

So they seem to be on track as well.
Do You Have a Film Camera that Needs a Good Home?
Over the last year, I've received donations from TDS members who have film cameras that need a good home. What I do is inspect the items, repair and clean as I can, then list them in TheFilmCameraShop where I can find a good home for them. If you're interested in donating, please use the Contact Form on TheNimblePhotographer site. And thanks for you consideration!
Updates and Such
Inner Circle Members: A big thanks to those who support our podcast and our efforts!
B&H and Amazon tiles on www.thedigitalstory. If you click on them first, you're helping to support this podcast. And speaking of supporting this show, and big thanks to our Patreon Inner Circle members:
And finally, be sure to visit our friends at Red River Paper for all of your inkjet supply needs.
See you next week!
More Ways to Participate
Want to share photos and talk with other members in our virtual camera club? Check out our Flickr Public Group. And from those images, I choose the TDS Member Photo of the Day.
Podcast Sponsors
Red River Paper - Keep up with the world of inkjet printing, and win free paper, by liking Red River Paper on Facebook.
Portfoliobox - Your PortfolioBox site is the best way to show off your best images.
The Nimbleosity Report
Do you want to keep up with the best content from The Digital Story and The Nimble Photographer? Sign up for The Nimbleosity Report, and receive highlights twice-a-month in a single page newsletter. Be a part of our community!
Want to Comment on this Post?
You can share your thoughts at the TDS Facebook page, where I'll post this story for discussion.