I have a traditional lightbox anchored at the studio that I use for viewing slides and negatives, and sometimes product photography as well. It's big, bulky and works great. But sometimes I want to work in other places as well. And in those instances, the iPad makes a great light source.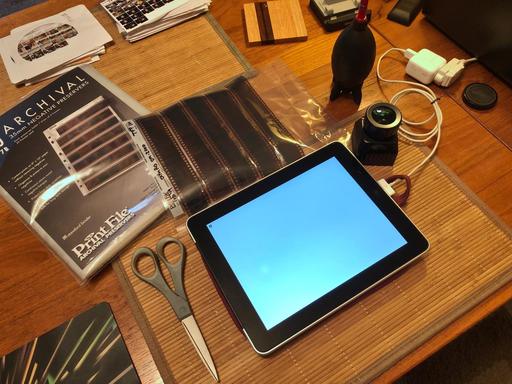 There are several apps you can use to enhance this experience. I like Light Box - Illuminator Viewer that I bought a while back for 99 cents. It keeps the screen lit without the iPad going to sleep, and makes it easy to adjust brightness. Plus it has some cool grids available as well that I've used for product shots.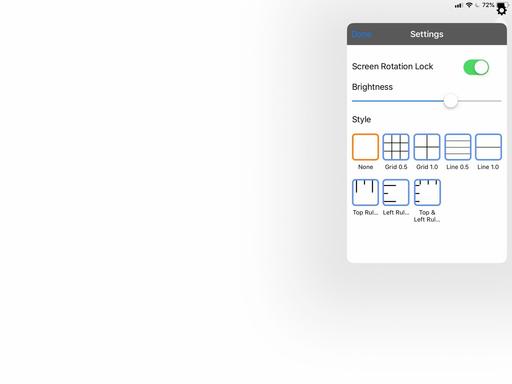 The 99-cent app, Light Box - Illuminator Viewer
Different iPad Resolutions
I have the original iPad that was released in 2010. And yes, it still works great. I use it for sleeving negatives and organizing slides. Because it isn't a retina display - only 1,024 x 768 pixel at 132 ppi - it isn't as good for critical viewing of negatives and slides via a loupe because you can see the pixels of the screen itself when magnified.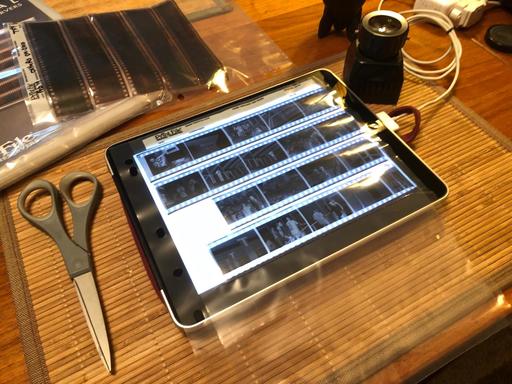 It's great for sleeving negatives, however, because the illuminated surface is the exact width of 5 frames, which is the length that I cut my negative strips. And if I want a closer look with a loupe, I can certainly do that as well.
If you're going to spend a lot of time with the loupe, then you'll probably want to use a tablet with a higher resolution screen. My iPad mini 5 display has 2048 x 1536 resolution at 326 ppi, and it's great for examining image detail with a magnifier. The pixels aren't an issue.
So it really depends on what you're going to do and the needs you have. I actually use both devices for my work, and I have the Light Box app on each iPad.
Other Illuminating Uses
The iPads also make great light sources for product photography. And because we're just talking about continuous light output, the resolution doesn't really make a difference. Just position the iPad like you would any softbox and fire away. You can even use your smartphone as the camera (why not?) to complete the super mobile studio.
I also use the older first gen iPad as an illuminated platform for product work. For a high tech look, I sometimes use the Grid 1 in Light Box. It looks pretty cool.
Bottom Line
The continuous, adjustable illumination from a tablet can be used in many ways. I find it interesting that I leverage the iPad for traditional film work all the way to a modern photo studio. And the fact that a 9-year-old device is still productive today just makes it all the better.
You can share your thoughts at the TDS Facebook page, where I'll post this story for discussion.