I've never been one of those grumpy guys who mumbled, "Cameras don't take pictures, people do." In part, because I like new photography gear and enjoy using it. Image making is both man and machine.
But that doesn't mean that I need to pack all of my stuff every time I travel, especially if I'm not on assignment. This week in Maui is a perfect example of how rewarding life as a nimble photographer can be.
Sea turtle rising for a breath of air. Olympus TG-4 compact camera in UW mode. Photo by Derrick Story.
I almost bought the Olympus TG-6 for this trip. It's a great camera, but I have the TG-4 that's still performing well. So well, in fact, that I couldn't justify spending the $449 for the latest model. So I didn't. And so far, I have not regretted that move once. (Or should I say: non-move.) The TG-4 is performing wonderfully both topside and while snorkeling.
Olympus TG-4 while snorkeling is wonderful at capturing the sights beneath the surface. Photo by Derrick Story
As an aside, if you spend any time on adventures at all and want to be able to take pictures regardless of the conditions, the Olympus Tough ($449) is an amazing camera. I highly recommend it.
Waves rolling on shore at twilight. Olympus TG-4. Photo by Derrick Story.
Another essential item on the island has been my Apple Watch Series 2. Again, not the newest kid on the block by any measure. I must admit that the Apple Watch Series 5 is impressive. But the Series 2 is what's on my wrist right now.
There are a few things about the Apple Watch that I really like on these trips. Since I'm swimming a lot, I can leave the hotel with the watch only and leave my iPhone X back in the room. (I do carry the iPhone when I'm not in the water.) It's wonderful having the watch log my exercise, tell time, and play music through my AirPods (which I stash in a waterproof pouch while swimming). It basically keeps me on track when I'm out and about.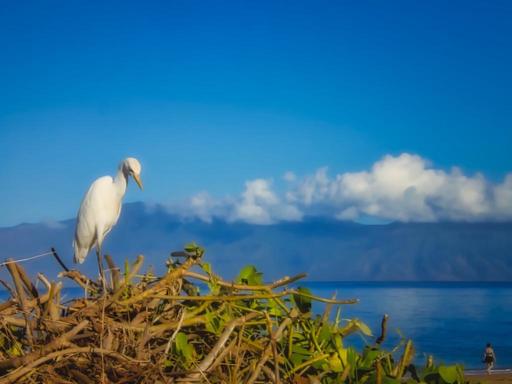 Ergret on Maui. Olympus TG-4. Photo by Derrick Story.
My goal here isn't to sound off like a tightwad. But I think the pace of change with our technology has slowed enough to where we can still use gear that's a few years old, and with excellent results.
The TG-4 does capture in RAW and my photo processing software is better than ever (Photos for iPadOS, Luminar 3, Photos for macOS). Having solid post production applications allow me to get more out of my images. I use Luminar 3 as an editing extension for Photos for macOS when I'm on vacation. They're a wonderful tandem.
So yes, software has been one of the keys to all of this. The other of course, is being a good photographer at capture. By giving the hardware every opportunity to be successful when I'm taking the picture, I set up a good opportunity to finish off the image with the modern software that's available. The upshot is that I'm able to walk around with just a TG-4 and an Apple Watch for the better part of the day.
I'm having a a great time traveling as light as possible. Life as a Nimble Photographer has its rewards, for sure. And I'm still coming home with many, many wonderful images.
There are product links in this article that contain affiliate tags. In some cases, depending on the product, The Digital Story may receive compensation if you purchase a product via one of those links. There is no additional cost to you.
You can share your thoughts at the TDS Facebook page, where I'll post this story for discussion.