We can't edit pictures all the time. For those moments when you just want to lean back and enjoy your iPad, you can now fire up the classic Apple game, Hold'em - and you can do so for free.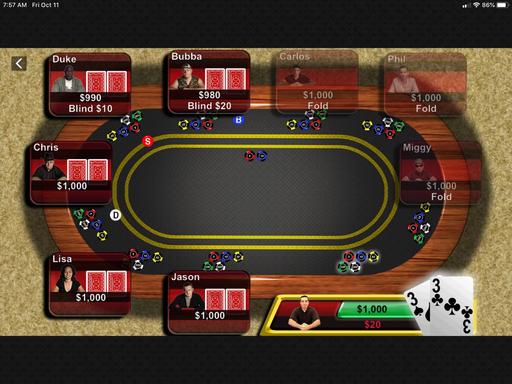 This was my favorite game back in the iPod days. Even on that tiny screen, it was fun as I pitted my poker skills against a cast of characters determined to bankrupt me. But then, it went away. Now, after an 8-year absence, it's back. It's part of Apple's celebrating 10 years of the App Store.
Part of the clever design is based on the orientation of your iPad or iPhone. Hold it horizontally, and you have an overview of the table. Turn it vertically, and you get a close-up of the player that you're dealing with at the moment. Nice.
You can download Hold'em for free. It might take a few minutes, however, because it's about 1.5 GBs in size. Those colorful characters and settings do require their megabytes.
As far as the play itself goes: Just as fun as I remember, and even more beautiful... especially on my iPad mini 5. Get yours today.
You can share your thoughts at the TDS Facebook page, where I'll post this story for discussion.