This is The Digital Story Podcast #708, Oct. 8, 2019. Today's theme is "What Bicycle Repair Taught Me about Photography." I'm Derrick Story.
Opening Monologue
If you've listened to any of my Nimble Photographer podcasts, you know that I believe we can improve our pictures by learning lessons from musicians, illustrators, and writers. But from mechanics too? Oh yeah. This week's photography podcast features a 1982 Peugeot racing bike, a perennial flat tire, and a lesson well learned. I hope you enjoy the show.
What Bicycle Repair Taught Me about Photography
A while back, I bought a 1982 Peugeot Course bike on Craigslist. I knew that was going to be a good match when I called the seller, and the first thing he asked me was how tall I was.
"I'm 6'7"," I replied.
"Great, come on over," he said.
This particular Peugeot had a wonderfully large frame that was still light as a feather. It needed some work, but the price was right and the fit was perfect. So I bought it.
The repairs went smoothly: new brake pads and adjustment, replaced the gear cassette, new front rim, new super cool gum-walled tires, and I was ready for a quick dash downtown.
I absolutely love the ride on this bike. The frame geometry is a bit more upright which made acceleration easy as I pumped directly down. The frame had just the right amount of "give" for imperfect roads and bike paths. I was a very happy rider.
That is, until the next morning when I discovered that the back tire was flat. It's always the back tire. I didn't have time to change it that day, so it had to wait until the weekend.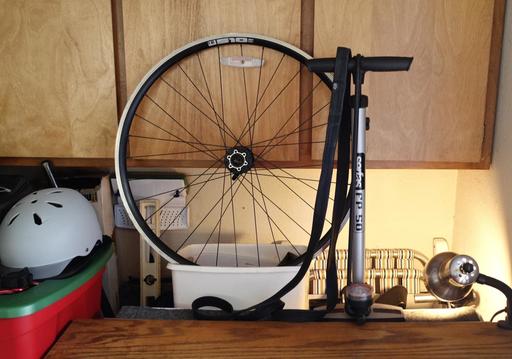 I couldn't find the offending intruder that punctured the tube, so I just replaced it with a brand new one. Life was good again, that is, until the next morning.
On today's show, I tell the rest of this story and how it connected me to my photography.
Our LA Street Photography Experience is Featured on the Olympus Workshops Page
Olympus has taken an interest in our March Street Photography workshop, and they have listed it on the Learn and Support section of their web site. You can see for yourself by clicking here.
This 3-day event on March 13-15 explores classic Los Angeles locations and architecture. Our excursions will take us as far west as Venice Beach, as well as famous movie spots and the back streets of this fascinating Southern California area.
You will learn new techniques for safe and effective street photography, how to capture the vibe of great architecture, and enjoy some classic California cuisine along the way.
Olympus Educator, Mike Boening, is our co-instructor. Those of you who have worked with Mike at our SF Street Photography events know how much he brings to the table. Not only is he an official Olympus Educator, he's an accomplished street photographer, and he's going to bring gear for you to test and learn about.
If you want to join Mike and me this coming March, just visit the information and registration page, or go to www.thenimblephotographer.com and click on the Workshops link, or go to the Olympus site - no matter how you get there, Mike and I are looking forward to working with you this coming Spring.
Bargain! SanDisk 500GB Extreme Portable USB 3.1 Type-C External SSD
You can get the excellent SanDisk 500GB Extreme Portable SSD Drive for just $89.99 - that's $50 instant savings.
I've been using the Extreme SSD for a year now, and I absolutely love it. It is so light and portable that it fits anywhere. And it's really fast.
I can use this drive to store my Capture One Pro libraries, and the performance is equal to what I experience with my Mac's internal SSD. These little guys are really sweet, and you can get a deal on it right now.
Updates and Such
Inner Circle Members: A big thanks to those who support our podcast and our efforts!
Podcasting Skills Course - The course date is scheduled for November 9, 2019. Registration is open now at www.thenimblephotographer.com.
B&H and Amazon tiles on www.thedigitalstory. If you click on them first, you're helping to support this podcast. And speaking of supporting this show, and big thanks to our Patreon Inner Circle members:
And finally, be sure to visit our friends at Red River Paper for all of your inkjet supply needs.
See you next week!
More Ways to Participate
Want to share photos and talk with other members in our virtual camera club? Check out our Flickr Public Group. And from those images, I choose the TDS Member Photo of the Day.
Podcast Sponsors
Red River Paper - Keep up with the world of inkjet printing, and win free paper, by liking Red River Paper on Facebook.
The Nimbleosity Report
Do you want to keep up with the best content from The Digital Story and The Nimble Photographer? Sign up for The Nimbleosity Report, and receive highlights twice-a-month in a single page newsletter. Be a part of our community!
Want to Comment on this Post?
You can share your thoughts at the TDS Facebook page, where I'll post this story for discussion.