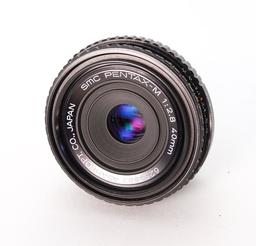 There's something about 40mms that's just perfect for me. I have a bit more breathing space for composing than I do with a 50mm optic. Yet, it's not too wide like I often experience with 35mm lenses. It's just right for this street photographer kind of guy.
But this revelation didn't come to me overnight. It evolved over years, beginning with a lens that wasn't 40mm at all: the Zeiss Tessar 45mm f/2.8 for my Contax film camera. I wanted this lens because it was a super compact pancake that would travel nicely on my Contax Aria. I loved it from the beginning, even though it wasn't the fastest at f/2.8, or quite as wide as a true 40mm. I still shoot with it today.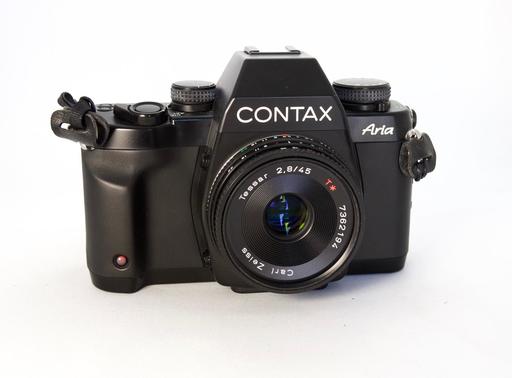 How it all started: The Zeiss 45mm Tessar on my Contax Aria.
The good experience (and photos!) with the Zeiss, led me to the doorstep of the Pentax 40mm f/2.8. There are two versions: the older Pentax-M manual focus model, and the newer Pentax-DA autofocus version. After some research, I learned that the AF version works great on full frame cameras as well. You've got to be kidding me! This was too good to be true. But it is. So I use it for both film photography on the ZX-5, and for digital work on the Pentax KP digital body.
What a beautiful optic! I love the width of composition I can achieve with the 40mm focal length, not to mention how compact the lens is. The only drawback, if you consider it one, is the maximum aperture of f/2.8. The journey continues, but what a lovely discovery these two lenses were. Again, I use them both today.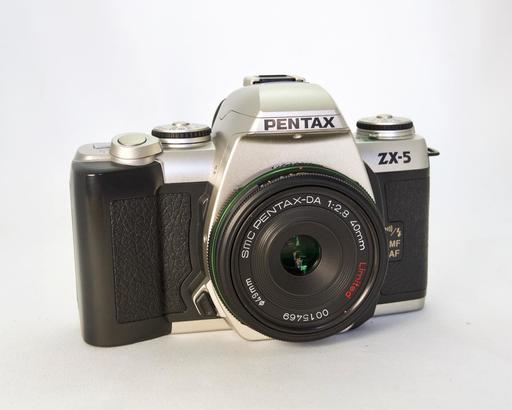 The Pentax 40mm-DA on a film Pentax ZX-5. This lens works wonderfully on both my analog and digital cameras.
About this time, I wanted something similar for my Micro Four Thirds digital bodies. And that's when I found the Panasonic Lumix G 20mm f/1.7 II ASPH. lens that now lives on my Olympus PEN-F. And I'm not exaggerating when I write, "lives there." The 20mm optic paired with a MFT sensor gives me that 40mm effective focal length that I love, but with a fast f/1.7 maximum aperture. Add to that the super-handy Olympus 2X doubler mode, I can switch to 80mm with just the press of a button. And as you would imagine, the images this tandem produces are beautiful!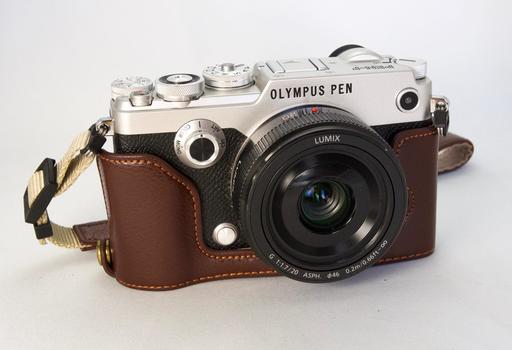 Olympus PEN-F with Panasonic 20mm f/1.7 prime.
Speaking of Olympus, I then discovered a lens that I didn't even know existed: the OM-40mm f/2.0 manual focus prime. I had read that it was very popular with journalists in the 35mm film days, and I can see why. It's super compact, fast, and sharp. And when you pair it with an OM camera, such as my OM-2S Program, you have an extremely nimble package that's a great street shooter.
These are a bit hard to find, but I scored a very nice one from a photographer in England. It is now my go-to lens for all of my OM cameras, and I particularly like it on the OM-2S. I hardly ever shoot with anything else.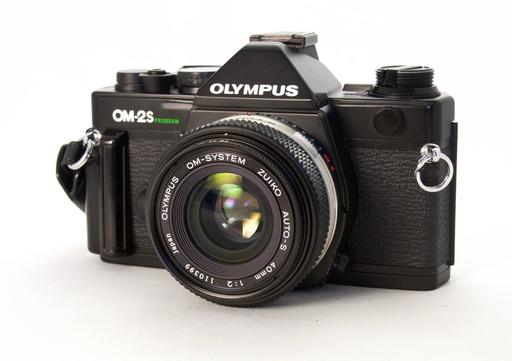 Olympus OM-2S Program with Olympus Zuiko 40mm f/2.0 pancake prime.
And this leads me to the lens that I've yet to secure, but want badly: the Voigtlander Ultron 40mm f/2 SL IIS Aspherical Lens for Nikon F. Typically, I have the Nikon 50mm f/1.8 on my Nikon FG, FA, and FM cameras. But after falling in love with the 40mm focal length for my other shooters, the 50mm now just seems too confining.
So I'm saving up for this final 40mm in my collection. I can see it mounted on my black FG while I explore urban landscapes all across the planet. I'll let you know if I ever get my hands on the Voigtlander. That will be a happy day indeed.
The thing I like best about those 40mm optics is that I don't have to carry anything more than my camera with the one lens. I can shoot portraits, urban, landscape, and close-ups, all with the same nimble kit.
I still have, and use, other focal lengths for my professional work and for assignments that require wider, longer, or faster. But when it's a Sunday afternoon with just a favorite camera, it's the 40mm that's mounted on it.
There are product links in this article that contain affiliate tags. In some cases, depending on the product, The Digital Story may receive compensation if you purchase a product via one of those links. There is no additional cost to you.
You can share your thoughts at the TDS Facebook page, where I'll post this story for discussion.