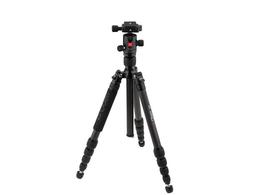 Editor's Note: This guest blog post by David Hearne is part of our Inner Circle Reviews program. You can learn more about David at the end of this article.
In the last decade plus, a major trend in photography has been towards high quality but lighter, easier to carry equipment. Our Derrick Story describes it as nimble photography. For nature and landscape photographers, such as myself, a tripod is an essential tool, and to borrow from a popular saying "the best tripod is the one you have with you".
High quality but more compact tripods have evolved right along with our cameras. The Oben CT-3565 Carbon Fiber Tripod (3.2 lbs) clearly fits in the category of compact, light weight but stable support for Micro 4/3s and other small cameras.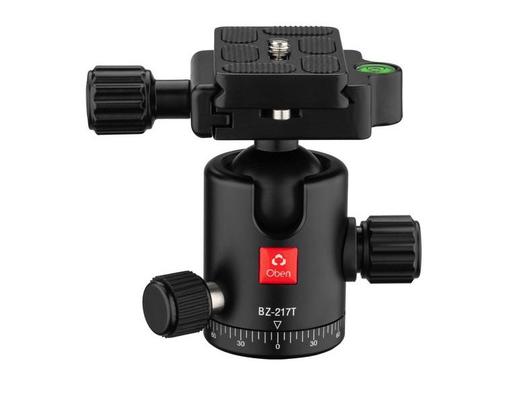 My impressions are formed by comparison to 2 tripods that I own: a Gitzo 1228 carbon fiber with a Markins base/Arca Swiss Mono Ball (5.5 lbs) and a MeFOTO Roadtrip Classic aluminum with Q1 ball head (3.6 lbs). The Oben 3565 and the MeFOTO Roadtrip are similar tripod systems with very similar performance.
Job 1 for tripods and ball heads is stability. I evaluated stability using my E-M1X mounted with a 40-150mm/2.8 m.Zuiko PRO lens (4 lbs total). Note, the center column was not raised for this evaluation. With camera and lens mounted, the Oben 3565 ball head easily locked the camera in place and maintained framing.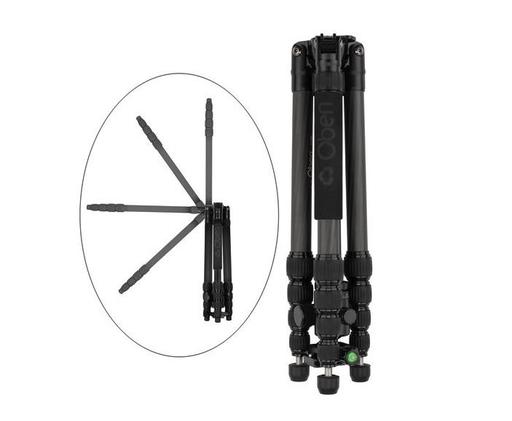 However, with both the Oben and the MePhoto tripod legs pushing down on the camera will flex the fully extended legs. My Gitzo rig is decidedly more stable. By zooming out to 150 mm the deflection can be detected on the LCD at times when pushing the shutter and may generate enough movement to cause a slightly out of focus shot. Collapsing the skinniest leg greatly reduces this flex. To completely eliminate this flex a best tripod practice is to use a 2s shutter release delay, especially on travel tripods. However, the collapsed length (16 in) and lower weight are acceptable trade offs for me and the Oben is easily carried on my hiking daypack. My Gitzo rig is just too heavy and bulky for me to hike with.
The Oben 3565 is indistinguishable from the MeFOTO Roadtrip in several features including the rapid twist locks and working height. Compared to the MeFOTO, the Oben 3565 has some nice touches.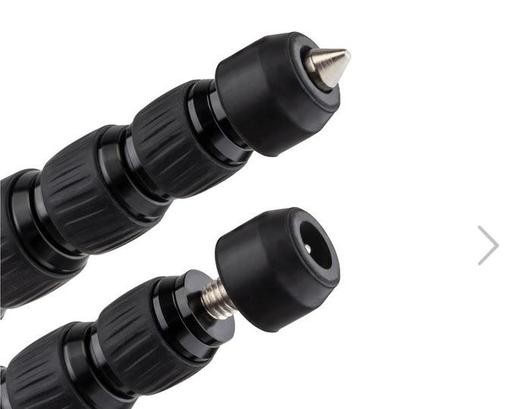 Like the MeFOTO, a bubble level is integrated into the Arca Swiss release plate. Additionally the plate tightening screw also has a level that can be utilized when vertical shooting using the 90 degree slot. The locks for the leg spread positions (3) are spring loaded and legs repositioned more easily than on the MePhoto.
The Oben 3565 comes with an alternate short column which allows a minimum working height of 9.5 inches. The MePhoto short column is a $30 accessory. Finally the Oben has integrated spiked feet. The MePhoto comes with interchangeable spiked feet.
In summary, the Oben CT-3565 Carbon Fiber Tripod ($210) is a quality travel/hiking tripod for micro 4/3s cameras at a very good value price point.
About the Author
David Hearne is a photographer based out of North Carolina. You can visit his website, American Roots Photography, to see his images and learn more about him.
David is also a member of The Digital Story Inner Circle where he gained access to the Oben 3565 Carbon tripod for this review.
There are product links in this article that contain affiliate tags. In some cases, depending on the product, The Digital Story may receive compensation if you purchase a product via one of those links. There is no additional cost to you.
You can share your thoughts at the TDS Facebook page, where I'll post this story for discussion.