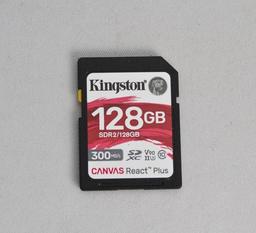 Kingston is now shipping two new memory cards that I'm using in my Olympus OM-D E-M1 Mark III and in the Fujifilm X100V. And the performance has been terrific. Because the cameras have different hardware configurations, however, I'm using different Kingston cards in each of them. Let me explain.
Canvas Go! Plus SD Memory Card
The Fujifilm X100V has a single UHS-I SD memory card slot, so the Canvas Go! Plus 128 GB SD card (up to 170MB/s read, 90MB/s write) is a great fit for this camera.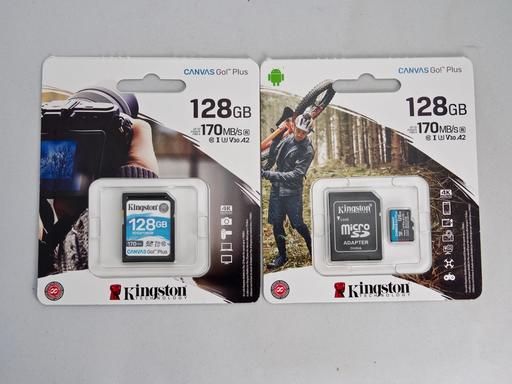 "With fast transfer speeds of up to 170MB/s, the Canvas Go! Plus SD card accelerates your workflow and efficiency so that you'll have more time to take your creativity onto the next adventure. With U3 & V30 speed performance, shoot stunning 4K Ultra-HD videos without worrying about slow speeds and dropped frames, or shoot sequential burst-mode photography that's seamless and consistent. View the world as your canvas and take your creativity and inspiration on the road with the Canvas Go! Plus SD."
There's no need to buy a more expensive UHS-II card for the X100V, since the fast UHS-I Canvas Go Plus has the appropriate specs for the hardware. I've shot burst mode, 120 fps HD video, and 4K movies with this card in the X100V, and the results have been great. Plus, the Canvas Go Plus has a durable construction that's necessary for the street photography that I do with this camera.
You can buy a 128 GB Canvas Go Plus SD card from the Kingston site for $26.65. Different capacities are available: 64 GB for $16.50, 256 GB for $48.10, and 512 GB for $169. The 128 GB model is working great in my X100V.
Canvas React Plus SD Memory Card
The Olympus OM-D E-M1 Mark III has two memory card slots. The top slot is UHS-II, and the bottom is USH-I. The Canvas React Plus (up to 300MB/s read, 260MB/s write) is the professional choice for the top slot.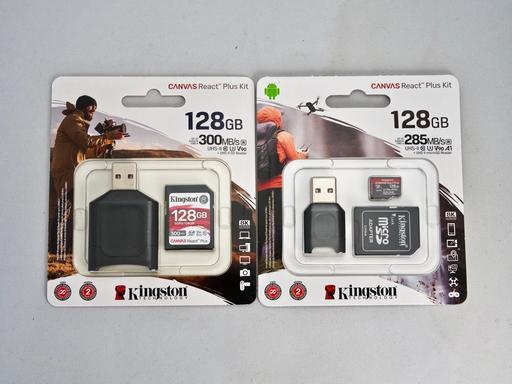 "Designed with the latest UHS-II standards and top-of-the-line U3 and V90 speed classes, the Canvas React Plus SD enables you to shoot sequential burst-mode shots with recording speeds of up to 260MB/s. Execute your creativity without experiencing slow speeds and dropped frames while maximizing your workflow and efficiency with the included MobileLite Plus UHS-II SD Reader. With transfer speeds of up to 300MB/s, enhance your post-production process and handle heavy workloads with ease while capturing cinematic quality in high-resolutions."
The 128 GB card with reader is available from the Kingston site for $132.60. Kingston also offers 32 GB for $37.70, 64 GB for $71.50, and 256 GB for $266.50. I'm using the Canvas React Plus SD 128 GB card in the top slot of my OM-D E-M1 Mark III.
I have the camera set up to record RAW files to the top slot with the Canvas React Plus occupying that position and Jpegs go to the bottom slot with the Canvas Go! Plus there. The results have been just what I needed. Shooting RAW burst mode with the Mark III and these cards is truly thrilling.
Choosing the Right Card for Your Hardware
Cameras with UHS-I memory slots can deliver super fast, reliable performance with the right matching card. The Kingston Canvas Go! Plus is the logical fit for these cameras, and they are a wonderful value as well.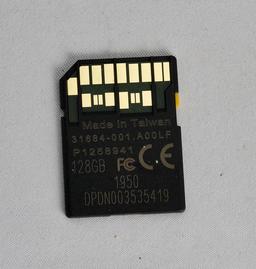 If, however, you have a UHS-II slot, such as on the Olympus OM-D E-M1 Mark II or Mark III, then why not maximize the camera's capability with a Canvas React Plus SD memory card and mobile reader? Yes, you will pay more for the faster card, but you're also fully utilizing your hardware investment.
There are product links in this article that contain affiliate tags. In some cases, depending on the product, The Digital Story may receive compensation if you purchase a product via one of those links. There is no additional cost to you.
You can share your thoughts at the TDS Facebook page, where I'll post this story for discussion.