This is The Digital Story Podcast #730, March 17, 2020. Today's theme is "Workshop Attendees Speak Out in LA." I'm Derrick Story.
Opening Monologue
We exited the Uber XL and stepped out into a sparsely populated Hollywood Blvd. I directed us across the street to the Metro station where we descended into its depths via escalator. What we found down there was a scene from a Sci-Fi movie. In this week's TDS Podcast, we talk about this moment and many others that we experienced together during the LA Street Photography Workshop. Hear directly from the four participants who documented this moment in time.
Workshop Attendees Speak Out in LA
Our team had been cut in half. We were down to four photographers and myself. Those who gathered with me at the Rest Haven Cottage in Santa Monica included Susie Powell, Cokie Lepinski, Dave Wilson, and Craig Rowley. They are the voices who you're about to hear from.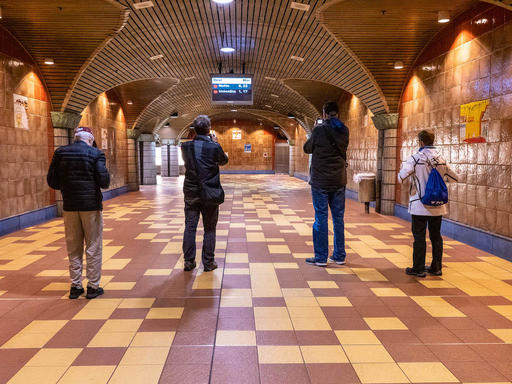 Hollywood and Vine Metro Station During the coronavirus - Photo by Susie Powell.
We recorded this conversation on a Sunday afternoon at the kitchen table in the cottage where we held our classes and lab sessions. We had been in the LA area since Thursday, and had witnessed a rapidly changing environment in Southern California.
Over the course of the next few days, we talked with Uber drivers, service providers, and people on the street. Not only did we focus on their stories, but our own safety as well. We constantly cleaned our hands, avoided public transportation, wiped down shared surfaces daily, and did not allow physical contact.
In addition to that, a rain storm had parked over the LA area. Fortunately we were prepared for the showers and all had weather resistant cameras. Three participants shot with Olympus and two with Fujis.
So after nearly three days of this work, I thought it would be a good idea to sit down and discuss what we saw and how we felt about it. So, I'm going to turn the mike over to Susie, Cokie, Dave, and Craig.
Portfoliobox 4 Offers Great Enhancements and Is Available for Free to TDS Listeners
We have many, many Portfoliobox photographers in our community, including myself, and I think all of us are going to enjoy the new features in Version 4 that just launched today.
And if you're not currently a Pro user, I have great news for you at the end of this spot. Here are the highlights for Portfoliobox 4.
Add sections to your pages - The initial content of a page can be extended with one or several sections. You can add different types of sections: gallery, text, links, services, team, submenu, contact form, and even blog or store teaser. This allow you to build your page as you like.

Add elements to your section - Each element in a section is independent from the others. You can add elements below existing elements, e.g. you can add a border under your menu, or a button below a text. You can even reorder the elements.

Edit margins, padding and position - You can easily fine-tune your website by editing the margins, padding or position of each elements on your page.

Animations - You can add animation to each element of your website, e.g. fade in, zoom, etc.

Client proofing gallery - Allows you to share dedicated and protected photo galleries with your clients. Your client can log in, check the gallery, comment and share their favorites with you. This makes it easy to share and proof directly from your website. You also have the possibility to automatically add a watermark to your photos.

E-commerce improvements - New features and functions that will make it easier for your to handle your products & orders. Here is a non-exhaustive list of the new features: digital product, discount codes, flexible shipping rates, duplicate product, stock management, multiple payment solutions, etc.

Preview your site before publishing it - You can now build your site offline peacefully, take the time you need to get the result you want. When you're ready, publish your site and choose a domain name. Meanwhile, you can fully preview your work by clicking the preview button at the lower-left corner of your site.
They have published a super helpful 30-minute video that you can watch here to help you get the most out of these features.
And if you don't have a Portfoliobox Pro account, you can get free year by going to www.portfoliobox.net and using Special Offer Code: 15SAMDPTBL81M5. That's right, a 100 percent discount for the first year.
Next week I'll dig deeper into some of these new exciting features. Until then, sign up today so you can follow along with me. And a big thanks to Portfoliobox for co-sponsoring this show.
Update for the TDS 2020 Photography Workshop Season
Those of you on the registration list for the Humboldt Redwoods Workshop, keep an eye out for the registration packet that will go out later this week. We have a great event for you, and I'll be working with you to ensure that you are fully prepared to take advantage of this wonderful opportunity. Plus, we had one seat open up (moved to another workshop), so if you want to join us, hop over to the 2020 Workshops Signup Page and get on the Reserve List.
If you have questions about the other workshops, feel free to drop me a line using the Contact Form on www.thenimblephotographer.com.
When you decide which event is best for your, jump over to our 2020 Workshops Signup Page and place a $100 deposit to secure your place. Only participants on the Reserve List who have placed a deposit will be eligible to register for a workshop. If you have questions or need more information, fill out the "Send Me Info!" request form. I'll get back to you asap.
Humboldt Redwoods and Coast Workshop - May 12-14, 2020 - 0 Seats Remaining -- Our home base for this experience is in the hospitable town of Fortuna that's on the banks of the Eel River. From there we explore the magnificent redwood groves of Humboldt County and the rugged coastline of Northern California. This workshop explores three distinct ecosystems in a satisfying 3-day event. Limited to just 9 participants, you can reserve your spot and learn more about this event here.

Lassen Volcanic Park Photo Workshop - July 16-18, 2020 - 2 Seats Remaining -- We'll convene at a spacious cabin at Lake Almanor that serves as our HQ. From there we explore the stunning Lassen landscape, peaceful shores of Lake Almanor, and the magnificent mountain night skies. This hands-on photo workshop is limited to 8 participants and is a wonderful blending of experience, camaraderie, and artistry. Limited to just 8 participants, you can reserve your spot and learn more about this event here.

The Eastern Sierra Photography Workshop - Oct. 1-3, 2020 - 2 Seats Remaining - Our event is headquartered at the Silver Maple Inn in Bridgeport, CA - gateway to Bodie, Mono Lake, and June Lake. We'll take advantage of the magical morning light to photograph some of the most unique landscape in North America. We'll photograph the sparkling night skies of the Sierra and explore rustic urban environments. Limited to just 9 participants, you can reserve your spot and learn more about this event here.
Updates and Such
Inner Circle Members: A big thanks to those who support our podcast and our efforts!
How to Watch Photos for macOS Catalina and iPadOS - Learn everything you need to know about Photos for the Mac and iPad by checking out my latest course on LinkedIn Learning and on lynda.com. This course is perfect for Mac and iPad based photographers who shoot with iPhone, Mirrorless, and DSLR cameras. It covers both photography and movies. And if I say so myself, it's a lot of fun.
B&H and Amazon tiles on www.thedigitalstory. If you click on them first, you're helping to support this podcast. (The Digital Story is supported by its audience. When you purchase through links on our site, we may earn an affiliate commission.) And speaking of supporting this show, and big thanks to our Patreon Inner Circle members:
Affiliate Links - The links to some products in this podcast contain an affiliate code that credits The Digital Story for any purchases made from B&H Photo and Amazon via that click-through. Depending on the purchase, we may receive some financial compensation.
And finally, be sure to visit our friends at Red River Paper for all of your inkjet supply needs.
See you next week!
More Ways to Participate
Want to share photos and talk with other members in our virtual camera club? Check out our Flickr Public Group. And from those images, I choose the TDS Member Photo of the Day.
Podcast Sponsors
Red River Paper - Keep up with the world of inkjet printing, and win free paper, by liking Red River Paper on Facebook.
The Nimbleosity Report
Do you want to keep up with the best content from The Digital Story and The Nimble Photographer? Sign up for The Nimbleosity Report, and receive highlights twice-a-month in a single page newsletter. Be a part of our community!
Want to Comment on this Post?
You can share your thoughts at the TDS Facebook page, where I'll post this story for discussion.