This is The Digital Story Podcast #735, April 21, 2020. Today's theme is "LUTs, RAW Power 3, and More." I'm Derrick Story.
Opening Monologue
LUTs may sound like some kind of technical mumbo-jumbo, but they are quite useful, and they allow us to easily add creative color effects to our images. Today, I'll do my best to demystify LUTs and encourage you to give them a try. Plus, we're going to look at RAW Power 3, the robust $39 image application that can tap your entire iCloud library of images. All of that and more on today's TDS Photography Podcast. I hope you enjoy the show.
Color Grading with LUTs
Focusing on color can help photographers communicate style and emotion. This approach is often referred to as color grading. You may have wondered how this differs from color correction, which is more of a technical adjustment. A tungsten bulb, for example, will produce a color shift in our images that's warmer than what we're accustomed to seeing with our eyes. Often we want to adjust that hue, cooling it off a bit so that it appears more natural. That's a correction.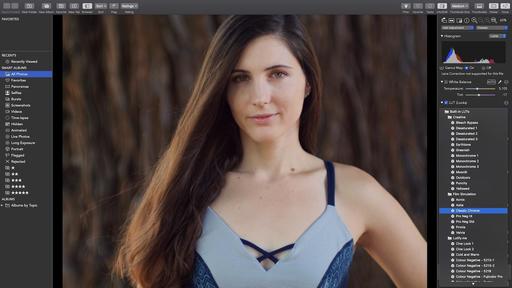 Color grading, on the other hand, leans toward the artistic. The photographer may add or enhance oranges and teals to create a mood similar to what one would experience in the movies. Exact reality isn't the goal. It's more about a creative look that elicits a feeling.
The Power of LUTs
Lookup Tables sound like a technical adjustment. And indeed there is plenty of color science at work under the hood. They are used to precisely shift colors from one spot to another. But those shifts can be stored in a container, such as a .cube file, that can used to color grade an image.
So even though LUTs are precise color science, their recipes can be wonderfully artistic.
Tips for Effective Color Grading with LUTs
Creating a separate adjustment layer for your color grading provides lots of flexibility. The base layer is used for basic adjustments and the other tools that you need to establish a good range of tones. The adjustment layer contains the LUT Mapping, HSL, and other creative filters. You can then use the blend modes and the opacity slider for precise control over the grading.
Applications that support LUTs include: Lightroom Classic, Capture One Pro, Luminar, and RAW Power 3.
Your viewers may not realize the techniques that you used to create the enticing color schemes in your images. What they will notice is your style and creativity. And using LUTs can contribute greatly to that pursuit.
RAW Power 3 Brings Star Ratings, LUTs, and More to Photos Users
Gentlemen Coders has released RAW Power 3.0 for macOS and iOS. It's a comprehensive update with much to unpack over the coming weeks, but the focus today is how it brings Star Ratings to Photos for both the Mac and iOS versions of the app.
The rating system is easy to use, and is ingenious in its design. If you're running macOS Catalina, the RAW Power app allows you to use your Photos library in real time. This even works if you have the Photos app open. Within RAW Power you can tap all the powerful tools to enhance your images and have those improvements saved directly to your iCloud Photos library. But now, you can also rate and tag those pictures, and they too will be saved to iCloud and acknowledged in the Photos apps.
RAW Power creates Star Rating Albums that are displayed both in RAW Power, and in the Photos app. RAW Power uses Aperture style keyboard shortcuts for the ratings allowing you to move quickly through the images. What's really cool, even if you're running Photos on macOS Mojave, which doesn't allow the library sharing as in Catalina, the Star Rating Albums still appear in the app if they were added in RAW Power running on a Catalina machine using the same Photos library. The overall approach is both clever and works great.
This update, over a year in the making, includes tons of other stuff as well. Here's a brief overview.
RAW Power 3.0 for Mac and iOS creates the first real option for serious photographers in the Apple ecosystem. RAW Power 3.0 is now the first and only third-party app to include full support for Apple Photos libraries on Mac and iOS, allowing photographers to rate and edit their images anywhere and any time. New features introduced today include flexible storage options, synchronized ratings and flagging for Photo libraries, support for Files.app on iOS, advanced auto enhance, LUT support and one-tap integration with the popular Halide camera app on iOS. RAW Power 3.0, developed by Nik Bhatt, a former Apple engineer who led the iPhoto and Aperture teams, is available for download today on the Mac and iOS App Stores.
The new RAW Power app for iOS introduces the much-requested ability to manage photos either in Photos or in Files.app. Now, photographers can easily work on their collections of images in either or both environments and switch seamlessly between them. Users can import images from an SD card into RAW Power using the Files app. Additionally, the new Copy to RAW Power Share Extension makes it easy to import images from other apps into the Files storage for RAW Power.
RAW Power 3 also supports LUTs. It has a great collection built in, including 7 of the Fuji film simulations, which look very good to my eye. I also had good success importing .cube files that appeared in My LUTs. Very nice!
RAW Power 3.0 runs on macOS Catalina and Mojave and is available for $39.99 or as a free upgrade for existing users of RAW Power for Mac 2.0. (It does not support the iCloud Library sharing on Mojave, however.) RAW Power for iOS 3.0 is available for $9.99 or as a free upgrade for current RAW Power for iOS customers. RAW Power for iOS 3.0 runs on iOS 12 and 13, but does not support iPhone 5s, 6 or 6 Plus, or iPad mini 3 or earlier.
Digitizing Family Memories Course Now Available Online
Each of the four classes in the course will outline a specific set of steps that you have one week to accomplish. Then, the next week, we build on that progress with new techniques and assignments. By the end of the four weeks, you will have an organized digital archive of your most valuable family images.
Patreon members can sign up for free on the Patreon site. I have a post there for you. All you have to do is comment that you want to join us. If you're not a Patreon member, you can sign up at the Inner Circle level for $5 a month and become instantly eligible for the course.
Non-Patreon members can also sign up for the course by visiting the Workshops page on The Nimble Photographer. The course fee is a reasonable $45.
Updates and Such
Inner Circle Members: A big thanks to those who support our podcast and our efforts!
How to Watch Photos for macOS Catalina and iPadOS - Learn everything you need to know about Photos for the Mac and iPad by checking out my latest course on LinkedIn Learning and on lynda.com. This course is perfect for Mac and iPad based photographers who shoot with iPhone, Mirrorless, and DSLR cameras. It covers both photography and movies. And if I say so myself, it's a lot of fun.
B&H and Amazon tiles on www.thedigitalstory. If you click on them first, you're helping to support this podcast. (The Digital Story is supported by its audience. When you purchase through links on our site, we may earn an affiliate commission.) And speaking of supporting this show, and big thanks to our Patreon Inner Circle members:
Affiliate Links - The links to some products in this podcast contain an affiliate code that credits The Digital Story for any purchases made from B&H Photo and Amazon via that click-through. Depending on the purchase, we may receive some financial compensation.
And finally, be sure to visit our friends at Red River Paper for all of your inkjet supply needs.
See you next week!
More Ways to Participate
Want to share photos and talk with other members in our virtual camera club? Check out our Flickr Public Group. And from those images, I choose the TDS Member Photo of the Day.
Podcast Sponsors
Red River Paper - Keep up with the world of inkjet printing, and win free paper, by liking Red River Paper on Facebook.
The Nimbleosity Report
Do you want to keep up with the best content from The Digital Story and The Nimble Photographer? Sign up for The Nimbleosity Report, and receive highlights twice-a-month in a single page newsletter. Be a part of our community!
Want to Comment on this Post?
You can share your thoughts at the TDS Facebook page, where I'll post this story for discussion.