I wanted a place to dock my iPhone X while working in my home office. It's all part of my changing work life where I'm setting up new areas to get things done. I decided to try the PITAKA Wireless Charging Stand Dock because of its versatility. And after a few weeks of use, I feel like I made a good decision.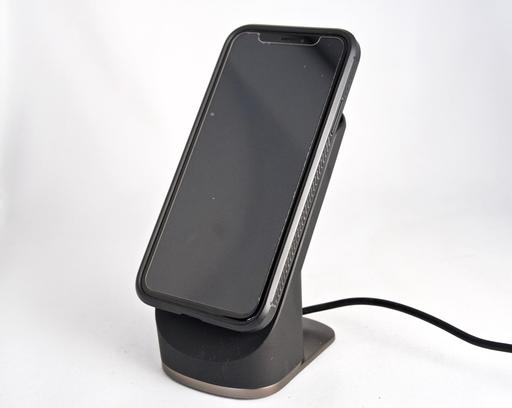 The stand itself is actually a holder for the wireless charger. It's a clever design where the charger slips into the stand, then via a magnetic strip that you attach to your case, the phone snaps in place. The clever part is, that you can take the charger with you when away from home and need some extra juice on the road.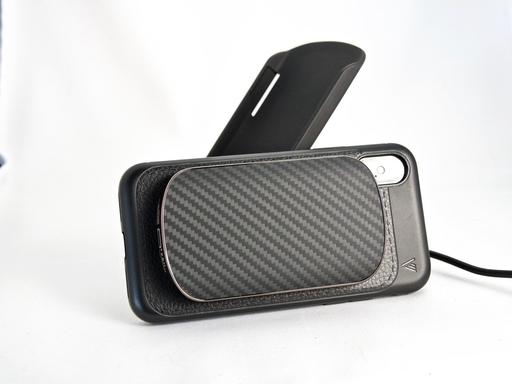 Wireless charger removed from the stand, yet still attached to the phone.
You can use your existing case, as I did, using the adhesive magnetic strip that's included in the kit. Pitaka includes templates for current smartphones so you can place it in exactly the right spot. It's slim, good looking, and hasn't changed the comfort of my current case, nor has it impeded the use of other wireless chargers.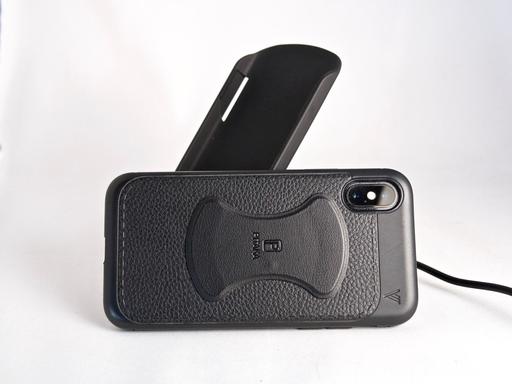 Included magnetic strip to attach your phone to the charger.
When it comes to actually charging my phone, it takes about as long as my Samsung wireless pad, which is longer than plugging the phone directly into the wall. But it hasn't been a problem, because I just click my iPhone on to the stand when I sit at the computer, and click it off when I leave. Over the course of the day, my iPhone X has remained nicely juiced up.
You can also buy custom cases from Pitka that have the magnetic strip embedded in them. They look quite nice, and the reviews have been solid. So if you're in the mood for a new case, they might be worth a look.
But the setup included in the box will get you started as is. I like having the stand to make it easier to check the phone when I'm working at the computer. Having the removable charging unit is a nice touch for those days in the future when I can travel again. And overall, the design is quite good.
It's easy to recommend the PITAKA Wireless Charging Stand Dock for $79. Who knows, someday I may even buy one of their cases as well.
There are product links in this article that contain affiliate tags. In some cases, depending on the product, The Digital Story may receive compensation if you purchase a product via one of those links. There is no additional cost to you.
You can share your thoughts at the TDS Facebook page, where I'll post this story for discussion.