This is The Digital Story Podcast #741, June 2, 2020. Today's theme is "How to Interview and Record from Remote Locations." I'm Derrick Story.
Opening Monologue
I've talked a lot about preserving family memories from the past, but how about capturing what's going on right now? We may be physically separated from those we care about, but that doesn't mean that we can't capture their thoughts and feelings with video and sound. You can do it affordably and with excellent quality. And on today's TDS podcast, I'll show you how.
How to Interview and Record from Remote Locations
Some of the most important video that I have is of my late father talking about his life experiences. About a decade ago, I sat him down in front of a video camera and interviewed him. We were lucky. We were within driving distance of one another, so this was physically possible. And what he had to say was fascinating.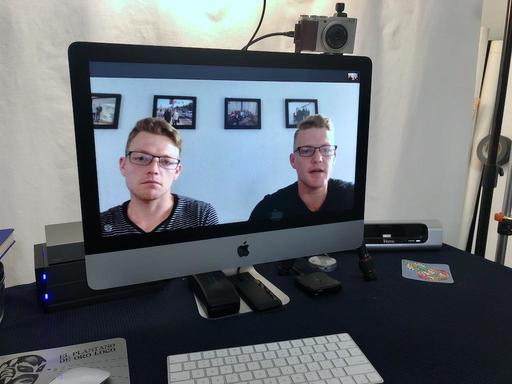 Right now, our friends and family are experiencing things that future generations may appreciate. Imagine being able to hear what your Great Grandfather was thinking in the middle of the Great Depression? That wasn't possible then, but we can capture how others feel right now in the middle of this pandemic and social unrest. And we can do so remotely.
This podcast builds upon ideas and techniques that I've discussed in Digitizing Family Memories and in Call Recorder y Ecamm Software. You can record multitrack, picture in picture, or split screen video with audio. Then you can fine tune the content using Ecamm Movie Tools afterward.
If you want to see what this looks like, here's a picture-in-picture family discussion during shelter in place.
Basic Steps for Setting Up a Remote Interview
Make Sure Both Sides Can Videoconference
- In this workflow, both sides will need to be able to connect to Skype and communicate using audio and video.

Set Up Call Recorder Software on Your Computer - You can purchase the entire toolbox for $39, then install it on your computer and test it using Skype.

Keep the First Interview Relatively Short - Let the interviewee know ahead of time that you would like 2-3 interview sessions. Use the first session not only for content, but to evaluate the quality of the audio and video. Don't cover the most important topics in the first online meeting.

Keep the Limelight on the Person Being Interviewed
- Keep your interviewee front and center. You can be the embedded picture, or if you wish, side by side, but don't overshadow the person who is the star of the show.

Don't Be Afraid to Edit - There will be plenty of outtakes and dead air. Don't be afraid to trim as needed. Most of this will happen at the beginning of recording and at the end.
As I said earlier, it is important to preserve family memories from years ago. But I think it's also imperative that we hear from those we care about right now, and make that content available to future generations.
The Essential Steps to Impressive Video Conferencing
If you want to learn more about looking and sounding great for your next online interaction, then I think you'll very much enjoy my latest online workshop, The Essential Steps to Impressive Video Conferencing.
This 1-hour deep dive focuses on the 3 major areas of successful online interaction: Audio, Video, and Environment. During the course, I walk you through a variety of techniques that range from simple using gear that you already have, to improving your chops through a few inexpensive purchases.
The course is currently available for free to our Inner Circle Members on Patreon. Members, just go to our Patreon site, and all the information will be there. If you're not already an Inner Circle Member, you can join us for $5 a month.
The course is also available on our Nimble Photographer Workshop Page for $14.95.
I have tons of great tips and techniques waiting for you there. If you want to get serious about how you come across during online meetings, classes, interviews, and family interactions, then you definitely will want to watch this course.
Buy 3 M.Zuiko Lenses, Get an OM-D Body Free
This is a wild offer. Purchase these three lenses: 7-14mm f/2.8 PRO, 40-150mm f/2.8 PRO, and the 300mm f/4 PRO, and choose a Pro body: E-M1X, E-M1 Mark II, or E-M1 Mark III. You'll spend about $5,800 for the entire kit, but the savings range between $1,700 and $3,000 depending on which camera you choose.
You can learn more by visiting getolympus.com/freeomd. Offer valid June 1, 2020 through July 5, 2020. Available in the United States only. Customer must purchase all three lenses and one of the three OM-D bodies listed above at the same time in order to be eligible for the free camera body. All products must be purchased at full retail price.
I clicked on the Buy Now link, and it just took me over to a page to buy the camera, not the kit. So I would wait a day or so to see if they get this ironed out.
Digitizing Family Memories Course Now Available Online
Each of the four classes will outline a specific set of steps for you to accomplish. By the end of the course, you will have an organized digital archive of your most valuable family images.
You can sign up for the course by visiting the Workshops page on The Nimble Photographer. The course fee is a reasonable $39 (on sale right now). It includes the 4 class videos, class notes, and access to the class forums that are a part of each movie.
Updates and Such
Inner Circle Members: A big thanks to those who support our podcast and our efforts!
Due to the coronavirus pandemic, we've had to postpone our July photography workshop at Lassen Volcanic Park. We so still have on the schedule, however, our Eastern Sierra event in October.
How to Watch Photos for macOS Catalina and iPadOS - Learn everything you need to know about Photos for the Mac and iPad by checking out my latest course on LinkedIn Learning and on lynda.com. This course is perfect for Mac and iPad based photographers who shoot with iPhone, Mirrorless, and DSLR cameras. It covers both photography and movies. And if I say so myself, it's a lot of fun.
B&H and Amazon tiles on www.thedigitalstory. If you click on them first, you're helping to support this podcast. (The Digital Story is supported by its audience. When you purchase through links on our site, we may earn an affiliate commission.) And speaking of supporting this show, and big thanks to our Patreon Inner Circle members:
Affiliate Links - The links to some products in this podcast contain an affiliate code that credits The Digital Story for any purchases made from B&H Photo and Amazon via that click-through. Depending on the purchase, we may receive some financial compensation.
And finally, be sure to visit our friends at Red River Paper for all of your inkjet supply needs.
See you next week!
More Ways to Participate
Want to share photos and talk with other members in our virtual camera club? Check out our Flickr Public Group. And from those images, I choose the TDS Member Photo of the Day.
Podcast Sponsors
Red River Paper - Keep up with the world of inkjet printing, and win free paper, by liking Red River Paper on Facebook.
The Nimbleosity Report
Do you want to keep up with the best content from The Digital Story and The Nimble Photographer? Sign up for The Nimbleosity Report, and receive highlights twice-a-month in a single page newsletter. Be a part of our community!
Want to Comment on this Post?
You can share your thoughts at the TDS Facebook page, where I'll post this story for discussion.