This is The Digital Story Podcast #742, June 9, 2020. Today's theme is "Data Visualization for How You Shoot." I'm Derrick Story.
Opening Monologue
We record EXIF data with every picture we take. But how often do we use it? If we examine our camera settings over a period of time with a specific model, we can learn a lot about how we capture images. This information can help us change the look of our pictures, plus assist us with buying decisions for new gear. And the best part is, this exercise is both easy and cheap. Learn how on today's TDS Photography Podcast.
Data Visualization for How You Shoot
I've been shooting with the Fujifilm X100V since March because if I do walk out the door, it is for street photography. My inclination has been to set the camera in Program mode with Auto ISO. My thinking was that things happen so quickly in urban environments, that I don't want to miss a shot because of camera settings.
This has worked quite well for me. And combined with choosing the appropriate film simulation, I have been really pleased with the shots. But, that being said, I didn't really have a feel for the actual camera settings used. Nor was I able to analyze how those settings are influencing the look of my pictures. So I decided that I wanted to do some analysis.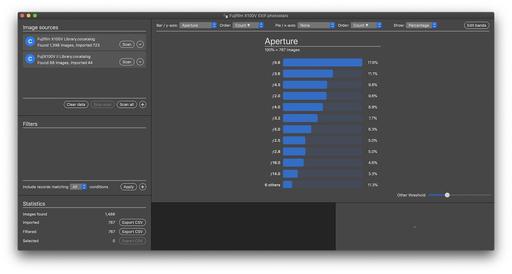 I had read about PhotoStatistica, a $2.99 app for the Mac that's a photo EXIF analysis too. You can point it to a Photos Library, Capture One Catalog, or a folder full of pictures, and it will analyze the EXIF data and present it to you in a variety of visualizations including bar graphs and pie charts.
Once you've created a stats sheet, you can save it as a .photostats file, or export it in CSV format. With the former, you can revisit it at any time, and with the latter, you can incorporate it into other reporting documents.
As for my shooting, it was really interesting. Here are the highlights for my street photography with the Fujifilm X100V.
Most Common Aperture Setting was f/5.6 - I think a lot of this happened because of program mode in decent lighting. When I look at aperture bands (or groups) f/4-f/8 was 45 percent of the time, and f/2-f/4 was 41 percent of the time. I rarely shot over f/8.

65 precent of the time I shot at ISO 200 - Another 20 percent at ISO 160. Rarely did I hit ISO 400 or above.

Nearly half the time I was using Exposure Compensation - So even though I was in Program mode 85 percent of the time, I used EC frequently to tailor the shot to my tastes. And more often than not, I was overexposing when I did.

Exposure times were all over the map - My number one exposure setting was 1/15th, but even that was only 12 percent of the time. The balance was spread over dozens of settings.

My most common time of day was 3-4pm. - That actually really surprised me. Subsequent bands were also in the afternoon. Clearly, I'm not a morning person when it comes to street photography.
This data gives me much to think about. Now I'm going to go back and look at the corresponding pictures and think about what I like, and what I want to change. It's going to be interesting to see the adjustments that I make as a result.
Tethered Product Photography with Capture One Pro for Better Efficiency
This has been the year of making my workflows better, and one of the improvements that I wanted to make was increasing the efficiency of creating product shots for TheFilmCameraShop. My theory was that using Capture One's excellent tethered capability would speed things up. And now that I've done it, I was right.
Tethering involves connecting a supported camera via USB cable directly to a computer running Capture One Pro. Once the connection is made, the camera will appear in the Capture Tab where you have a myriad of options and controls. I'll talk about those a bit more in this segment.
You can read the entire article here.
The Essential Steps to Impressive Video Conferencing
If you want to learn more about looking and sounding great for your next online interaction, then I think you'll very much enjoy my latest online workshop, The Essential Steps to Impressive Video Conferencing.
This 1-hour deep dive focuses on the 3 major areas of successful online interaction: Audio, Video, and Environment. During the course, I walk you through a variety of techniques that range from simple using gear that you already have, to improving your chops through a few inexpensive purchases.
The course is currently available for free to our Inner Circle Members on Patreon. Members, just go to our Patreon site, and all the information will be there. If you're not already an Inner Circle Member, you can join us for $5 a month.
The course is also available on our Nimble Photographer Workshop Page for $14.95.
I have tons of great tips and techniques waiting for you there. If you want to get serious about how you come across during online meetings, classes, interviews, and family interactions, then you definitely will want to watch this course.
Digitizing Family Memories Course Now Available Online
Each of the four classes will outline a specific set of steps for you to accomplish. By the end of the course, you will have an organized digital archive of your most valuable family images.
You can sign up for the course by visiting the Workshops page on The Nimble Photographer. The course fee is a reasonable $39 (on sale right now). It includes the 4 class videos, class notes, and access to the class forums that are a part of each movie.
Updates and Such
Inner Circle Members: A big thanks to those who support our podcast and our efforts!
Due to the coronavirus pandemic, we've had to postpone our July photography workshop at Lassen Volcanic Park. We so still have on the schedule, however, our Eastern Sierra event in October.
How to Watch Photos for macOS Catalina and iPadOS - Learn everything you need to know about Photos for the Mac and iPad by checking out my latest course on LinkedIn Learning and on lynda.com. This course is perfect for Mac and iPad based photographers who shoot with iPhone, Mirrorless, and DSLR cameras. It covers both photography and movies. And if I say so myself, it's a lot of fun.
B&H and Amazon tiles on www.thedigitalstory. If you click on them first, you're helping to support this podcast. (The Digital Story is supported by its audience. When you purchase through links on our site, we may earn an affiliate commission.) And speaking of supporting this show, and big thanks to our Patreon Inner Circle members:
Affiliate Links - The links to some products in this podcast contain an affiliate code that credits The Digital Story for any purchases made from B&H Photo and Amazon via that click-through. Depending on the purchase, we may receive some financial compensation.
And finally, be sure to visit our friends at Red River Paper for all of your inkjet supply needs.
See you next week!
More Ways to Participate
Want to share photos and talk with other members in our virtual camera club? Check out our Flickr Public Group. And from those images, I choose the TDS Member Photo of the Day.
Podcast Sponsors
Red River Paper - Keep up with the world of inkjet printing, and win free paper, by liking Red River Paper on Facebook.
The Nimbleosity Report
Do you want to keep up with the best content from The Digital Story and The Nimble Photographer? Sign up for The Nimbleosity Report, and receive highlights twice-a-month in a single page newsletter. Be a part of our community!
Want to Comment on this Post?
You can share your thoughts at the TDS Facebook page, where I'll post this story for discussion.