I still have Photoshop, but I'm so happy that I don't need it often thanks to layers in Capture One Pro 20. And I was reminded of that joy again today while editing this grape image.
Sonoma County Grapes - Fujifilm X100V, f/8, 1/30th, ISO 160, processed in Capture One Pro 20. Photo by Derrick Story.
I really like the unique variety in this bunch, something that I don't see often. But there were also a few distracting elements that I knew I would have to address in post. I captured the image in RAW with the Fujifilm X100V, then loaded the files into Capture One Pro 20 when I returned home. Here's what it looked like before I started working on it.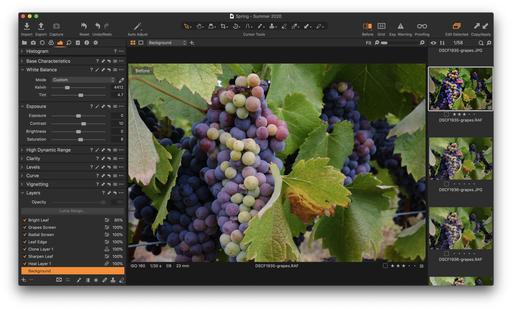 Not edited version of grape shot.
One of the biggest distractions for be was the ugly leaf just to the right of the grapes. In the old days, that would have guaranteed a trip to Photoshop. But the cloning and healing tools have improved a lot in Capture One. So I stayed home and addressed the issue there.
I actually started with the healing brush first, then touched up with the clone tool. Each on separate layers. I still have a bit more fine tuning to do, but it's coming along nicely. Here's a look at where I am now with the picture. You can see the layers listed on the left of the screen.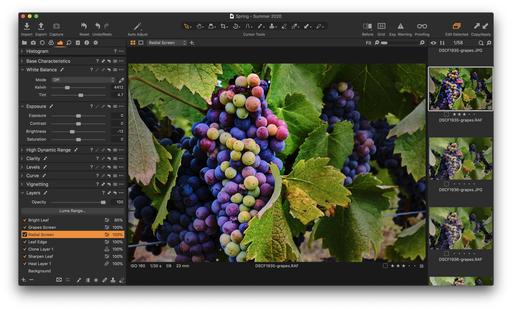 Editing in progress with the grapes.
Another adjustment that I made was tandem radial screens for the grape bunch. The first radial screen excluded the grapes and worked like a sophisticated vignette. Then I copied the mask, inverted it, and brightened up the fruit a bit. This is one of my favorite techniques.
All in all, I have seven layers plus the background. They are very easy to manage, and quite powerful.
I'm sure I'll have to fire up Photoshop in the future for an image. Just not sure when.
Learn Capture One Pro 20 Quickly
If you're new to Capture One Pro, you may want to check out my latest online class, Capture One Pro 20 Essential Training on LinkedIn Learning, or, if you're a lynda.com subscriber, you can watch it there as well. It will get you up and running in no time at all.
If you don't have Capture One Pro yet, you can download the 30-day free trial (Mac/Win). No credit card is required, and it's a fully functioning version.
There are product links in this article that contain affiliate tags. In some cases, depending on the product, The Digital Story may receive compensation if you purchase a product via one of those links. There is no additional cost to you.
You can share your thoughts at the TDS Facebook page, where I'll post this story for discussion.