Even though there isn't a dedicated headphone port on the Fujifilm X100V, you can use its USB-C... that is, if you get the correct connector (more on that in a moment). Once you do so, the audio sounds great, and you have controls for the output volume.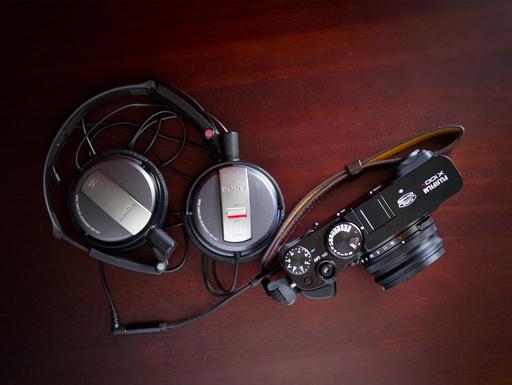 Sony headphones connected to the X100V via the USB-C port. Photos by Derrick Story.
The biggest challenge is finding an adapter that will work. I finally succeeded on the third try. And I learned a few things along the way. Take a look at the illustration below. Even though everything looks relatively similar, only one of those connectors will work with the camera.
Three attempts at finding an adapter that will work. Fortunately, the third time was a charm.
The adapter that worked, and the only one that I recommend right now, is the Nylon Braided 2 in 1 USB C Type C to 3.5mm Headphone Audio Aux Jack & Charge Adapter Cable Converter for Motorola Moto Z, Letv Le Pro 3 and Other Mobile Phone That Without 3.5mm Audio Jack for $8.88. A close up view is shown below.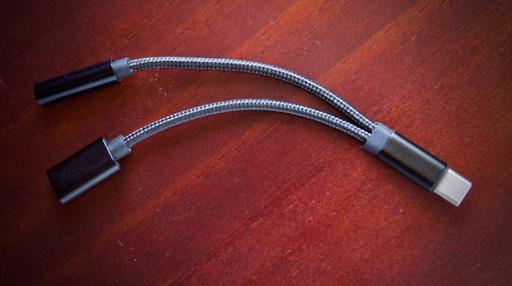 This headphone adapter works with the Fujifilm X100V.
One of the problems with the other connectors that did not work was that they were digital. So, for example, if they work with the Google Pixel, Samsung Note, and Apple iPad Pro, they are probably useless with the X100V. On the other hand, this analog model that works with Moto phones sounds great! Plus, it has a second USB-C female port, that in theory, would allow you to charge the camera at the same time. I have not tested that function yet.
Once you get everything connected, go to MENU > MOVIE SETTING > AUDIO SETTING > HEADPHONES VOLUME and start at Level 7. You can adjust for taste from there. Using headphones in the field is critical for reviewing the audio of your recorded movies. With this configuration, you can hear the sound both live and during playback. That way, when you call it a day, you know that your video is good.
Product Links and Comments
There are product links in this article that contain affiliate tags. In some cases, depending on the product, The Digital Story may receive compensation if you purchase a product via one of those links. There is no additional cost to you.
You can share your thoughts at the TDS Facebook page, where I'll post this story for discussion.